❤ ❤ ❤ ❤ ❤ ❤ ❤ ❤ ❤ ❤ ❤ ❤ ❤ ❤ ❤ ❤ ❤ ❤ ❤ ❤ ❤ ❤ ❤ ❤ ❤ ❤ ❤ ❤ ❤ ❤ ❤ ❤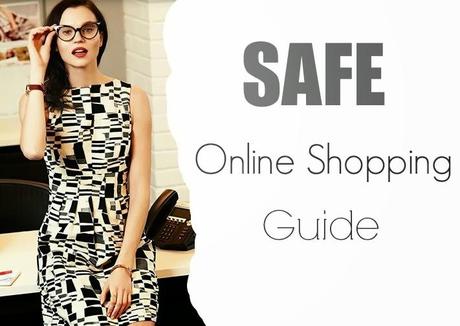 Image Credit: Shopbop, Edited by: SSU
Now a days almost everybody is shopping online - from clothes to electronics and from furniture to groceries. The main advantage of shopping online is that you save time, money and hassles of waiting in long lines for billing or in a traffic jam. I don't run from one store to another fir better price, product or offers. Thanks to eCommerce!!
But every good thing has a bad side too and it's not different for online shopping. My credit card has been hacked twice (damn! you hackers). And there are many who are the victims of hackers, fake websites, insecure payment pages  and because of their ignorance. 
Not anymore! I did research, gathered information from different websites (mentioned in the post) and segregated the information in subheadings to simplify. Let's start our capsule course of shopping online safely!
Do you know that how debit or credit card details are hacked!
Monendra Sahu, an ethical hacker says-
 "For hackers, carding, which refers to credit card/debit card fraud is the new duplicity that has made significant rise in state. Hackers have been using credit card/debit card numbers of people to carry out financial transactions for their personal benefits".
"Whenever a user buys anything from the website, he enters his card details to make payment. This becomes an easy gateway for the hacker to trace card details and he gets access to all users who have used that website, by hacking it."
"Hackers have evolved a technique of scheming, in which they implant a device in the ATM machine or the POS portal and get card details. A device which can be stuck with Fevikwik, is used by the hackers. It becomes difficult to differentiate between the device and ATM machine."
"Hackers try to use cyber cafes, where they can get in touch with a large number of users and with an open wi-fi connection which it make things easier for them.
POINTS TO REMEMBER BEFORE YOU START ONLINE SHOPPING
Ensure you have effective and updated antivirus/antispyware software and firewall running before you go online.

Use private browsers to hide where you have been online. This process is different for each browser.
Keeping your computer's anti-virus software up to date and running should stop you from going to an unsafe shopping site. 
Don't use a public computer to buy merchandise.
WEBSITES
Stay away from malicious websites that offer deals too good to be true.
Use trusted/reputable websites. Look up any unfamiliar online store on bbb.org (Better Business Bureau). Check the rating, any adverse reviews and confirm its address. Search it out with keywords like "complaints."
Trust your instincts, if an offer seems too good to be true, it probably is! A malicious website can look legitimate, even though it aims to nab your personal data, even identity, or sell counterfeit products. Others aim to lure you in "with low prices they honor only if you buy extra items, or quietly adding unexpected charges based on fine-print disclosures they know you won't read."
More than 9,500 malicious websites detected by Google every day, consumers are advised to click links with caution to avoid a malware-spreading site.
One tip to find out if something is reputable is to hover over the link to review the complete URL and beware of small errors in website addresses such as missing letters, misspellings, a different .com extension or other tweaks to a company's name. 
Make sure the site is an authorized dealer. Contact the manufacturer if necessary. Read the terms and conditions. 
When opening an account on-line, never use the same password as other accounts or sites. If you are prompted to sign up for a new account to make a purchase, make sure to create a new password and keep a paper list of them somewhere so you don't forget.

Ensure that any online retailer unfamiliar to you is reputable by researching them. Establish a physical address and telephone contact details. Remember that the best way to find a reputable retailer is via recommendation from a trusted source.

Check sellers' privacy policy and returns policy.

Do not reply to unsolicited emails from companies you don't recognise.
PRODUCTS
Product pictures should be of great quality.
Colour should be right (if not it should be mentioned that colours might differ (slightly) from what we see in picutres).
Material should be mentioned if applicable.
Product page should have an option for review.  
PAYMENT 
Don't use links in emails to purchase goods. Always type in the web address or use a search engine to locate
Do not pay money transfers direct to people that you do not know. Use an online payment option such as PayPal which helps protect you
Check to make sure the website is secure by verifying the address contains the letter "s" in "https://" at the beginning of the URL, that a closed padlock is located in the URL bar, and that if you are entering any personal information, there is a checkmark or padlock image indicating the website is protected by a trusted source.
Be savvy about Wi-Fi hotspots. Don't enter personal or financial information over an unsecured network.
 While credit cards are generally the safest option for online purchases because they allow buyers to seek a credit from the issuer if the product isn't delivered or isn't what was ordered, the use of Pay Pal or gift cards are also good ways to buy items on-line.
Although not a safety concern, it's wise to set a realistic shopping budget when buying on-line and to keep track of your purchases so you don't drastically go over the amount you want to spend. When buying on-line, it can be easy to spend more than you want. One website that can help you with your budget tracking goals is Mint.com.
You should also file away receipts from your holiday shopping in one place to cross-reference purchase dates and totals with your bank and credit card billing statements to check for any unfamiliar charges, or to facilitate easy returns after the holidays.

Remember that paying by credit card offers greater protection than with other methods in terms of fraud, guarantees and non-delivery.

Double check all details of your purchase before confirming payment.

Some websites will redirect you to a third-party payment service. Ensure that third party sites are also secure before you make your payment.

Safeguard and remember the password you have chosen for the extra verification services used on some websites, such as Verified by Visa.

When making a payment to an individual, never transfer the money directly into their bank account but use a secure payment site such as PayPal, where money is transferred between two electronic accounts.

Check credit card and bank statements carefully after shopping to ensure that the correct amount has been debited, and also that no fraud has taken place as a result of the transaction.

Where possible, check that the price listed by the retailer on your browser is the same as that quoted on other people's browsers, to ensure you are not being monitored and overcharged.

Read the fine print; it may say that all goods "are sold as is." This means you won't have the right to receive a replacement for bad merchandise. You may be able to get a refund within 30 days of purchase, but beyond that, many sites say you must deal directly with the product's manufacturer (you'll need to pay for return shipping). Another problem is when the website is not an authorized dealer for the product you bought. 
AFTER SHOPPING
Be aware of your surroundings. 

Always log out of sites into which you have logged in or registered details. Simply closing your browser is not enough to ensure privacy.

 Hopefully you won't become a victim of identity theft due to sharing your credi/debit card, bank account details and shipping data with a non-secure site now because you were just got enlightened by this post. (just fake it even if you were not!) Also do let me know in comment if you have any other point or information to share. That will be helpful!

P.S. This post will be updated as I find more to share.
credits  myarea , centraljersey , timesofindia , wltx , rochdaleonline , blogher -