Today is a day of celebration here at our Family Cake Company... we always knew that our amazing..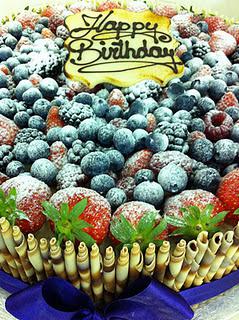 'DECO TUBE & MIXED BERRY CAKE' would be popular, but we've just sold our 1000'TH one... it really is a show stopper of a cake... sweet berries with white, dark & milk chocolate tubes made from the most delicious Belgian chocolate.  The sponge is either a light vanilla or a very chocolaty chocolate sponge, laced with a dash of Italian liquor, more fresh berries & St honore' cream & fresh cream...
Happy 1000'TH berry cake sale to us...