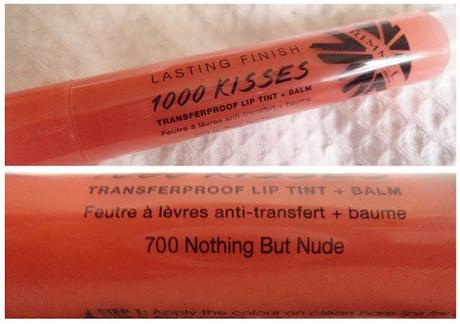 Have a bit of a thing for lipsticks, and lip products at the moment. After my pure love for the Revlon Just Bitten range back in February I thought it was time a nude stain entered my life. I adore the bright pink of my Revlon stain but it just isn't an every day kind of color for me. So I thought I'd give Rimmel 1000 kisses ago. It can be bought here from boots for £6.99. I adore the name 1000 kisses I think it completly sums up lip stain products and is super cute so thats probably what drew me into buying this over a Revlon Just Bitten in a similar shade. 
So this was the result...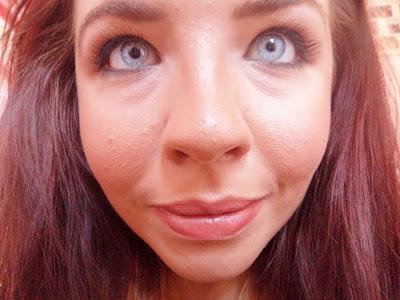 without Balm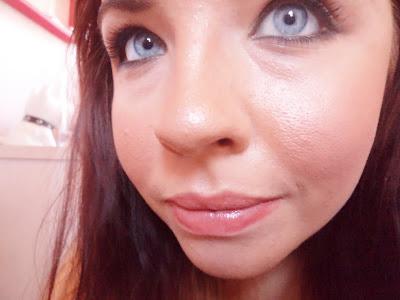 With balm  I actually found that this product didn't apply to evenly as the color alone came out kind of patchy and sunk in heavily into any creases my lips may have had giving a really uneven finish. Putting the balm on top kind of evened out this problem and gave a much more even finish. I actually find though that the shade I bought (nothing but nude) is a little too close to the natural colours of my lips so doesn't really do much for me. I've taken to using it as a kind of lip base as I find it really brings out the colours of other bright lipsticks I have really well. 
As always though alone a lip stain is drying so if your lips are too dry this isn't for you. I wasn't that impressed with the application or color of this stain but its maybe due to the fact that the nude didn't have much differentiation from my own lips. 
Has anyone else tried Rimmel 1000 kisses? What did you think in comparison to Revlon Just Bitten?