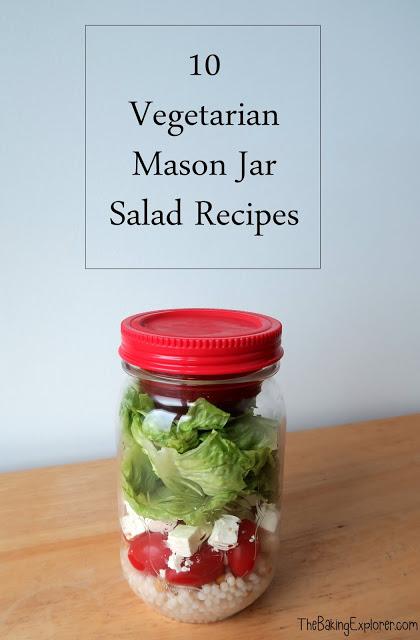 Mason jar salads are an easy way to pack a healthy lunch for taking to work, or any on the go activity. The basic principal is that the ingredients are layered up, starting with the dressing and any wet ingredients at the bottom, veggies and proteins in the middle, and then salad leaves at the top. When you're ready to eat, you shake it up, tip it all out into a bowl or plate and dig in! You can also now get jars that have a separate compartment for the dressing, like the one I have which is pictured above (there's a link at the bottom of the post to where you can buy it). With a mason jar salad you can create your perfect tasty lunch, tailored to your own tastes and dietary needs, the possibilities really are endless! In order to celebrate
National Vegetarian Week
(16 - 22 May 2016) I decided to gather together 10 vegetarian mason jar salad recipes that look sure to brighten up any lunch hour!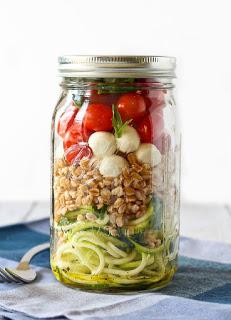 Courgetti, Farro & Mozarella Salad
by Rachel Cooks
This salad looks really easy to prepare and is full of goodness.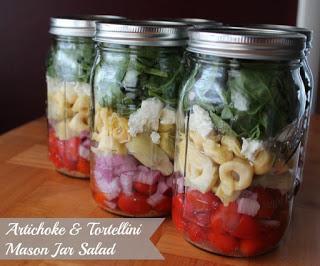 Artichoke & Tortellini Salad
by Organize Yourself Skinny
A nutrious mix that is also a fantastic way to use artichoke.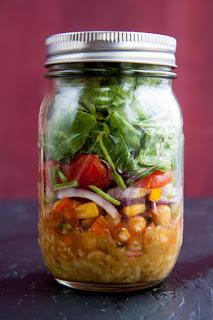 Mexican Chickpea Salad with Chilli-Lime Dressing
by Back To Her Roots
If you love spicy food and mexican flavours, this is the mason salad jar for you!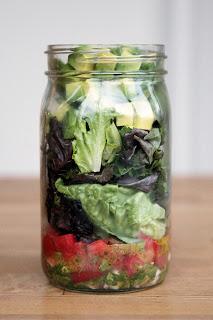 Guacamole Mason Jar Salad
by Popsugar
A simple salad with a spicy kick that will satisfy your cravings for chips and dips!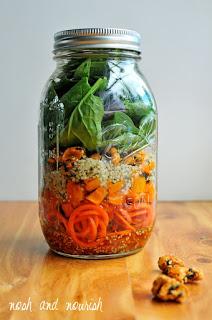 Carrot Noodle Salad with Sweet Chilli Vinaigrette
by Nosh & Nourish
A delicious asian style salad including hemp seeds, which are packed with nutrion.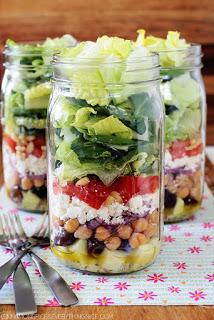 Greek Mason Jar Salad
by Cinnamon Spice & Everything Nice
I adore greek food and this is making my mouth water!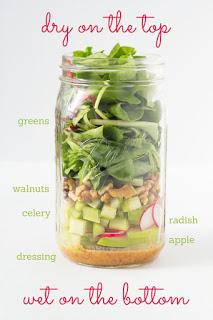 Apple & Walnut Salad
by Eat Within Your Means
This crunchy salad is full of textures and flavours and makes me think of summer.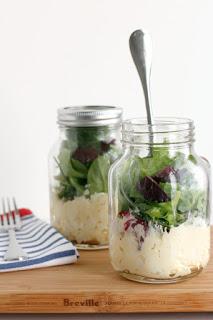 Egg Salad
by Make and Takes
A simple but tasty mix of egg salad and leafy greens.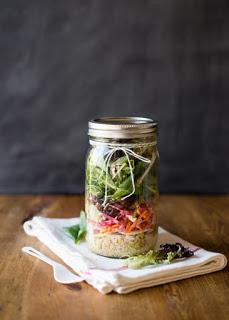 Rainbow Salad with Avocado Hummus
by Oh My Veggies
This super healthy salad is also vegan friendly and the avocado hummus sounds heavenly!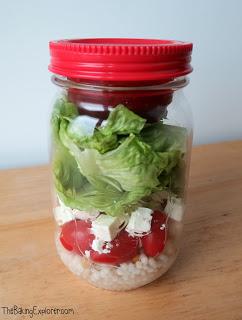 And finally... Giant Cous Cous, Chickpea and Feta Salad with Raspberry Balsamic Dressing by me! Writing this blog post really inspired me to try out my first mason salad jar recipe. I combined some of my favorite salad ingredients to make a delicious lunch to take to work. I adore giant cous cous and feta is one of my favorite cheeses to have in salad. I found raspberry balsamic in Holland & Barrett and have loved it ever since, it still has that vinegar tang, but with a fruity hint. Give it a try!
My mason salad jar is by Aladdin and you can buy it from Amazon*.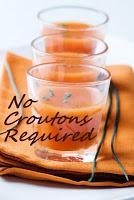 I am entering this into
No Croutons Required
which is hosted by Lisa's Kitchen and the theme is veggie recipes.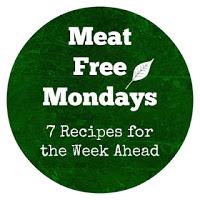 And into Meat Free Mondays hosted by Tinned Tomatoes.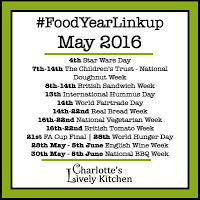 And into
Food Year Link Up
hosted by Charlotte's Lively Kitchen, for National Vegetarian Week.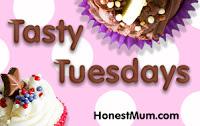 And into
Tasty Tuesdays
hosted by Honest Mum.
*this is an affiliate link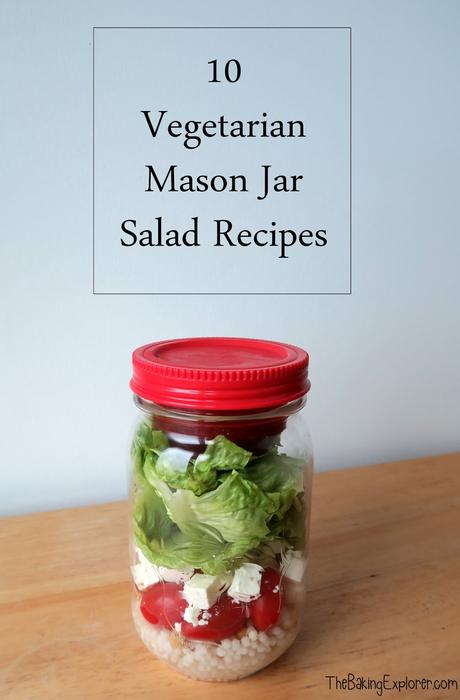 Giant Cous Cous, Chickpea and Feta Salad with Raspberry Balsamic Dressing
May-11-2016
Ingredients
60g

Giant Cous Cous

50g

Chickpeas

45g

Feta

6-8

Plum tomatoes

1

Sweet Gem Lettuce

1 1/2 tbsp

Raspberry balsamic vinegar

1 tbsp

Olive oil

1/4 tsp

Salt

1 tsp

Honey
Instructions
Cook the giant cous cous according to the packet instructions. Allow to cool fully
To make the dressing, mix the ingredients together well. You may like more honey, salt or vinegar depending on your personal taste so adjust the quantities to your own preference
Mix the chickpeas into the giant cous cous and add the mixture into the mason jar. (If you are using a jar without a seperate dressing container, add the dressing at this point)
Layer the feta, then cherry tomatoes, then lettuce.
When ready to eat, pour in the dressing, shake the jar, and pour out onto a plate and dig in!