Scroll through a list of the top 10 solid wood bathroom vanities from top manufacturers like Virtu USA, Fresca, JWH Imports, and Design Element. Over the years, I've notices real wood becoming highly desirable in the market. Rightfully so as the demand for quality products has been met by manufactures who have place an emphasis on timeless pieces.
As you know, water, humidity, and moisture can wreak havoc on your bathroom furniture. Personally, I like to hold onto things for as long as possible; heirloom items if you will. Solid wood vanities are the strongest material for a bathroom vanity. They are typically heavier and also command a slightly higher price.
Top 10 Bathroom Vanities with Solid Wood Construction
1. Naked Lune Single Bathroom Vanity from JWH Imports
The Naked Lune is an all new line from JWH Imports that features a beautiful clear coat finish. I've yet to find a vanity like this. Each of these vanities has its own unique pattern and color tone. In this way, no two vanities are the same. Not only does it look gorgeous, it's made from solid oak hardwoods that are guaranteed to last a lifetime.  Also available with a black glass top.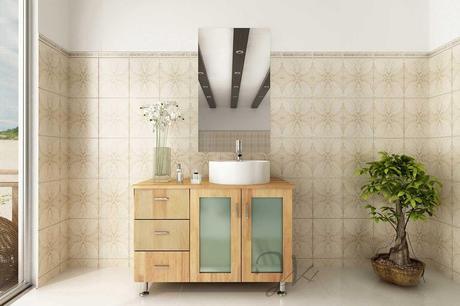 Click here to learn more about the
Naked Lune Solid Wood Vanity
.
2. Caroline Avenue Double Sink Vanity from Virtu USA
Ahh the Caroline Avenue Double Sink Vanity, one of the most popular vanities from the prestigious Virtu USA Collection. This vanity has a pristine finish that is complemented to perfection with an Italian White Carrera Marble countertop. Not to mention, this vanity is safe for the environment using water resistant, low V.O.C sealers that don't emit toxic emissions like most other vanities that use formaldehyde adhesive glues in the production process.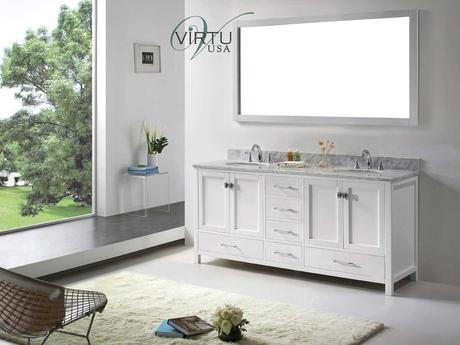 Click here to learn more about the
Caroline Solid Wood Vanity
from Virtu USA.
3. Masaya Single Bath Vanity
The Masaya Vanity blends a classic walnut finish with a contemporary overlapping sink. Think of it as a modern update to traditional wooden vanities of the past. Outfitted with contemporary nickel drawer pulls and a rich natural finish, there is no doubt that the Masaya is built from solid woods. You can see more Walnut Bathroom Vanities here.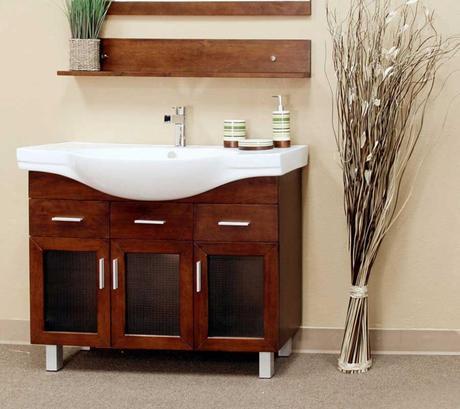 Click here to learn more about the
Masaya Single Bath Vanity
.
4. Hampton Road Single Bath Vanity
The Hampton Road Single Bath Vanity is perfect for a country bathroom or a cottage style home. The shutter style doors are reminiscent of barn houses and old fashioned window louvers that were first used in Ancient Greece believe it or not.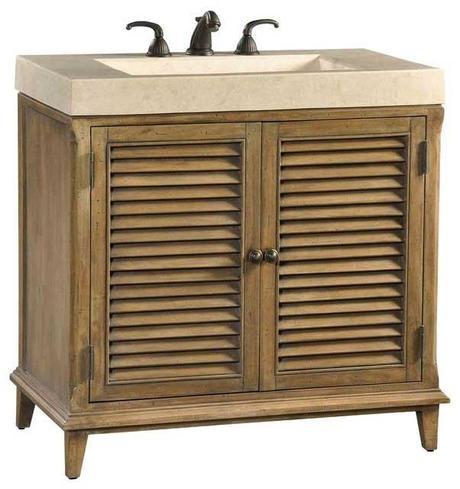 Click here to learn more about the Hampton Road Wood Vanity.
5. Crestview Single Bath Vanity
The Crestview has a look that is all too appeasing. Irresistible to vintage connoisseurs, this vanity transforms traditional aesthetics with a half-rotunda cast stone basin that dares to differentiate the boxy form of normal vanities. Everything from the lustful texture to the decorative pilaster legs exudes elegance in the highest form.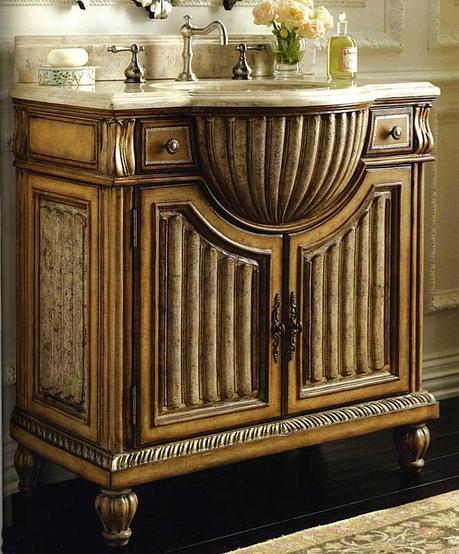 Click here to learn more about the Crestview Single Bath Vanity.
6. Crater Solid Wood Bathroom Vanity
The Crater vanity follow minimalist pattern with a sleek and unobtrusive design pattern. Chrome feet give this espresso vanity a modern face-lift and a tempered glass top adds the icing on the cake. This vanity is made from solid oak wood and also features luxury soft-close glides on all drawers and cabinets for your utmost convenience.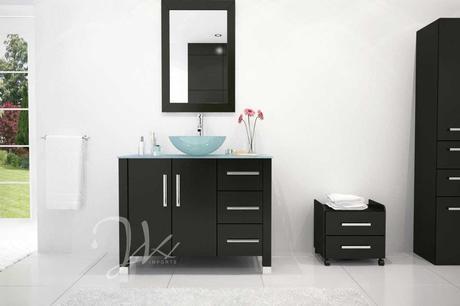 Click here to learn more about the
Crater Solid Wood Vanity
from JWH Imports.
7. Floral Painted Single Bath Vanity
By far the most artful on this list of solid wood vanities, the Floral Bath Vanity features a lovely cherry red finish and that shows hints of golden brown tones. Scrolled legs stand firm in the fashion of the traditional past while a luscious black granite counter graces the top of this wood vanity.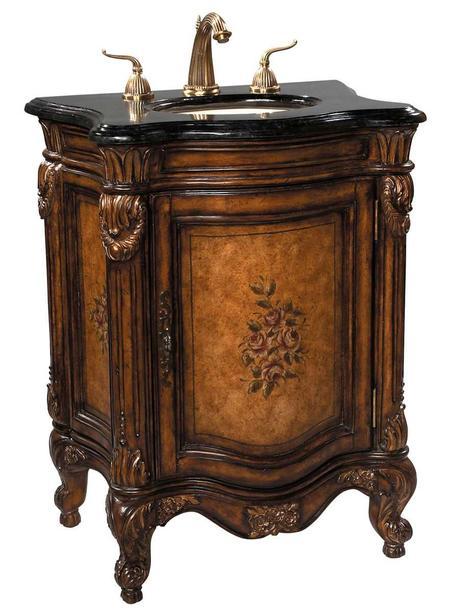 Click here to learn more about the
Floral Painted Vanity
.
8. Soft Focus Small Bathroom Vanity
Real wood vanities come in all shapes and sizes. The Soft Focus is a petite bath cabinet that offers the strength and durability of full-sized double bathroom vanities. What's unique about this vanity is the frosted glass window and the matching frosted glass vessel sink. It's a modern masterpiece with Grade A qualities that make it worthy of this list of solid wood vanities.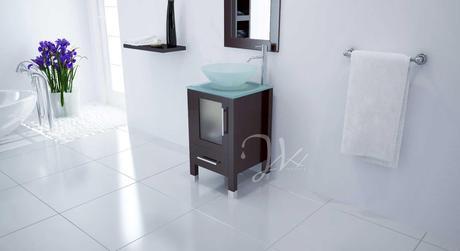 Click here to learn more about the
Soft Focus Bathroom Vanity
.
9. Vicoli Solid Driftwood Single Bath Vanity
The Vicoli Single Bath Vanity is made from kiln-dried solid oak. Each of these vanities is hand-finished with 3 layers of commercial grade varnish that imitate the rustic look of driftwood. Also included is a special anti-mildew coating that protects the interior of your vanity from the humid conditions of the bathroom. Even the counter is polished and sealed to resist stains, water marks, and other imperfections. Good looks and low-maintenance are a winning combination.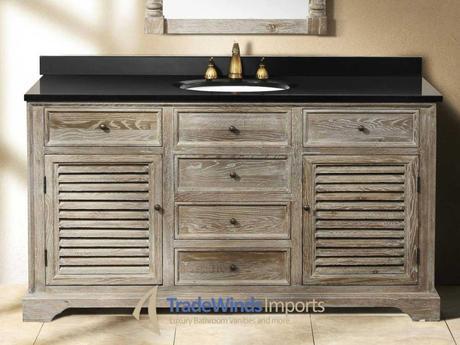 Click here to learn more about the
Vicoli Solid Driftwood Bath Vanity
.
10. Mozart Single Bath Vanity
Nothing can be labeled with the name Mozart without living up to legendary standards of classical fashion. The Mozart vanity gets its name from the pointed feet that mirror the pointed curvature in a the hands of a pianist. If you'll notice, this vanity is noticeably darker than others on this list. With the right lighting, you can play around with the visual hues to match your intended decor.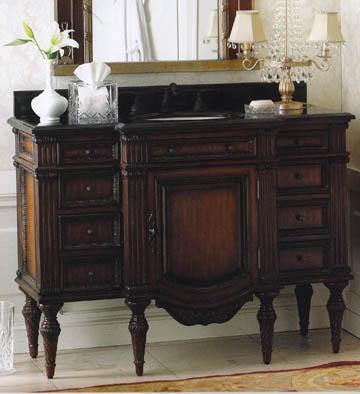 Click here to learn more about the
Mozart Antique Vanity
.
What Exactly does "Solid Wood" Mean?
Solid wood bathroom vanities are made from natural pieces of wood that haven't been compounded or glued together like plywood, particle board, or MDF. Areas that are not exposed visually can be made from other materials but the primary construction of solid wood vanities must be made from real wood. Generally speaking, solid wood vanities feature solid wood in all areas aside from parts of the drawers. All other pieces are made from solid woods from angiosperm trees like birch, rubberwood, and oak.
Softwoods on the other hand, come from needle-bearing trees like pine or cedar. Softwood (gymnosperm trees) has a loose grain and is often used to for furniture that is carved. Softwoods are necessarily softer than hardwoods but the most dense hardwoods are harder than the hardest softwoods. Because of this, dense hardwoods are less susceptible to dings, dents, and scratches. That bring me to my next point; why solid wood is the best material for bathroom vanities.
Why Solid Wood is Better than MDF
There are many benefits behind solid wood vanities. In short, they are highly durable and ideal for the extreme conditions experienced in the bathroom. In case your extractor fan is unable to cycle fresh air in fast enough, your vanity can have some serious side effects.
Capable of supporting the weight of a heavy granite or marble countertop and backsplash. (Won't droop in the center).
Solid wood won't scratch, dent, or ding easily since it is very dense.
Genuine wood finish can be stained or repainted as many times as you want.
Also available in unstained versions that you can stain/paint yourself.
Real wood surface won't peel off like a vanity finished with a veneer.
Will withstand the wear and tear over the years.
For more information on this, you can read my comparison on MDF and Solid Wood Vanities. Avoid low-density particleboard if you choose to take the MDF route. If within the budget, I always advise to pay the extra dollar for a real wood vanity.
Where to Find the Best Solid Wood Bathroom Vanities
Tradewinds Imports.com has a Premiere collection of view thousands of solid wood bathroom vanities. The Premiere Collection only includes vanities that receive A+++ Grades in terms of type of wood and craftsmanship.
All of these vanities feature solid hardwood box-framed construction. Each of these vanities uses pieces that are kiln dried in small batches to ensure that they dry evenly. This is an extra precaution that prevents cracking and warping. Tradewinds Imports offers the web's largest selection of hand-crafted, solid wood, and exotic bathroom vanities.
–Click Here to Browse Solid Wood Bathroom Vanities–
More Bathroom Vanities:
20 Small Bathroom Vanities that Are Big on Style
Floating Bathroom Vanities: Space and Style to Spare!
Country Bathroom Vanities Infuse Your Bathroom with Warm Rustic Style
Hot in 2014: European Inspired Bathroom Vanities
What the heck are Transitional Vanities Anyway?
Spruce Up Your Home with a Furniture Style Vanity
About the Author
Cheryl Khan is an interior designer and writer at Tradewinds Imports, an online specialty site dedicated to luxury bathroom furnishings. She has extensive knowledge about all the finer details that go into planning the perfect bath renovation project and is an expert on all things bathroom! Send her your bathroom Q's on twitter @SuperInteriors!