Yes, it's another list. I am uninspired this week. Plus, last night I got last minute tickets to the A's game, which they lost, so I put a lot of the things on my to do list off until tomorrow. I stole this from Nancy. I haven't really talked a lot about it, but I will be running the Nike Womens Marathon on Sunday and will need all the help I can get, so I appreciate any good juju you can send my way!  
1. FUEL: Shot Bloks, GU, Energy Chews, Candy or Other?
I like Honey Stinger Chews and Gummy Bears.  I can make do with the chocolate raspberry Roctane or the regular chocolate Gu if need be.
2. Race Length: 5k, 10k, 1/2 Marathon, Marathon, Ultra or Other?
Like seasons, each race has it's ups and downs. I love the feeling of speed and total energy drain that I get from a 5k or a 10k. Half marathons are probably my body's best distance, physically. However, I love the feeling of strength and accomplishment that I get from a marathon and from Ultras.
3. Workout Bottoms: Skirts, Running Shorts, Capris, Pants or Other?
Nike Tempo shorts OR this old pair of black pants that I used to wear under my ski pants when I was a kid. I found them when I was going through and cleaning out my stuff and I put them on and they still fit, so now they are my running pants!
4. Sports Drink: Gatorade, Powerade, Cytomax, you stick to water when you run or Other?
Water. I only drink water. I can't stand the sweetness of most of the drinks. From time to time, I will have a Nuun before running, but usually it's water all the way. 
5. Running Temperatures: HEAT or COLD?
Cold. Any day. Heat, and especially humidity, really drains my energy!
6. Running Shoe Brands: Saucony, Mizuno, Nike, Brookes, Asics or Other?
Asics have been my shoe forever. Until this year, when I won a pair of Saucony Kinvaras. They are awesome! I may have to invest in a real pair someday.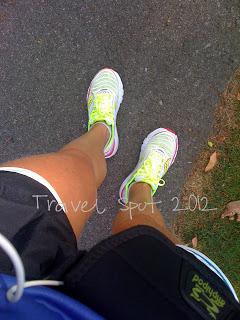 Saucony Kinvara
7. Pre-race meal: Oatmeal, Bagel, Banana, Eggs, Cereal or Other?
90 percent of the time, I have oatmeal with fruit and one cup of coffee. The other 10 percent of the time, I have Cheerios instead.
8. Rest Days: 1x per week, 2x per week, never ever ever or Other?
All of the above. Normally, I run 4 times a week. Lately, my schedule has been hectic and I have been running 3 times a week. This week is taper week and I will run twice. I would rather do one 10 miler than a 4 and a 6. 
9. Music: Have to have it or go without it?
When running alone, I need Marshall Mathers to keep me company. If running with others, I am happy to talk your ear off or listen, whichever floats your boat.
10. #1 reason for running: stress-relief, endorphins, you love to race, so you can eat all the cupcakes you want, weight-loss, love running for social reasons or Other?
Yes! No, really, the number one reason is that it makes me feel strong and happy and in control. 
If you run, answer one of the questions in the comments! If you don't run, answer anyway! What's your go to breakfast? What's your favorite brand of shoes? 
Don't forget to stop by Jills for Fitness Friday and link up!