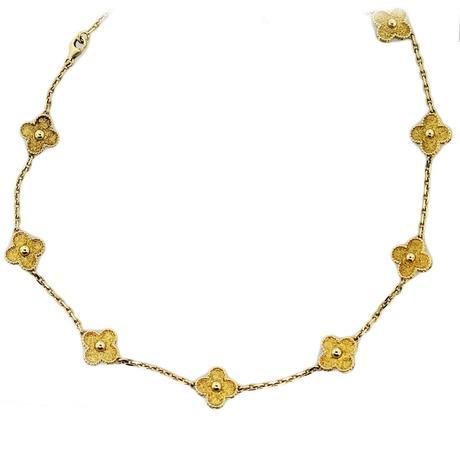 Van Cleef and Arpels Alhambra Gold Clover Necklace
Silver and gold jewelry are both classic pieces that no girl should be without. You can wear them anywhere and anytime. However, you might as well make the most of them. If not, they can go to waste! The following list will provide you with some great new ways to enjoy your gold and silver jewelry from here on out.
1) Together is Better
Many fashion experts will tell you never to mix silver and gold. However, the look can be refreshing. Try mixing a few key pieces that look good together. If they share a gem or other design, this is a pretty good indicator that they'll work.
2) When in Rome
Italian women love gold. They love stacking it up and down their arms. You can do the same by putting all of your gold jewelry on one wrist. The louder it clanks around, the better the effect.

3) Summer Fashion Fun
It can be hot to wear too much jewelry during the summer. Therefore, pick your favorite pieces and wear one during the day. You can add more at night when you go out. You can even skip the bracelets and just opt for silver rings and earrings.
4) Glamorous Maven
Pretend you are getting ready for a night on the red carpet. You can add as much silver jewelry and jewel encrusted pieces as you can. Do not change the entire day and see how many people ask for your autograph!
5) Hairpieces
If love headbands, then why not wear a necklace or brooch woven into your hair? This is a unique idea that will add some bling to your look. Just take care not to tangle the necklace in your hair!
6) Mix and Match
You'd be surprised how trendy mixing glamorous jewelry with more simple, inexpensive jewelry can be. Obviously, it's a fine line to balance, but if you can find the right bracelet from your childhood to go with a new necklace, you could look fierce in a truly unique way. Think mixing high & low – a Van Cleef & Arpels clover necklace with a stack of thin gold bangles, for example.
7) As a Belt
If you have a really long necklace, then it can also double as a belt. You can wear it around a simple dress or on black pants. Use your imagination!

 Accessorize!
Do you have an old boring purse that you love? Why not string some funky gold charms and bracelets into the strap? This will update its look and give more life to your purse.
9) Earn More Cash!
Do you have some jewelry that you no longer wear, or rings that no longer fit? Perhaps something you bought or received long ago no longer reflects your taste – don't hold onto it! Clean out your jewelry box & visit a gold buyer to earn cash or trade in your jewelry for new pieces.
10) Classic is Better
Never underestimate the power of a single strand of pearls, a pair of diamond studs, or a charm bracelet. Think "Breakfast at Tiffany's," but toned down, for a day time look.
In conclusion, gold and silver jewelry are essential to any girl's wardrobe. You can wear this during a glamorous night on the town or to simple coffee date. The best part is that they will never go out of style. You can count on passing these pieces down to your grandchildren one day!
Latisha Furan rights about fashion, finance & frequenting www.termlifeinsurance.org.