Eid al-Fitr is an important religious festival which marks the end of the holy month of Ramadan. This festival is celebrated around the world with great pomp and festivities. A major highlight of Eid is the mouth-watering Eid food items. With Eid just around the corner, we bring to you 10 lip-smacking delicacies that are a must try this Eid!
Galouti Kebab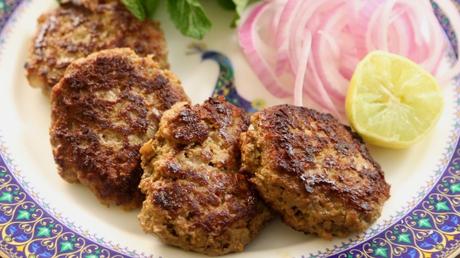 Source: hungryforever.com
The galouti kebab is a flavourful kebab that originates in Lucknow and is a popular dish during Eid. Legend goes that the reigning Nawab of Lucknow during the late 1700s, Nawab Asad-ud-Daula was a great connoisseur of gourmet food, with a penchant for kebabs. Due to old age, he had lost all his teeth. His khansamas came up with the galouti kebab recipe, a kebab which required no chewing. The term 'galouti' means soft and something that melts in the mouth. This delicious Eid food item is made of minced meat, which is marinated in a larger number of spices (during the time of the Nawab, 150 spices were used), before being shaped into patties and fried for a delectable finish. The galouti kebab is a culinary delight and a great Eid food idea!
Seekh Kebab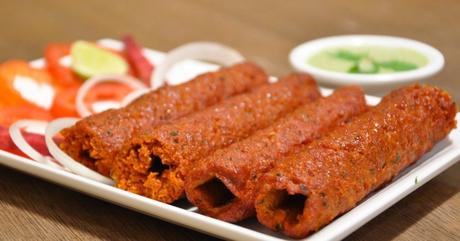 Source: hungryforever.com
The famous Indian seekh kebab can be traced back to the shish kebab which originated in Turkey. This is one of the most delectable Eid food recipes that people love to try during Eid. The main requirement of a seekh kebab recipe is the skewer. Seekh kebab consists of minced meat, which is flavoured with a variety of spices, before being pressed onto a skewer and cooked over a tandoor. If you haven't tried it yet, this lip-smacking delicacy is a must try this Eid!
Pathar Kebab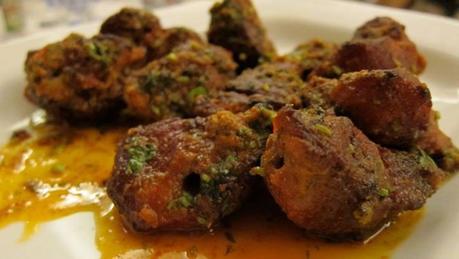 Source: apnafoodtv.com
Pathar kebab or Pathar-ka-Gosht is a famous lamb dish from Hyderabad, India. In this Eid food recipe, boneless pieces of marinated mutton are heated on a wide stone, over a flame. Once the marinated meat has heated, spices are added to it. This is an extremely popular dish in Hyderabad, especially during major festivals. Give this delicious Eid food item a try!
Mutton Biriyani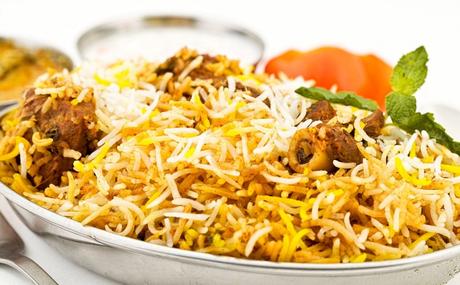 Source: hungryforever.com
Eid is incomplete without some mouth-watering mutton biriyani! Dating back to the Mughal era, this is one of the most loved dishes in India and Pakistan. Mutton biriyani is a major Eid food item that is savoured by Muslims during Eid. This delectable dish is cooked by simmering tender pieces of mutton over a long time with basmati rice, several Indian herbs, yoghurt and saffron. Mutton biriyani is a great Eid food idea that is sure to make your Eid a flavourful one!
Nihari Gosht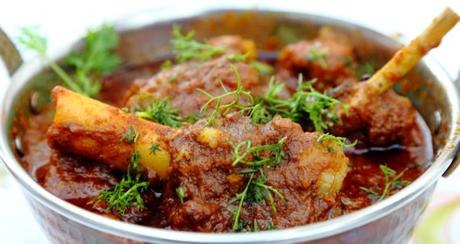 Source: food.ndtv.com
The nihari gosht is a must-have Eid food item and regarded as the national dish of Pakistan. The history of this savoury dish can be traced back to the Mughal era. Nihari is basically a kind of stew which is prepared by cooking lamb shank meat over a low flame for a long period of time. This ensures that the meat is soft and succulent. The juicy meat and flavourful ground spices impart a rich flavor to this dish. Loved by Muslims all over the world, this delectable delicacy is a must try this Eid!
Haleem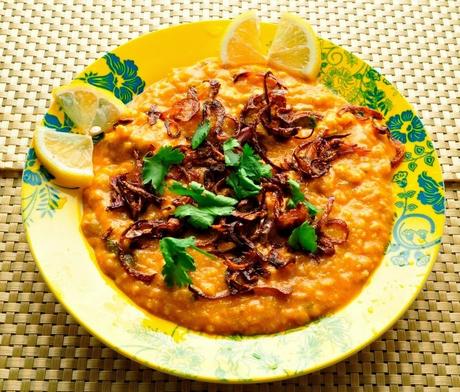 Source: yes-icancook.com
Haleem is a type of stew which is a staple Eid food item. This dish can be traced back to the popular Arabian dish known as Harees. Haleem was brought to India by Arab soldiers in the Hyderabad Nizam's army. This is a traditional Eid food recipe that people love to try during Eid and other major festivals. Haleem is made by blending wheat, barley, meat, lentils and spices and cooking for 7 to 8 hours in order to create a paste-like consistency. This dish is a staple during Eid and Ramadan and an essential to make your Eid celebrations a magnificent one!
Batta Gosht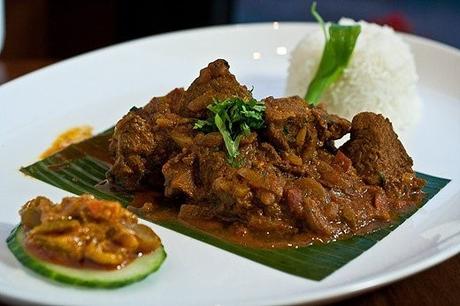 Source: desichef.com
Batta gosht is also known as "pasandey", derived from the Urdu word "pasande" which means favorite. The history of this appetising dish can be traced back to the Mughal era. This Eid food item is prepared from lamb leg, which is cut and flattened into strips, before being marinated and fried for 30 minutes to an hour. Pasanday ka gosht is often served with naan or white rice on the side. Don't forget to try this delicious Eid food recipe!
Nalli Bhuna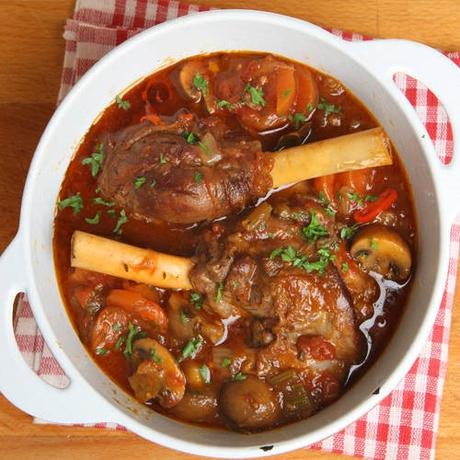 Source: recipes.timesofindia.com
The nalli bhuna or nalli gosht is a popular Eid food item. This dish is a staple during Eid and other major festivals. The main ingredient of the nalli bhuna are the lamb shanks. This delicious dish is cooked in a rich, spicy yoghurt curry. The nalli gosht is made by marinating the lamb shanks and cooking them in a rich, yoghurt gravy for over an hour. The result is soft and succulent meat which falls off the bones. Served with roti or naan, this delectable dish is a must try this Eid!
Sheer Khurma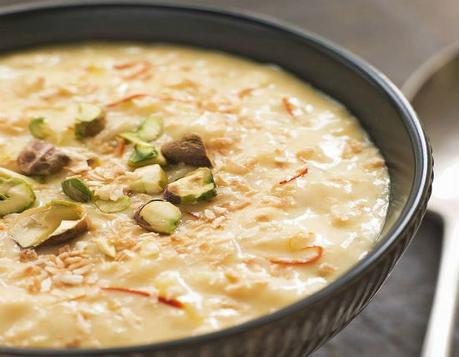 Source: awesomecuisine.com
Eid al-Fitr, also known as Meethi Eid, is incomplete without some sweet treats. The sheer khurma is a dish which is synonymous with Meethi Eid. This festival vermicelli pudding is prepared and served in the morning of Eid, after the Eid prayers. The main ingredients used in this Eid food item include vermicelli, milk (sheer), sugar and dates. Sheer khurma is made by frying the vermicelli in clarified butter, before adding the milk, sugar and dates and cooking further, until the mixture thickens. Enjoy this Meethi Eid with this mouth-watering dessert!
Shahi Tukda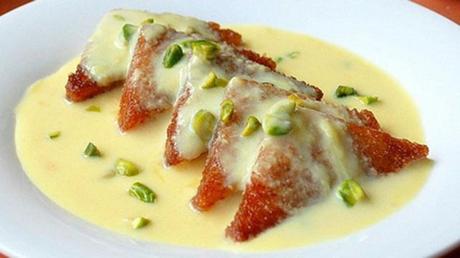 Source: dnaindia.com
Shahi tukda is a delicious sweet treat which originated during the Mughal era. The term "shahi tukda" literally means "piece of royalty", signifying the richness of this dessert. This Eid dessert is basically a type of Mughlai bread pudding made using golden fried bread. Shahi tukda is made by deep frying bread before soaking it in sugar syrup and then topping the bread with rabri or thick, sweetened milk. This delectable dessert is sure to make your Eid a sweet one!
Eid is a time for celebrations and what better way to celebrate than with some gourmet food? Try out these 10 lip-smacking delicacies this Eid and make your Eid festivities an unforgettable one!