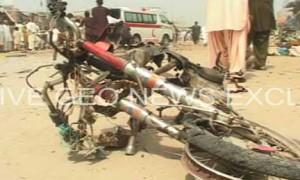 At least 10 people were killed 43 others injured in a deadly blast in Dera Allahyar town of Jafarabad district in Balochistan.
The people were busy in shopping a in a bazaar near an old bus terminal on Quetta Road when the remote-controlled bomb, planted in a rickshaw, exploded. Eight shops were also destroyed as a result of blast.
According to eye witnesses, the intensity of blast was as much that everything became invisible and panic sparked everywhere.
According to the DPO, the bomb contained 20 kilograms of explosives.
The dead and injured were rushed to the Dera Allahyar, where emergency have been declared.
The critical injured have been shifted to the hospitals of Quetta, Larkana and Jackobabad.