As you know, Trade Winds Imports is dedicated to supplying you with your every bathroom need. Today we would like to transform the way you think about your bathroom space with this post! Have you every stopped to realize that your restroom is the place where your day begins and ends. The Alpha and the Omega.
Chances are, this has become your escape for much needed "Me Time" where you can relax and unwind after a hard day of work. Open your mind and imagine the possibilities. Here are 10 Incredible Designs that will Make You Rethink Your Bathroom!
1. Take your bathroom to the next level of elegance by incorporating luxury items. Sometimes you can add detail with various items that come together to create a breathtaking masterpiece. Note the gold accents coupled with rich marble stonework and how they set the theme for the restroom. Attention is paid to the smallest details including crown molding, stained glass doors, and a royal chandelier!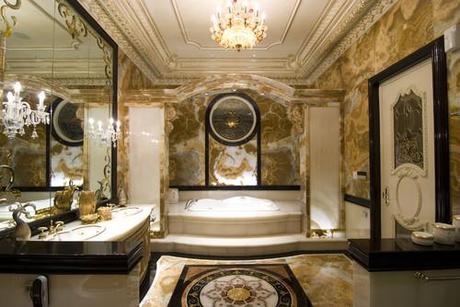 2.
Just take a first glance at this bathroom design and you will wonder whether it is a living room or a bathroom? Add optimum levels of comfort to your restroom by blending other household elements to your bathroom space!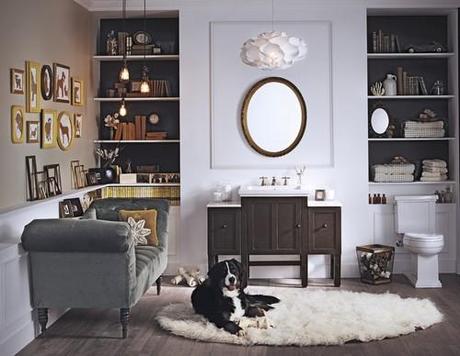 3.
Nothing is impossible when it comes to design. The saying holds true, "If you believe it, you can achieve it." Check out this stone intensive design. Who needs shower curtains when you can use natural rocks! Notice the continuity in the basin. Lined with beautiful wood panels, this design is truly unique and equally inspirational.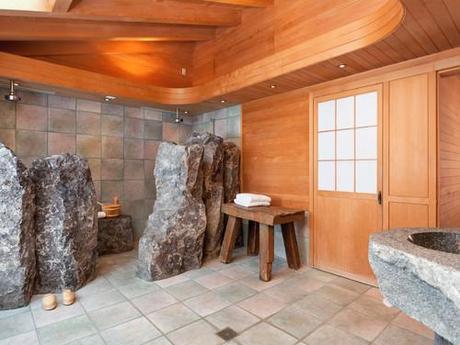 4.
Custom themed designs are a great idea for individuals who are looking to personalize their restroom experience! The possibilities are boundless; that just depends on what you are passionate about! Maybe you're into golf, cartoons, or cars. Let your creative juices flow and step out of the norm!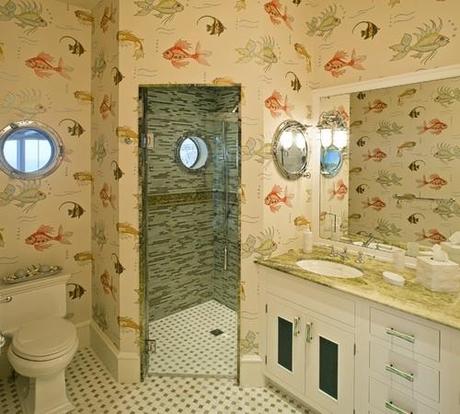 5.
Romanticize your bathroom by creating the backdrop for a Hollywood fairy tale story. Draped windows usher in a natural ambiance while allowing the transition to a more private environment when needed. And of course, there is nothing like a fireplace to add warmth to a room. Finally the traditional style of this particular design adds richness and character to the room.
Shop Antique Vanities Here
!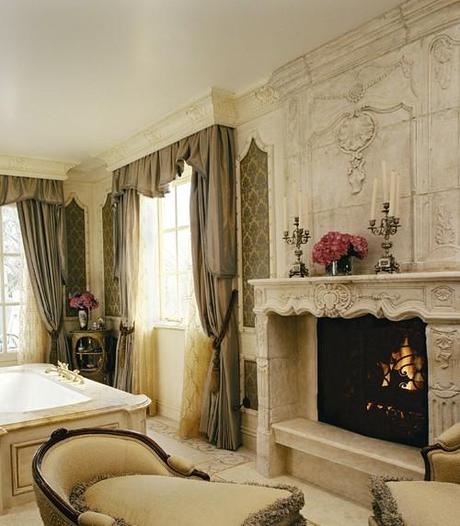 6.
Now, you've heard of Canopy Beds but how about a Canopy Bathtub? Take your bathing experience to new heights! This is a great example of a Mediterranean Design but you can always choose a style that is fitting to your personal preference. Learn more details about Mediterranean Bathroom Design Here!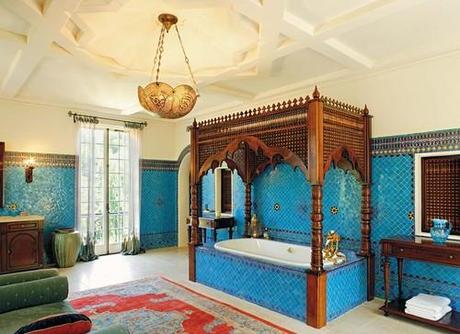 7.
Now this is an innovative and creative way to add excitement to your restroom. Traditionally, showers have been designed next to walls but that's not the case with this incredibly lavish room. A transparent enclosure is used to emphasize the open space design creating an airy feeling. Did you notice that the shower is actually a double? You can view more
Luxury Shower Enclosures Here
!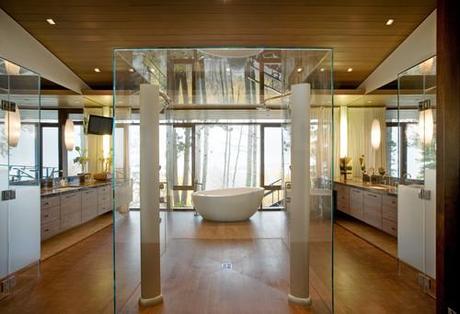 8.
Stonework can create a grand entrance to your shower by signifying an unwavering build that is bold and long-lasting. The only problem you'll have with this design will be deciding whether to lounge in the oversized tub or take a trip to the shower! We'll let you decide.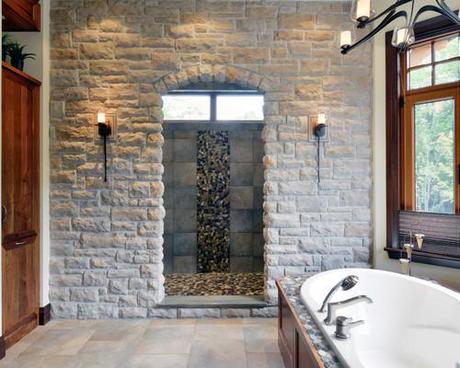 9.
A culturally infused African bathroom that incorporates the use of darker hues and traditional sculptures & artwork. Notice the bold vessel sink, open shower space, and recessed lighting that adds a modern update to this timeless design.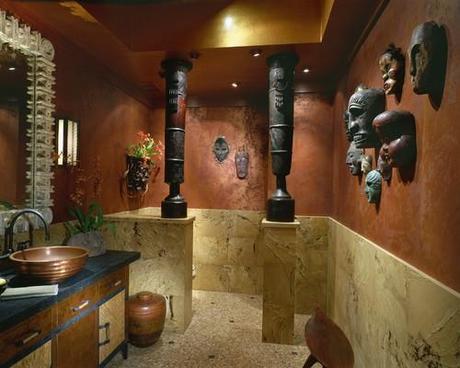 10.
Replacing a wall with tempered glass is a feasible idea that will add an unsurpassed level of luxury to your home. Just be sure that you don't have an open view!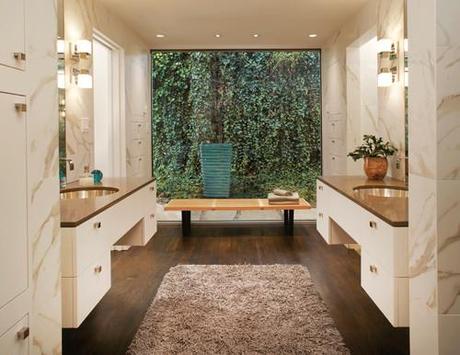 *Photos via Huffington Post.*
About this Post
This list was compiled for Trade Winds Imports by Cheryl Khan who is a frequent contributor to the TWI Blog. Her favorite TV Shows are Who's Line is it Anyway and The Voice!