Here are our top 10 simple DIY projects to update you bathroom on a budget:
Change Light Fittings
No matter what light fixtures you currently have in your bathroom, you can easily and cost-effectively take steps to improve them. If you have a single, central light fitting; replace it with an alternative that allows more illumination, perhaps switching one bulb for three. If you have down lighters, then simply replacing the bulbs with either warmer or cooler bulbs can dramatically change the feel of a room. You can opt for a brighter room using higher wattage bulbs, but unfortunately to the peril of your energy bill!
Change Knobs on Cabinets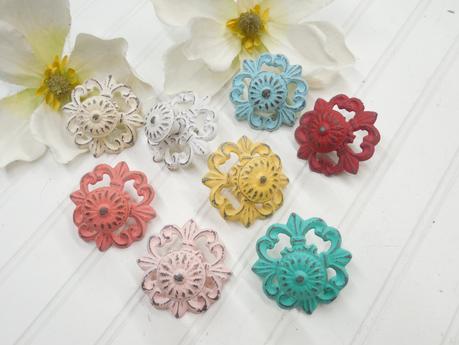 Old vanities and furniture can undergo their own little makeover. Simply changing the drawer and cabinet pulls can change the look and feel, especially if it brightens the piece up with a metallic or bright finish. If you can't spring for a set of designer pulls then you can always spray paint your existing knobs.
Install Shelves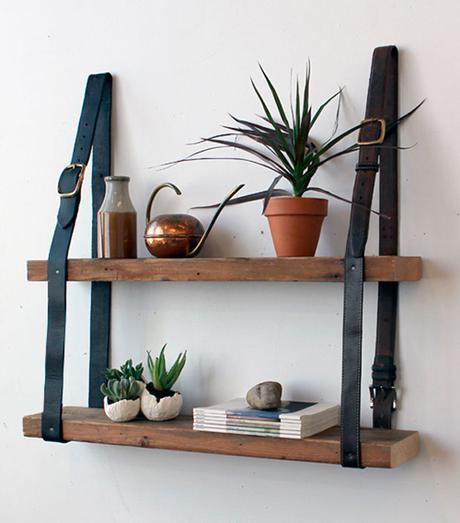 Shelves are the ultimate DIY project, synonymous with new homeowners and their good intentions. Don't rush into this – really consider your options and certainly don't go for anything basic. Plan the setup on the wall well before you drill. The image above shows a simple, but original shelf made from old belts.
Clean Grout and Silicone
It's a job that can be put off for months and months but once you get going, it really doesn't take that long. Compared with replacing tiles, or dealing with the damage caused by patchy grout, the time spent is more than worth it. Simply get some grout reviver and some tube silicone and get to work! Scrape out the existing silicone that has perished and replace with a smooth line. Grout reviver is applied all over then washed off of the surrounding tiles, leaving a tidy finish.
Refresh Shower Enclosures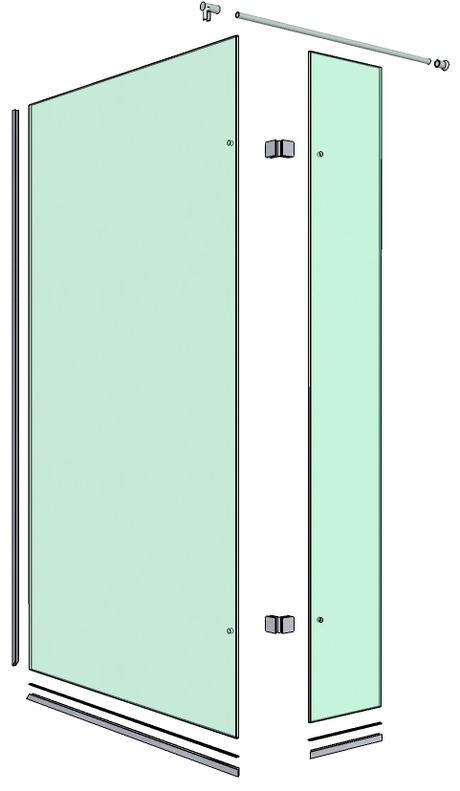 Similar to refreshing tiles but requiring a little more bravery! Old shower enclosures are notorious for having hard to clean areas. If you take the whole enclosure apart, bit by bit, taking the silicone off as you go then you can clean each component of built up gunk and lime scale. Let the pieces dry then reassemble with a good quality silicone. If you wanted to fix up the tiles in the shower, it's a great time to with the enclosure dismantled!
Build a Towel Storage Rack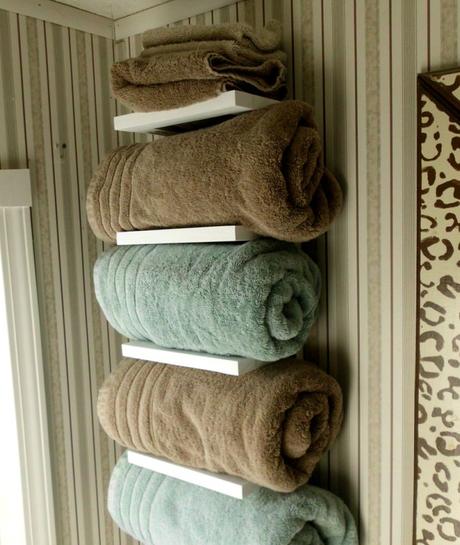 In an ideal bathroom, you'd have a cupboard for towels, cosmetics and cleaning products. But in reality, many bathrooms don't have this. What they do usually have, though, is a blank wall. That's where this project comes in, holding rolled up towels simply and attractively. We think this would be great on a wall adjacent to a bath.
Make Your Own Bath Mat
If you have a few spare hours and some patience, why not make your own bath mat? These cork based mats are really unique and a great way to recycle old corks. Try asking local bars or wineries to save their corks for you! The two methods, shown by The Crafty Nest and Daily Danny, vary slightly. One technique is to build a box frame from plywood and stand the corks up – just remember to put little rubber feet on the bottom and drill some holes in the bottom so it can dry out between uses.
The other method involves cutting corks in half and gluing them to anti slip mesh. This mat is more flexible but a little more labor intensive to make! Whichever way you go, cork is fast drying and naturally anti-fungal plus super comfy to step on- giving you a little foot massage whilst you dry off.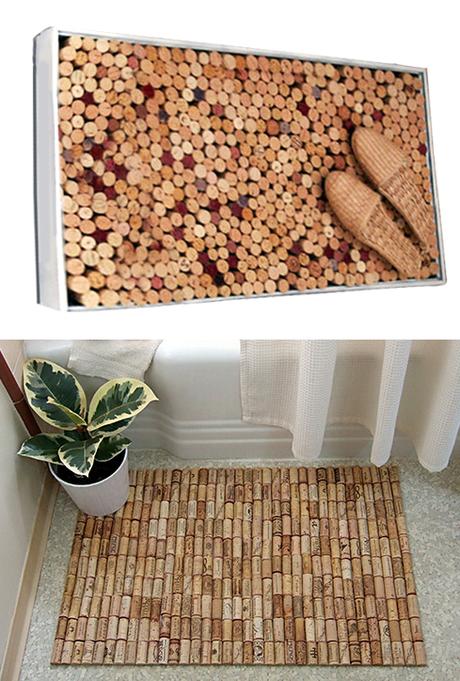 Mason Jar Storage
Glass jars are a beautiful and practical way of storing essential cosmetic consumables like cotton balls, buds and pads. Fill them and line them up on a shelf. One DIY step further, is to make a wall frame for the jars to sit in, helping to free up your counter space. Hose clamps attached to a wooden board, as pictured, make an attractive wall fixing for your jars.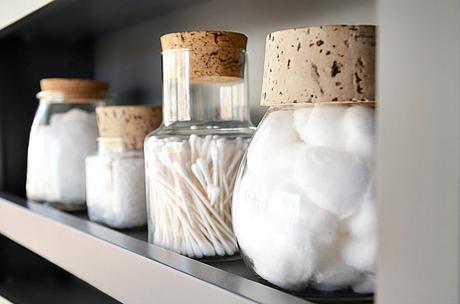 Upcycle a Dresser
With a little more skill and courage, you can pull off a beautiful washstand using an old dresser as your base. You simply drill a hole in the top to fit the pipework to your basin. Depending on your dresser composition and bottle trap choice you may have to make some more modifications to the structure of the piece. If there us a deep top drawer, it should easily accommodate the basin trap and then you just need a hole in the back of the dresser and drawer so the pipework can be connected. We'd then recommend a wall mounted basin tap and a statement countertop basin.
Upgrade Fixtures and Fittings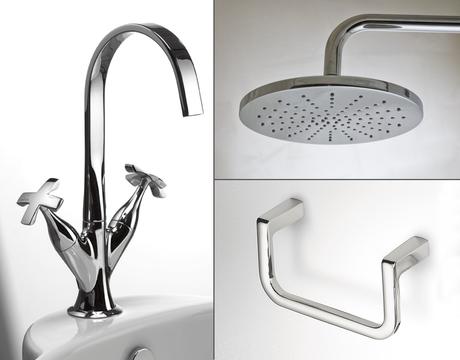 There's always a trade-off between the cost an item and the amount of time you're willing to invest in DIY. One of the easiest, but priciest, things you can do to smarten up your bathroom is replace your taps, shower head and hose, toilet seat and accessories– all those things that perhaps you inherited with the house and may have seen better days. Adding more functionality at the same time is wise; a soft close toilet seat, more intuitive taps, or showers with improved pressure. All these components add up to make a bathroom that not only looks better, but works better too.
We hope we've inspired you to tackle some of the work in your bathroom yourself. The advantages are that you can save some coin and progress at your own rate, taking the project bit by bit without pressure from contractors.