On January 8, my middle/high/lifeschool bestie and I set out for a 10 day trip to Israel.  Have you heard of Birthright?  Basically, if you are 26 and under and have at least one Jewish parent, you are eligible for a free trip to Israel.  Yes, you read that right!  K and I had been planning (gasp) entering our 27th years, we knew it was now or never.  I'll admit, I was a little apprehensive about the whole thing.  "A free trip? There has to be some kind of catch."  I'm not a religious person and have complicated thoughts about the political situation, but it was an absolutely incredible trip and I am so, so, so glad I went.  Not least because I was able to spend so much time with K!  Even though we live in the city, it's been hard to find time for our busy schedules to intersect.
The trip was non-stop movement.  With 40 other men and women aged 22-26 (and one awesome 21 year old!), we visited all four corners of the country (which is roughly the size of New Jersey).
Here we are on the group bus, fresh of a 10-hour flight: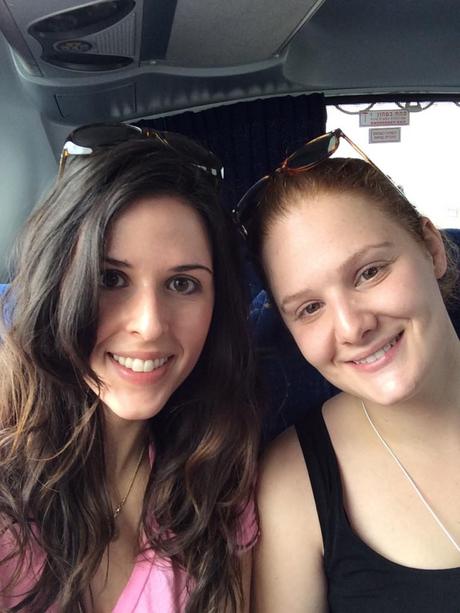 We headed straight to Jaffa, where we ate lunch overlooking the beautiful Mediterranean.  Did I mention that I had just come from -27˚ cold in Minnesota?  The sea was a sight for sore eyes.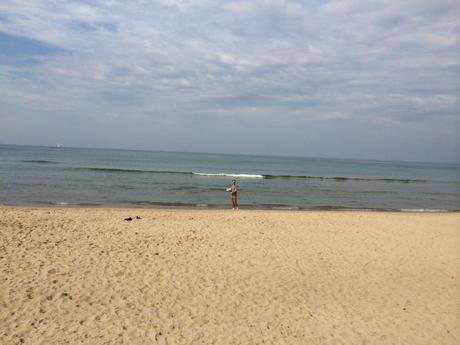 At Independence Hall in Tel Aviv: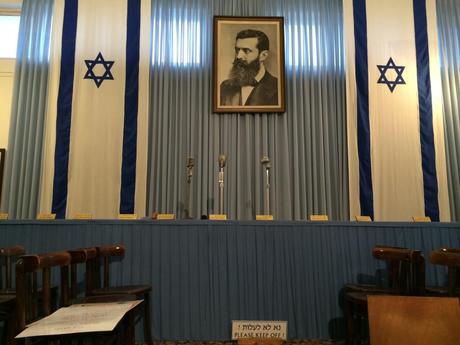 At our first kibbutz, in the Negev region: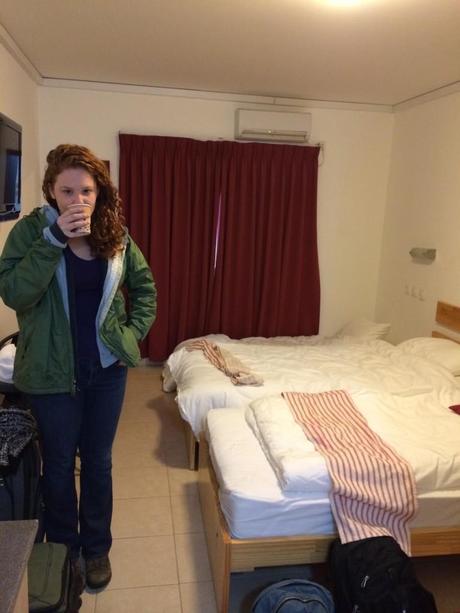 So much history!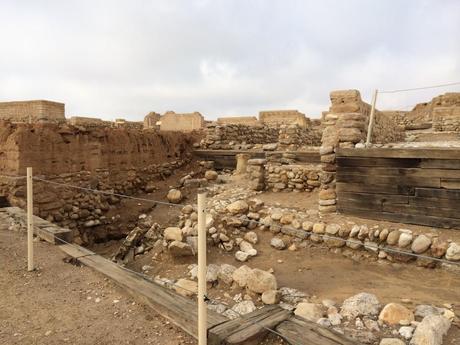 Here we are exploring the ancient city of Be'er Sheva.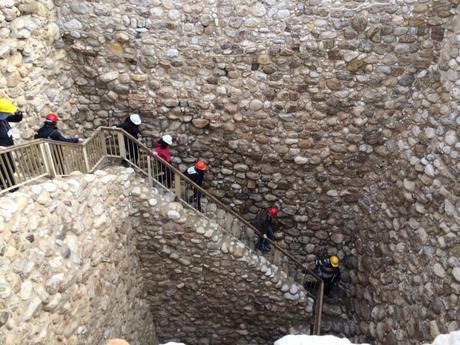 At night in Eilat, in the Southernmost tip of Israel.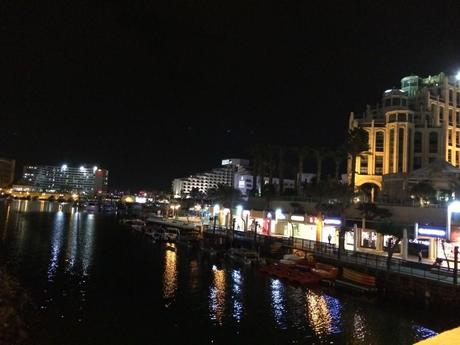 Getting ready to snorkel in the Red Sea.  We saw an octopus!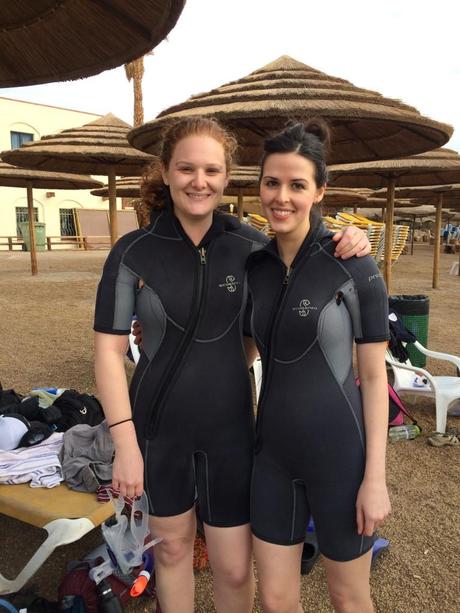 We were on the "Israel By Foot" trip, and our first hike was incredible.   In this panoramic photo, you can see Jordan to the left. Saudi Arabia across the sea, and Egypt to the right!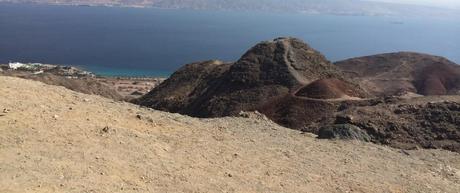 Here we are at Kibbutz Lotan, an entirely self-sustaining kibbutz.  One of the staff- a woman in her volunteer year before she enters the Israeli Defense Force- is showing off the kibbutz's solar-powered oven!  I wonder if Brien would build us one of these…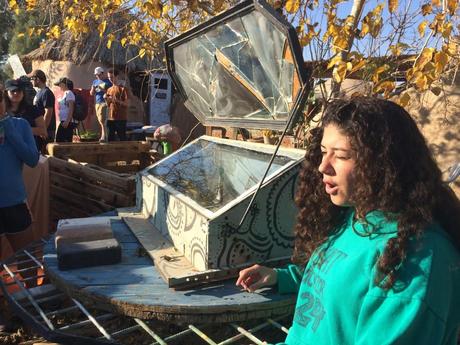 One night, we camped out in the Negev dessert.  It was really cold and no one got a lot of sleep, but the next morning we woke to see the sunrise!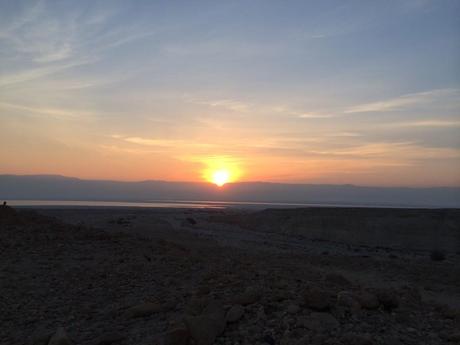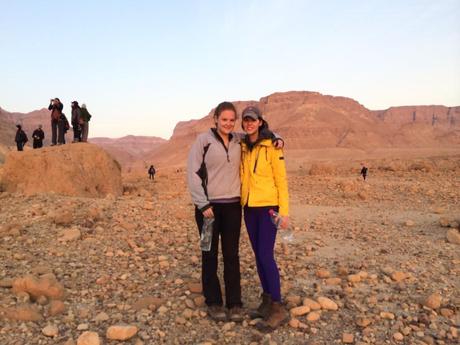 Breakfast at camp before we took off for the day's hike: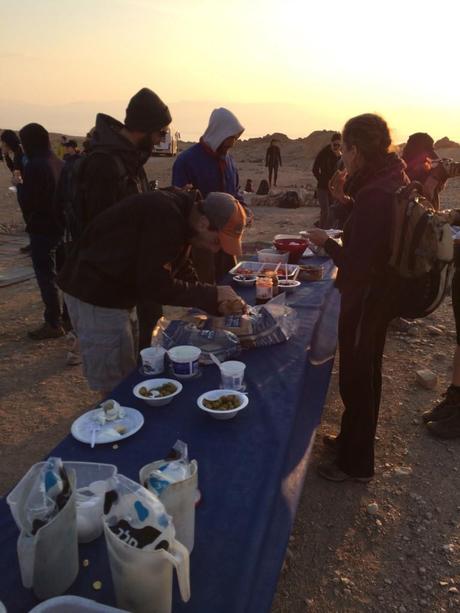 We left early, so the sun wouldn't be too grueling.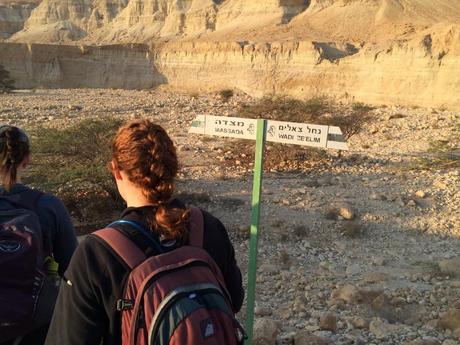 Our destination: Masada!  The hike was steep and rocky, but so much fun.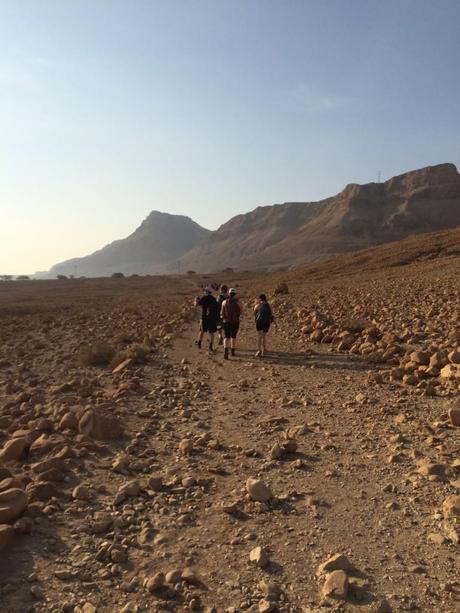 Be sure to read the story of Masada… it's quite gruesome.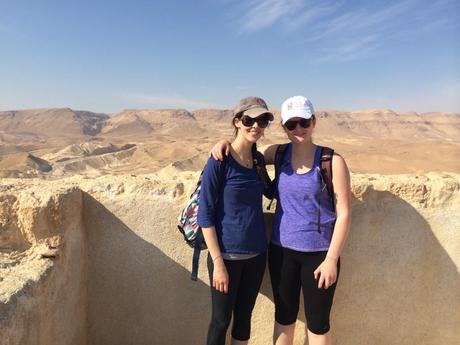 One day, we went to Tzfat, one of Judaism's "four holy cities."  Tzfat is home to Kabbalah and Jewish mysticism, as well as many artists!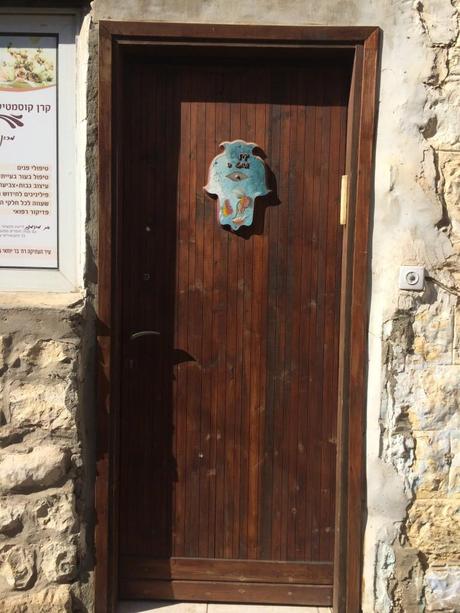 We saw several beautiful old synagogues.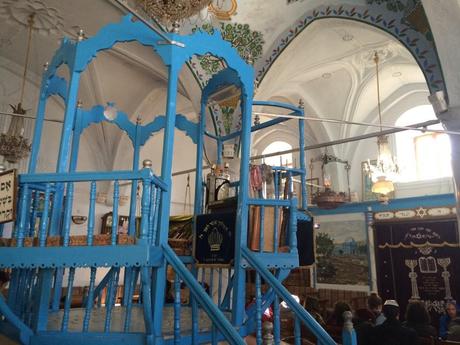 It was in Tzfat that I was finally, finally able to eat falafel.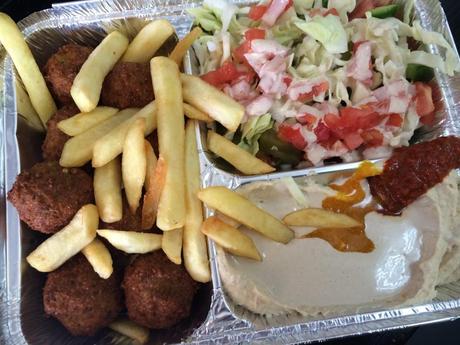 Unfortunately the places we ate (hotels + fast food stands) aren't very vegetarian and gluten-free friendly.  My stomach was also really, really bad for the duration of the trip, and most of the time, all I felt like eating was white rice and potatoes.  Fortunately, we happened upon this falafel/sabich cafe, run by, hands-down, the happiest man I have ever met.  He was listening to this song on repeat, and did a great job of putting everyone who stopped by in his same cheerful mood!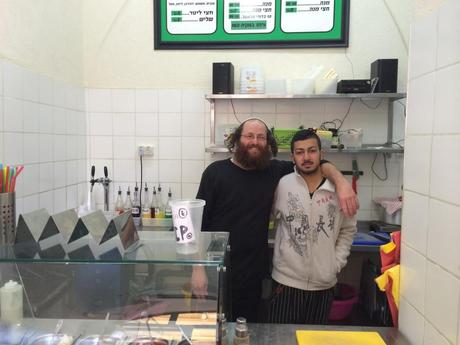 He also explained that he only used chickpeas, spices + water to make his falafel, unlike the majority of falafel purveyors who use flour.  Friends, I can't convey how happy this made me.  There's only so much hummus + rice a girl can eat! I even almost (almost) accepted his employee's proposal of marriage.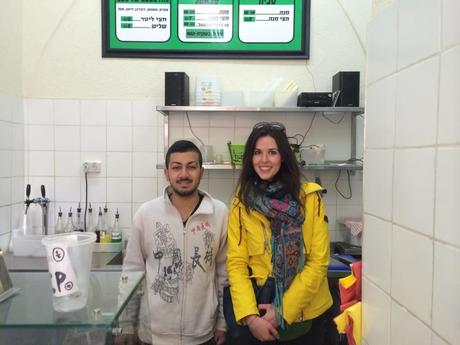 My second favorite food experience was this fresh-pressed pomegranate juice!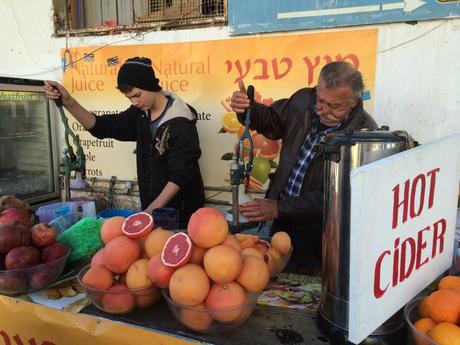 Short hike in Gamla: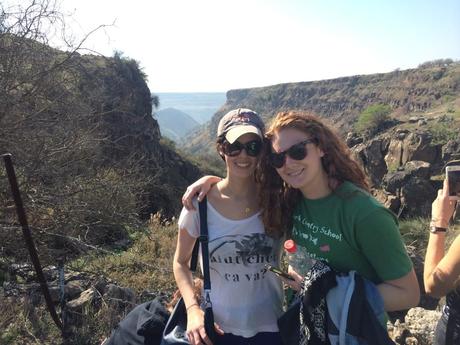 We went to Golan Heights, which I found to be one of the most interesting historical sites.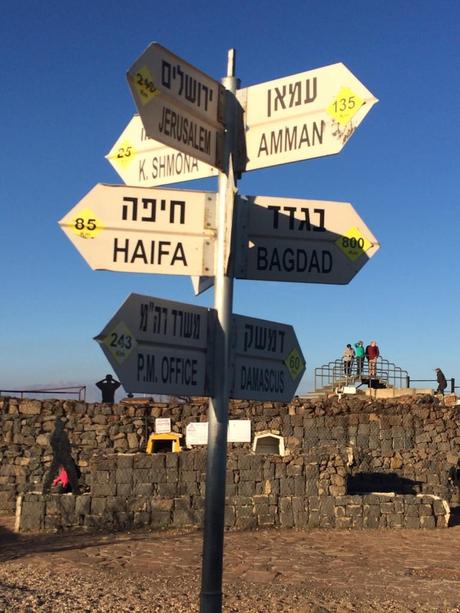 Overlooking Lebanon (left) and Syria (right).  We heard explosions from the Syrian Civil War, which was one of the eeriest experiences I've had.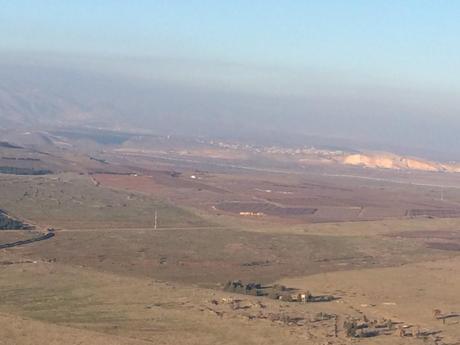 Back in Jerusalem, overlooking the city: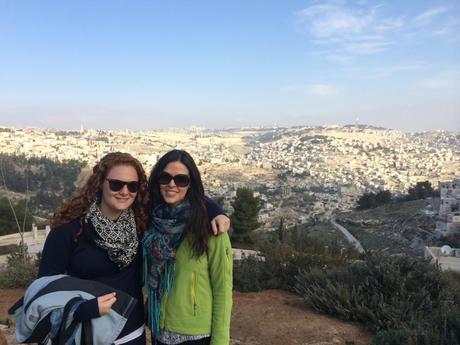 At Yad Vashem, the Israel's Holocaust museum.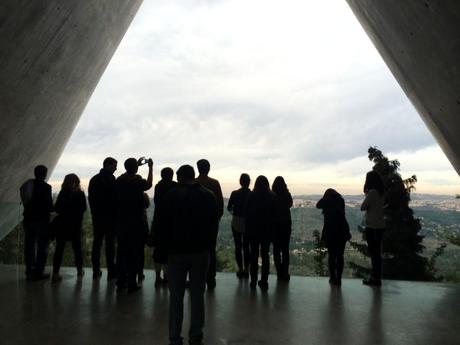 The Dome of The Rock and the Western Wall (aka the Wailing Wall).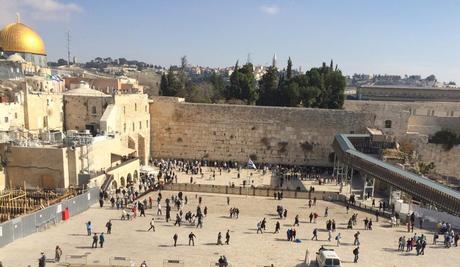 The market in Jerusalem was incredible… so many delicious things!  It was also incredibly crowded… someone compared it to a scene from Homeland!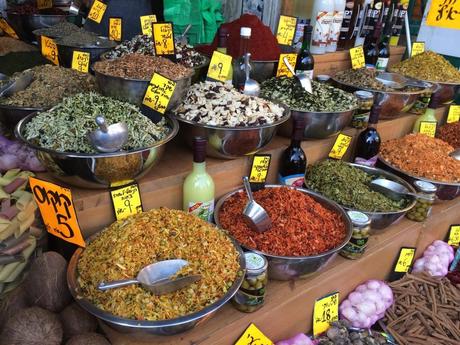 I have a new appreciation for halva, which does not taste the same back in the states, when it's sold in prepackaged bricks. It's a delicious candy made from sesame and sugar, and I've been loving it crumbled in my oats back at home!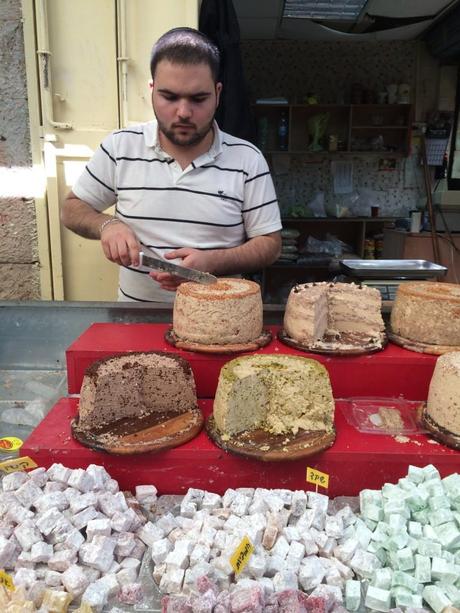 And look at the size of those pomegranates!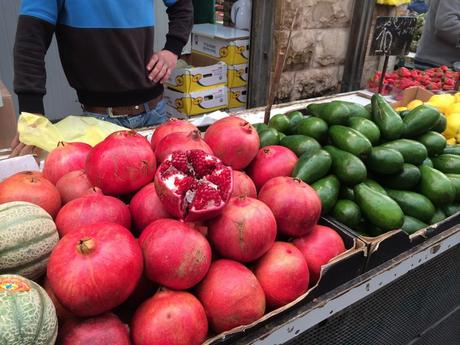 Going to Israel was one of the most amazing, eye-opening, and exhausting experiences.  I'm so grateful for the places I visited and the people I met.  And I've definitely still got that travel bug!