Some people choose to spend thousands of dollars to travel around the world and view spectacular natural places; but why would you do that when many of the best and most breathtaking natural sites are to be found right here in the United States of America? In fact, there are such spectacular sights to be seen in the United States, that it is people from other countries who are spending thousands of dollars to come and see them. The amount of beautiful scenes in this country are innumerable, but here are 10 of the best.
Grand Canyon, Arizona
The Grand Canyon, formed by the Colorado River in Arizona, is one of the seven natural wonders of the world. With a length of about 227 miles and a depth of over a mile, it is no wonder that it is one of the most famous natural landmarks in the world. It is a must for anyone with a bucket list.
Monument Valley, Utah
When you picture a Western, you picture Monument Valley. The iconic sandstone buttes, some of which reach up to 1000 feet, are a sight to behold. It is located in the boundaries of the Navajo Nation Reservation, and has a dirt road running through it for easy viewing
Yosemite Valley, California
There aren't many valleys that can take your breath away as easily as the Yosemite Valley in Yosemite national park, California. Characterized by mountains, meadows, trees, and waterfalls, the Valley represents many people's definition of a natural paradise.
Mauna Loa, Hawaii
A trip to any part of the Hawaiian islands will almost certainly be enough to satisfy any need for natural wonders, but perhaps the most stunning is the active volcano known as Mauna Loa. Tours are available on selected days of the week.
Big Sur, California
Perhaps a lesser known natural part of California, Big Sur is a sight to behold. Running about 100 miles along the coast of California, south of the Monterey Peninsula, it is the name given to the stunning area where the Santa Lucia Mountains rise from the Pacific Ocean.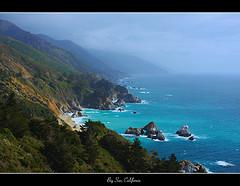 Big Sur, California (Photo credit: the_tahoe_guy)
John Pennekamp Coral Reef state park, Florida
Off the coast of Florida there is a unique chance to view beautiful underwater life in the John Pennekamp Coral Reef state park. You can dive, snorkel, and swim through coral reefs, sea-grass beds, and mangrove swamps, viewing some of the most interesting and exciting marine life that you will see in the United States.
Cape Cod, Massachusetts
Fans of marine life should not miss out on visiting cape cod. A popular place for fishing, cape cod is also a prime place for whale watching, and you can see whales such as the humpback whale, fin whale, minke whale, sei whale, and North Atlantic right whale.
Yellowstone National Park, Wyoming
There are probably about a thousand reasons to visit Yellowstone national park, but among the most important are the famous Yellowstone falls, and the world-renowned Old Faithful Geyser.
Delicate Arch, Utah
Arches national park is home to some stunning rock formations and thousands of natural sandstone arches. The most famous of these however, is delicate arch. Its name comes from its appearance, which gives the impression that it is going to fall over at any minute.
Denali, Alaska
Denali, or Mount Mckinley, is the tallest mountain in North America. It is viewable from Alaska's Denali national park, and can be climbed by those who are truly adventurous (and well prepared).
Vincent Stokes is a freelance writer and avid traveler.  With experience camping and traveling all over the states, he enjoys sharings his experiences and expertise to other would-be travelers.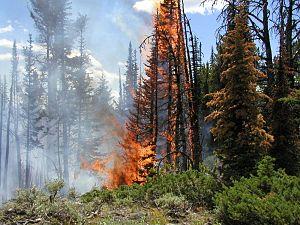 English: A fire in Yellowstone, Wyoming, United States. (Photo credit: Wikipedia)