Exercise is important, it doesn't matter whether you to love to walk, run, or play tennis. What matters is that you do your preferred activity on a regular basis.
However, there are times when it can be difficult to keep exercising, especially if you develop foot pain. That's why, if you love tennis
Plantar Fasciitis is actually one of the most common causes of foot pain, it's often caused by excessive running or walking but, you don't really want to give up those activities!
The pain is usually felt around the heel of your foot and toward the arch. You'll feel it the most after exercise and after resting, but not during either. You're also likely to find it difficult to raise your toes off the floor.
The actual issue is caused by a strain on the tendons and ligaments that connect your heel bones to your toes, it is most common if you're new to exercise, especially if you don't have shoes that support your feet properly, or are very overweight.
It's advisable to see a doctor if the pain hasn't reduced within a couple of weeks. But, to keep playing tennis and avoid the issue returning, you need the best tennis shoes for plantar fasciitis.
Top 10 Best Tennis Shoes For Plantar Fasciitis 2020
Fortunately, that's exactly what we're going to cover! Check out the following top 10 best tennis shoes for plantar fasciitis.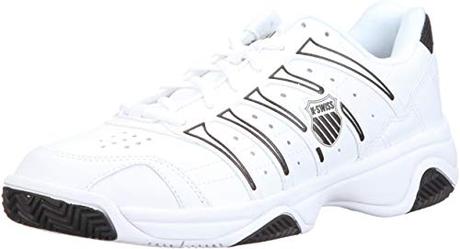 The K-Swiss Grancourt II looks like a traditional tennis shoe but has an impressive amount of support for your heel and your arch. They're designed to provide a comfortable, yet precise fit.
It shouldn't be surprising that this shoe tops the list, K-Swiss is one of the biggest names in tennis footwear.
This may not be the most important criterion for everyone but there is no doubt that this shoe looks good. It's almost all white with a simple silver logo on the side.
This shoe has plenty of padding inside, especially under the arch and across the heel of your foot. In fact, there is cushioning built into the heel to ensure you don't experience any issues. They also have ShockSpring technology
The K-Swiss Grancourt II is made with sturdy materials that should last for an extended period of time. The sole is leather and there is a reinforced toe to ensure the shoe is both fluid and sturdy. You'll also appreciate the rubber sole to provide the best possible grip.
It's worth noting that these are quite heavy and you may find it difficult to bend them when you stand on your toes.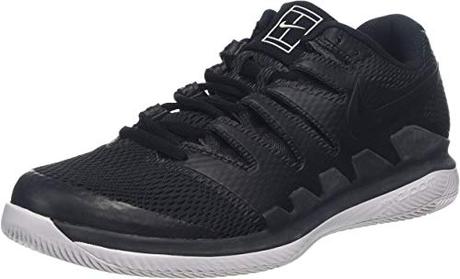 Nike has an enviable reputation when it comes to sports shoes and clothing. This is carried through in their Zoom Vapor, designed as a tennis shoe but they can be worn on and off the court.
The Zoom Vapor uses adaptive comfort technology, this enables the shoe to wrap around the arch and the ankle, giving you perfect support every time.
There's also plenty of cushioning in the heel to help support your heel and eliminate the issue of plantar fasciitis.
Very comfortable with breathable mesh
That's thanks to the array of cushioning and the breathable mesh helps to ensure foot health.
Nike is known for the quality of its shoes and the Zoom Vapor justifies that reputation.
Heel cushioning
Designed specifically for tennis players
The mesh will get dirty easily and it's hard to clean effectively
This won't affect the performance of the shoe but it will affect the look.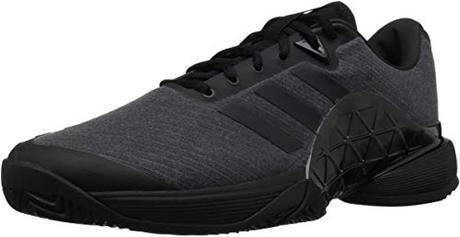 Styled in black this doesn't necessarily look like a traditional tennis shoe, but it is built like one. The shoe is made from textile and synthetic material, this allows it to be abrasion-resistant.
You'll also appreciate the rubber sole and the short shaft which improves the arch support. The upper part of the shoe is made from fabric to improve stability and maximize your comfort.
The Barricade has a soft and stretchable tongue and bootee style construction, making it a snug and extremely comfortable fit.
This will help to ensure the shoe looks as good after 100 games as it did before the first one. The abrasion-resistant material is across the toe and forefoot, preventing damage if you drag your foot.
The addition of Adripene+ in the front of the shoe will help to maintain your propulsion while moving across the court.
This is a narrow shoe which will obviously be an issue if your foot is wide!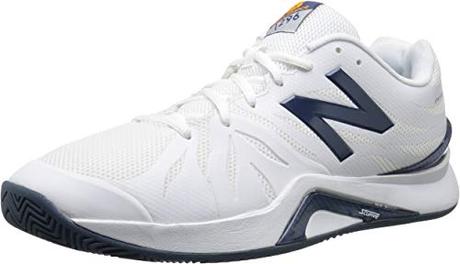 The 1296 V2 offered by New Balance is available in white/blue, grey/orange, two-colored blue, and red/black. All the offerings look good although potentially more like a traditional running shoe than a tennis shoe.
It's 100% synthetic with a rubber sole for grip and the shaft is approximately 2.75" from the arch, making it a high tennis shoe. This is good if you need ankle support as well.
There's a REVlite cushioned midsole and outstep support with long-wear drag tip. In short, the shoe is durable, comfortable and should last for many tennis games.
High shaft measurement to support ankles
As mentioned, if you're worried about your ankles having a high shaft measurement will help.
This is important to prevent irritation and rubbing on your foot.
The Revlite and Outstep support ensure that the shoe remains comfortable throughout the match and whenever you're wearing it.
It's worth noting that the sizes are on the small size, you may want to order a size above your normal. In addition, the shoe is relatively narrow, especially when compared to other New Balance shoes.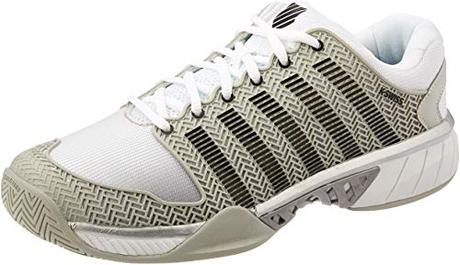 This offering from K-Swiss is a good-looking shoe and it's available in a huge array of colors, from grey/white/silver to yellow/black/white, and even neon green/black. You're sure to find a color that suits your needs.
The Hypercourt Express is lightweight and has a synthetic leather upper with textile lining. The standard lace enclosure ensures a good level of tightness and comfort, while the rubber outsole ensures you'll be able to grip in all conditions.
The fact that it's 100% synthetic means that it is incredibly comfortable. Alongside this, the arch and heel are fully cushioned to give the best possible support, even on the toughest courts around.
The whole foot cushioning means that your foot is well-protected and supported in any conditions. This is a great option to help reduce the pain of plantar fasciitis and stop it from returning.
Being lightweight means you'll notice you're wearing it less. In short, you can move faster and more efficiently when your feet are lighter.
Although it's well-cushioned you'll find that your feet start to feel the pain after a couple of hours, you'll need to stop and allow your feet to refresh.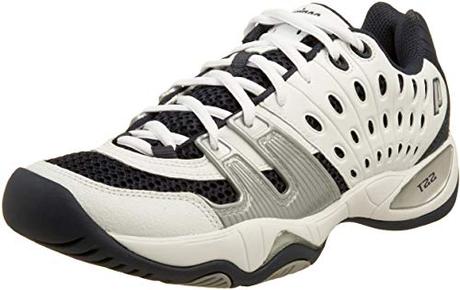 This stylish tennis shoe is white, navy, and silver, but is also available in blue and white. It is 100% synthetic with a rubber sole for grip and shock eraser.
The mesh upper provides a good level of ventilation, helping to keep your feet cool and the heel cushioning alleviates plantar fasciitis pain, while a good level of arch support ensures you'll be comfortable for the duration of the game.
The heel support and cushioning ensure these shoes remain comfortable for as long as you need them.
Price often plays a part in a decision on the best tennis shoes for plantar fasciitis. In fact, there is quite an array of prices but this offering from Prince isn't the cheapest on the market, but they are a reasonable price.
The synthetic material has been well put together, ensuring the shoe will last for many games without complaint; That's important when you're spending good money on tennis shoes.
Looks may not be that important when you're trying to win the match but, it has to be said, that these are not the best looking tennis shoe on the market.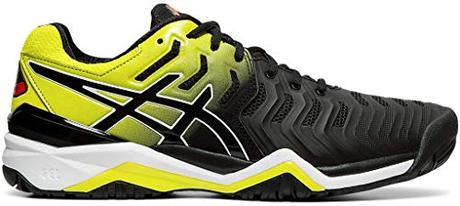 This is another tennis shoe that can be used as a daily shoe, especially as it comes in a wide array of colors, including black/sour yuzu, illusion blue/silver, and white/koi.
In fact, this is potentially the most comfortable shoe on this list. It's synthetic with rubber soles for grip and a contoured inner sole. In other words, the sole is shaped differently for men and for women. The woman's option has a lower-density top layer in the midsole, improving midsole compression.
There's also a flexion fit upper which ensures comfort without giving away any of the essential support.
The stability provided by these shoes is excellent. They'll be held firmly, yet comfortably, in position throughout any activity. That's especially useful when you have to change direction quickly, as you do in tennis.
These shoes have been made to a high standard and should last for years. The lack of internal stitching doesn't just improve comfort, it also ensures the strength of the shoe.
The soles are built with gel and shock-absorbing material, you'll notice how effective this is the moment you start wearing them. Although they are very durable they are also extremely comfortable and supportive.
You'll find that it takes a week or two for the shores to really feel comfortable. This is a small price for high-quality durable shoes, but, it's one that needs to be noted.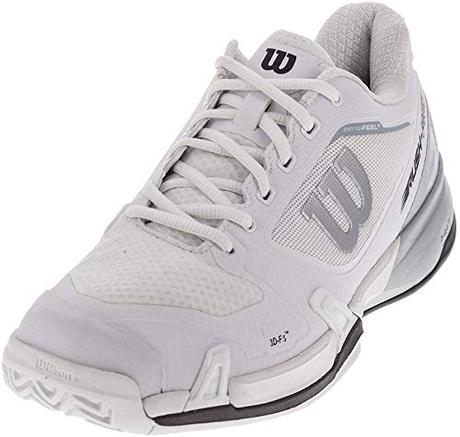 There is little doubt that Wilson is trying to compete with Nike and Adidas regarding the coolest looking tennis shoes. While the white look is relatively simple, there is an array of other styles to choose from, including enamel blue/black/yellow or orange.
That's not to say that these shoes aren't exceptionally well made! They have a reinforced mesh top section that allows ventilation while increasing the durability of the shoes. They also offer a high level of support via the endofit midsole, giving great support and comfort at the same time.
In addition, there is padding at the heel to reduce the pain of plantar fasciitis and, you'll appreciate the herringbone pattern on the sole. It's designed to improve your grip.
In tests, the Wilson Rush Pro 2.5 has stood up very well to weekly and even daily tennis games.
Some shoes are designed with a specific shape of foot but the Rush Pro is designed to accommodate almost any size and shape of foot, without affecting comfort and support.
These feel natural on your feet and provide good support without being noticeable. This allows you to focus on your game.
This is another tennis shoe that needs to be broken-in before it can be worn comfortably. In the long term, this is fine but they're not the sort of shoe you can just pick-up and expect to play your best game ever in. At least, not until after you've broken them in.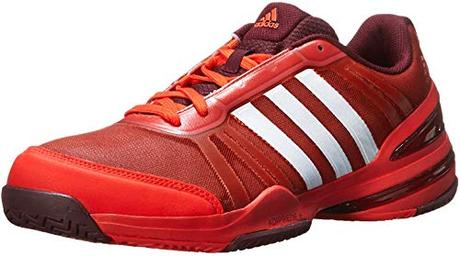 Choose between bold orange, maroon, or traditional white. All the offerings are distinctively marked Adidas, they're 100% textile and synthetic with rubber soles to enhance grip. You'll also be impressed with how light they are, you can easily forget you're wearing them but it will allow you to move around the court faster.
If you need to practice inside and can't mark the floor then these are the perfect option for you! The rubber sole is designed to offer maximum grip without marking the floor, no matter how hard you try.
This is probably the lightest tennis shoe you'll come across! But, despite being light it's well-cushioned and offers excellent support. This makes them a great choice for playing inside or outside on hot days.
The ClimaCool mesh wrap also ensures your feet stay cool and dry.
These shoes are so comfortable that you'll never want to take them off! That's impressive by any standards especially ones that you do any kind of sport in.
Because the shoe is so light, it may not last for an extended period of time, especially if you're using it as a daily training shoe.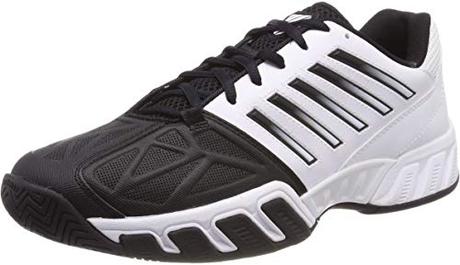 The first thing you'll notice about these tennis shoes is that although the styling is simple, they look good. Of course, if black and white aren't your thing there is a good choice of colors available.
The upper is textile and the rest of the shoe is synthetic leather with a textile collar lining to boost comfort. There's also a CMEVA midsole and sock liner, as well as a non-marking sole.
These tennis shoes have recently been updated to increase the level of support and stability they provide while you're playing. This has been achieved via a more rigid upper section and an increase in the midsole and heel cushioning.
There's also a midfoot shank to prevent twisting while in use.
K-Swiss has used Durawrap and DragGuard to improve the durability of these shoes. This, combined with the high-quality materials used, means that the shoes should last for an extended period of time.
As well as having a non-marking sole, the Bigshot 3 uses a rubber compound with a herringbone tread pattern to ensure maximum grip and thrust as you dive back and forward across the court.
The main issue with this shoe is that it is slightly longer and wider than standard. This could make it an excellent choice if you have long feet but you will need to verify the size before purchasing.
How to Choose the Best Tennis Shoes For Plantar Fasciitis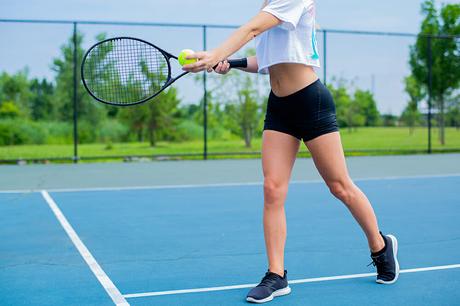 When you're dealing with plantar fasciitis you need to make sure that you've chosen the right tennis shoes. In fact, the following guide can be applied to all the shoes you own to ensure your feet are well supported.
Arch Support
Plantar Fasciitis affects the tendons and ligaments between the heel and the base of your toes, supporting this area, particularly the arch of your foot, is very important. If you don't the arch can drop and give you flat feet.
That's why it's important to choose a shoe with good arch support.
Cushioning
The cushioning helps to prevent your feet from feeling the shocks and vibrations. Good cushioning will allow you to play for longer while remaining comfortable.
The best way to assess the cushioning is to try the shoe on and walk around, you'll soon appreciate the extra level of comfort.
Reputation
No matter which manufacturer you're considering, it's worth looking at the reputation of the manufacturer, supplier, and individual shoes.
The best place to check is on social media and online forums, you'll find people sharing their honest opinions and not all of them will be good. The key to this part of the process is to make sure that the majority of comments are positive and to see how the negative comments were dealt with.
Budget
It's always worth taking a few moments to consider your budget. While the most expensive tennis shoes for plantar fasciitis may be the ones you really want, if they're outside your budget you need to look at other pairs.
Conclusion
Dealing with plantar fasciitis quickly is important. If you don't deal with the issue your arch could fall and you'll find it much more difficult to get around. That's why it makes sense to pick the best tennis shoes for plantar fasciitis, they will help to ensure your comfort and you can vanquish your plantar fasciitis for good.