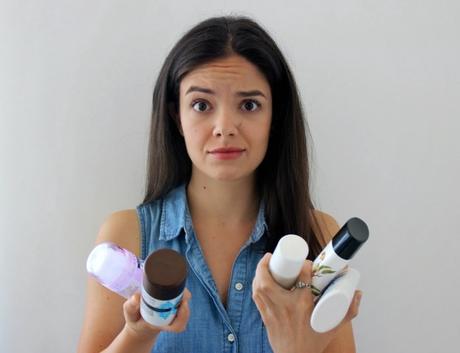 If you are under the impression that deodorants made from natural products are not as effective as the ones that are commercially made then you are wrong.
You might be skeptical about using them, as the aspect of smelling great not only affects you but also affects the people standing around you. You don't want to stink and have people running away at the sight of you.
The idea of using organic, non-toxic ingredients in deodorants have evolved to a stage where a lot of good brands are offering these natural sweet smelling sticks or sprays.
Here are some of the best natural deodorants of 2015:
The Healthy Deodorant – La Vanilla Laboratories
A scent that is feminine and floral that is unusual to the natural varieties of deodorants that usually come with earthy or musky scents.
This might be a little bit more expensive than the regular varieties but it is truly worth it.
This stick is rich in antioxidants and beta glucan that not only strengthens the skin but also nourishes it.
Meow Meow Tweet Deodorant Cream
Made with tea tree oil, the scent lingers for the entire day, in extreme weather conditions. The tea tree oil, coconut oil and baking soda inhibit the growth of bacteria, while Shea butter moisturizes the area.
Schmidt's Natural Deodorant Cream
Schmidt's Natural Deodorant Cream Smells great and is made of nontoxic ingredients and oils like Beeswax, Organic Shea Butter, Organic Cocoa Oil, Organic Arrowroot Powder, Aluminum free Baking Soda and other essential oils.
It draws attention away from the fact that Schmidt's Deodorant Cream wipes away all moisture, including sweat and takes away any stinky odor without the aid of aluminum or other chemicals.
Piper Wai Natural Deodorant
This is a gender neutral deodorant. The fragrance is neutral and it also protects your clothes from perspiration.
It is Paraben free and free from harsh and harmful chemicals and aluminum compounds.
Honest Deodorant – Jessica Alba Skin Care Co.
This is a convenient natural deodorant spray that is made from organic essential oils like eucalyptus and bergamot. It comes with a citrus smell that leaves you fresh and smelling good all day long.
This is a handmade deodorant that is made using coconut oil, bergamot, sage and grape fruit. It is a cream based product and smells divine.
Do not worry about the product leaving any residue or marks, because it doesn't. You can dab on just a little and it will last you the whole day.
Soapwalla Natural Deodorant Cream
This is a natural deodorant that all vegans and organic cosmetic product users can swear their lives on. It is made from natural organic food grade vegetable powders and clay, including natural essential oils like peppermint, lavender and tea tree oil.
The presence of organic ingredients like tea tree oil and lavender oil inhibit the growth of bacteria and also reduces the amount you sweat from the time you put it on. The clay and the superfine veg powders also have a role to play in the absorption of sweat.
The best part is that it has a frosting like texture that makes application easier and also is instantly absorbed by the skin.
This is the smell you need if you want to smell fresh and not sickly feminine. It is reasonable in its price and is aluminum and chemical compound free.
It is not very fancy, just a regular stick, but it gets the job of making you smell clean and fresh at all times.
Primal Pit Paste Natural Deodorant Stick
This stick is basically made from baking soda that inhibits the growth of bacteria. It also contains arrow root powder that soaks up all the sweat.
Both these ingredients are mixed in a base of Shea butter and coconut oil that also provide moisture to the area. This stick is available in 7 different scents.
R.L. Linden Close To Me Natural Deodorant Spray
If you are a spray kinda person then this natural deodorant is one for you. It smells great as it is made from a blend of natural organic oils and flower essences that keep you smelling great from morning till night.
Who says nature will not keep you smelling great for the whole day? Simply use the products and I'm sure you will never go back to the chemically produced kinds.
Written by: Rasha Ashraf