Last Updated on by Guest Blogger
Disclaimers: Living the Dream uses demographic data, email opt-ins, display advertising, and affiliate links to operate this site. Please review our Terms and Conditions for more information. Listed prices and attraction details may have changed since our visit and initial publication.
The following is a guest post from Dream Big, Travel Far.
The Philippines is bursting with amazing beaches and epic places to visit. How could it not with the amazing coastlines it boasts! Well, below I take you through some of my favourite beaches in the Philippines and tell you when the best time to visit is so you can take full advantage of these amazing locations.
1. Seven Commandos beach, El Nido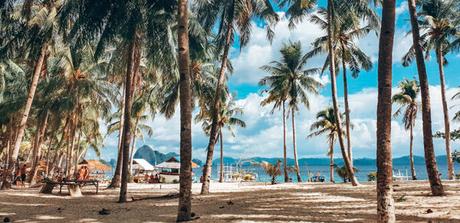 This beautiful beach is located in El Nido, Palawan and is typically accessed via an island hopping tour (specifically tour A), or if you stay at the nearby resort next to it. Regardless of how you get there, you're going to love it! This beach is epic. Stunning sand, wonderful clear, blue water that's perfect for snorkelling and there are some bars selling local Filipino rum (which is crazy delicious!). There is even a beach volleyball net which is perfect for joining in on some beach volleyball fun. This is a perfect place to relax for a couple of hours and enjoy the beauty that surrounds you.
When is the best time to visit Seven Commandos Beach? The best time to visit this beach will coincide with the best time to visit El Nido in general. The best months for planning an El Nido adventure to include sunshine, dry days and all-round greatness is between November & May. We visited in May and the weather was wonderful.
4. Cabo beach, Coron Mainland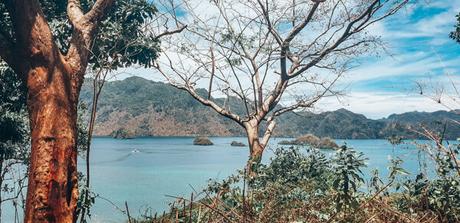 I often feel that people overlook Coron mainland for Coron Island, which isn't surprising since Coron Island has so many amazing spots to visit, but Coron mainland also has some pretty nice beaches. My favourite is Cabo beach.
This beach is only a 30 minute drive from the main town via moped and it's the perfect place to relax. You have to pay a small entrance fee of 25 pesos per person, but it's worth it. The views over the bay and islands are fantastic and this is a really good swimming spot. You can also rent out little cabanas if you need to rest from the sunshine. Perfect place to take a packed lunch, a couple of drinks and enjoy the stunning surroundings.
When is the best time to visit Cabo beach? The best time to visit Cabo beach will be between November and May time. We visited at the end of May and had one rainy morning, but other than that, it was beautiful!
7. Nacpan beach, El Nido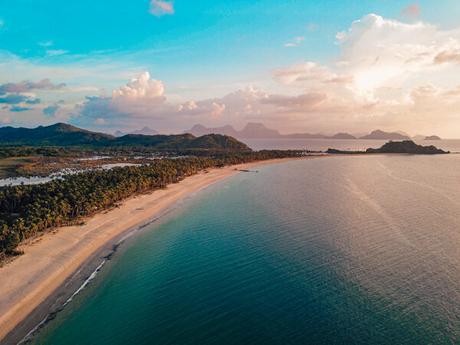 Nacpan beach actually has a reputation for being regarded as "the most beautiful beach in Asia" and I agree. This beach is stunning. It stretches for 4 km and is lined with stunning palm trees. The great thing about this spot is that if you walk down the beach for a 1km or more, you'll have the entire beach to yourself, it's EPIC!
Nacpan also has some great beach bars and restaurants so it's a great sunset location. The water is great for swimming and relaxing (I struggled to leave) and you can actually go glamping on Nacpan beach, which looks amazing. We missed out on this, but if we return we will definitely be glamping. This might just be, top of my list as one of the most beautiful beaches in the Philippines.
When is the best time to visit Nacpan Beach? Nacpan beach is best visited during the dry season of El Nido, so the months of November to May will be best.
8. Shimizu Island, El Nido
This beautiful beach area is typically accessed via Tour A of an El Nido Island hopping experience. It's usually the place you stop for some lunch and it's very beautiful. White sands surround you and there is some amazing coral here (you can spot clown fish before your lunch!). It's a beach that's perfect for water enthusiasts and those who want to soak up the sun. I could have stayed here all day.
When is the best time to visit Shimizu island? Since you'll be accessing this beach via an island hopping tour, it's probably best to visit during the dry season which runs from November to May. Just be aware that the most popular seasons will be March, April and May, so if you want less crowds, perhaps try to visit just slightly before or after these months.
10. Salagdoong Beach, Siquijor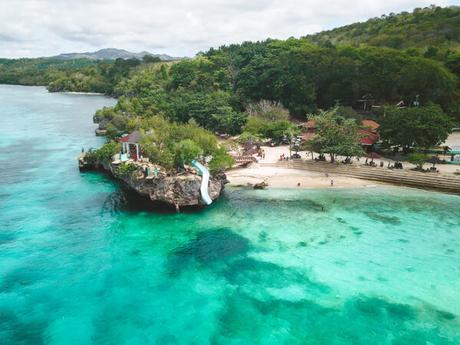 This is one of the most fun beaches in the Philippines since it gives you the chance to cliff jump into the water here. Once upon a time there was also a slide that went into the water too, but when we visited in 2019, this wasn't in operation. The water here is beautifully clear and the beach itself is perfect. A great place to relax, sunbathe and grab a bite to eat at the on-site cafe/restaurant. There is even a colorful reef just off the shore which makes this a great snorkelling spot too.
When is the best time to visit Salagdoong beach? Anytime between November and April is a great time to visit this beach. But if you want to jump into the water, you'll have to visit during high tide. So check in the morning for the tide times.
So there you have it, my guide to the best beaches in the Philippines that I've visited so far. Of course there are many many amazing beaches all across the Philippines and it would be impossible for me to list them all (or at least take a lot of time!), but these beaches are a great place to start.
Looking to book your next trip? Check out the following services we use!
Images were provided courtesy of Dream Big, Travel Far.