I am going to start off with the 1st ingredient & that is: the beloved pineapple! MMM!
I am going to do a new series of recipes that is called: 1 ingredient, 3 recipes,…ooh yes! Every month, I will make such a post,…this way, I can get really creative with my chosen ingredient! ;) I hope you will love my new posts! Enjoy! These recipes are all my own, invented by me in my beloved kitchen & tested & approved by me, friends & family! They are my taste testers! I got all thumbs up for these new 3 recipes! MMM,…I can assure you!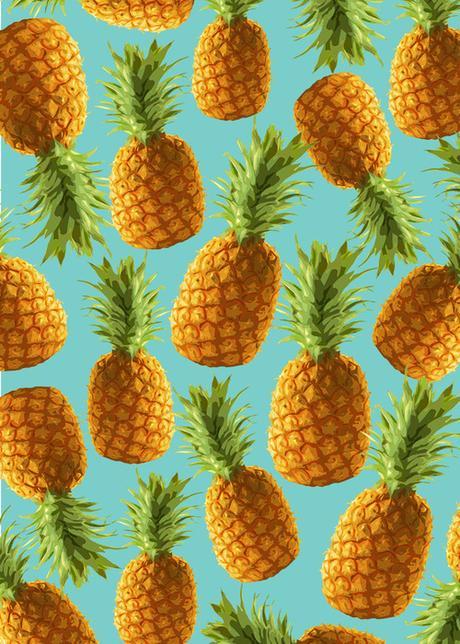 1/ A simple vegan gluten-free pineapple pudding!
Recipe: For 3 puddings
Ingredients:
1 + 1/4 cup (300 gr) drained silken tofu
1 + 1/2 cup (250 gr) peeled fresh pineapple chunks
1/8 cup (30 ml) agave syrup
1/3 cup (30 gr) unsweetened coconut flakes
1 teaspoon home-made vanilla extract
1 tablespoon ground flaxseed
Method:
Place all ingredients in this order into your beloved Vitamix container & place fitted lid & tamper in. Blend on full power & onto high-speed until fully blended & use tamper to push ingredients into the running blades. This took me 10 seconds. taste. You must taste the pineapple & coconut. Pour into dessert glasses & place into the fridge to cool down & to get a bit more stiffer. I placed my puddings in the fridge for 9 hours.

These puddings are lovely smooth, a bit thicker & very delicious too! They are NOT very stiff though! This is not a mousse!
2/ Vegan pineapple chocolate chip pancakes!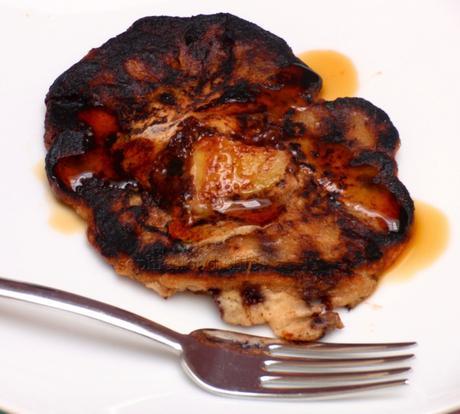 MMM!
These are super delicious vegan pancakes with fresh peeled chopped pineapple & vegan dark mini chocolate chips! They are also good for you because I use spelt flour in here! They are lovely on their own or drizzled with some good organic grade C maple syrup!
Recipe: For 12 smaller pancakes
Ingredients:
Dry ingredients:
1 cup (140 gr) organic white spelt flour
1/2 cup (90 gr) vegan mini dark chocolate chips
2 teaspoons baking powder
1/2 cup (94 gr) peeled chopped fresh pineapple, the chunks must not be too big! See picture above!
Wet ingredients:
1 cup (240 ml) unsweetened soy milk
1 ripe peeled banana, mashed with a fork
To fry in: a fruity extra virgin olive oil
Method:
Take a medium bowl & ad all dry ingredients. Mix well with a spoon. Take a medium bowl & ad soy milk & mashed banana. Mix with a spoon. Now, pour wet ingredients to the bowl with dry ingredients & mix it through. See that every ingredient is fully mixed in. Wait for 5 minutes & your batter will be thicker.
Take a fitted small non-stick pan & heat up on medium-high. Drizzle a bit of that fruity oil in it. Take a small soup ladle & pour your batter in it. This will     make the size of your pancakes. Pour batter into the middle of the pan & swirl it a bit around the pan. Make them not too big!!! Fry for about 2-3 minutes or until the sides are all browned & you will see bubbles appear on the surface of your pancakes. Take a fork to loosen the sides of the pancake. Then, with help of a pancake flipper, carefully flip your pancake & fry this side for 1 minute or 2.

Use handforce on your pancake flipper to push the inside batter to the hot base of the pan, to cook aka fry the inside batter around the pineapple pieces. It is really important! Otherwise thou will end up with not fried batter on the inside of your pancake around the pineapple pieces! 

Place the ready pancakes on top of each other onto a plate & place a large upside down plate over them to keep warm. This recipe makes 12 smaller pancakes. Serve warm just like that or drizzle with some good organic grade C maple syrup! Yummmmm!
3/ Vegan tropical crumble!
This is a lovely crumble with a tropical twist! I invented a whole new crumble recipe for this special one & my beloved pineapple shines in here! :) And THAT is what WE WANT! :)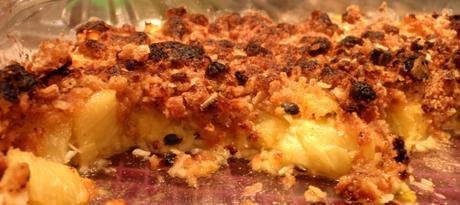 MMM!
I made my crumble topping & fruit combo a few hours aka 4 hours before I was going to eat this so that the flavors of the fruit layer with the added ground ginger would mingle well! It is easy to do so too. This crumble is not too sweet because of the added passionfruit,…it tastes just right! Yum!
Recipe: For 4 normal portions or 2 big portions!
Ingredients:
For the crumble topping:
100 gr (1/2 cup) chilled salted vegan butter
40 gr (1/4 cup coconut sugar)
92 gr (3/4 cup) organic white spelt flour
27 gr (1/4 cup) medium-sized oats
For the fruit layer:
360 gr (2 cups) peeled fresh pineapple, hard core removed, cut up into smaller chunks
3 passion fruit, halved, orange flesh & seeds kept
30 gr (1/3 cup) unsweetened coconut flakes
1/2 teaspoon ground ginger powder
Method:
A few hours before you are gong to EAT your crumble, make the crumble topping & fruit layer too.

To make the crumble topping, add spelt flour, oats, coconut sugar & vegan butter into a medium-sized bowl. With a spoon mix together & with your clean hands mingle everything together until it all looks like smaller & bigger breadcrumbs,  & place into a fitted bowl with lid & place into the fridge for at least 2 hours, see picture below:

Now, make your fruit layer.

Take a medium-sized bowl & ad pineapple chunks, coconut flakes, passionfruit flesh & seeds & ginger powder. Mix well with a spoon. Place cling film over it & place into the fridge to let the ingredients & flavors mingle for at least 2 hours.

Now, preheat your oven to 200°C for 10 minutes. I always use a fan oven.

Take a lovely fitted oven dish & place your fruit layer, in 1 layer all in it. Crumble your crumble topping over the fruit layer. See that all the fruit is covered. Place into the center of the hot oven & bake for about 20 minutes. Lower the oven temperature if you need to. I lowered my oven T to 180°C after 15 minutes! When your fruit crumble is ready, take out of the oven & let it sit on the kitchen counter for about 10 minutes to cool down a bit. Serve into lovely dessert bowls or plates &

enjoy it just like that or with some good vegan coconut ice-cream or with some bought or home-made vegan pouring custard!!!

Go on, indulge yourself,…you SO DESERVE it! xxxxEnter email to get my new cool newsletters in your mailbox!

;)

Join 1,439 other followers:

Follow Blog via Email

Enter your email address to follow this blog and receive notifications of new posts by email.

Sophies Foodie Files



Promote your Page too
Tagged: Dairy - Free, Dessert, Egg - Free, Gluten - Free, Pancakes, Vegan, Vegetarian