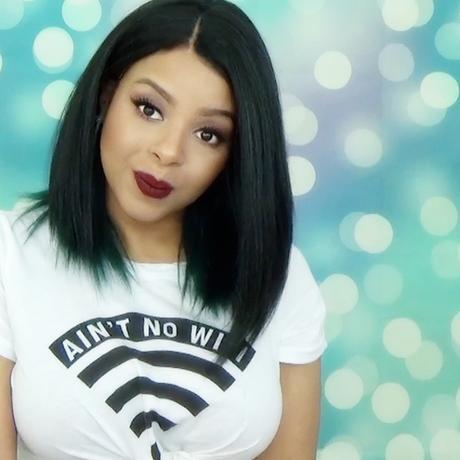 Keeping with the summer theme, here's Zury Sis Chia 14 Wig. Pre Tweezed, medium length swiss lace front. Whoa! That was a mouthful (: If you're looking for something super cute but easy, here you go. Very minimum shedding and tangling. PLUS, the unit comes with the parting already perfected. Chia 14 is definitely a great buy. I reviewed the original chia wig a few weeks ago and loved it too. Very impressed with the zury sis pre tweezed line so far. I received this unit from HairtoBeauty.com and it's priced below $30.
ZURY SIS CHIA 14 WIG REVIEW

WIG SPECS:
BRAND:
Zury Sis
NAME:
Swiss Lace Pre Tweezed Part Wig Chia 14 Wig
COLOR SHOWN HERE:
SOM TEAL GREEN
MATERIAL:
Synthetic – Heat resistant fiber
TYPE:
Lace Front Wig
LENGTH:
Layered 12 – 14 inches
PARTING:
4-inch Pre-tweezed lace part
HEAT SAFE:
Yes – Up to 400ºF / Heat resistant fiber
WIG CAP:
Comfortable size with 2 combs at temples and 1 in back; adjustable straps.
RATING:
4 stars by GirlRatesWorld

TIPS FOR STYLING:
– use a skin tone colored wig cap
– detangle hair gently with a wide tooth comb or tangle teezer
– keep all heating tools below 400 degrees when styling
– apply hairspray (lightly) to lock style in place
– store unit in wig bag or on a wig stand to keep tangle free

FOLLOW ME ON SOCIAL MEDIA!
I hope you found this review helpful. I have dozens of wig reviews posted on this site. Stay up-to-date by following @GirlRatesWorld on your favorite social media sites. YouTube | Pinterest | Instagram | Facebook. I appreciate the support and share my blog with anyone who ♥︎loves♥︎ hair as much as we do!
Related Post
Freetress Equal Brazilian Lace Front Wig LESLIE
Its A Wig Synthetic Lace Front Wig Charlotte
Janet Collection Super Flow Wig OLGA
Liberty Wig by Freetress Equal – Celebrity I...

About GirlRatesWorld
Beauty and style lover with an addiction to wigs, pups, french toast and neon polish. Hundreds of reviews under my belt with new ones added weekly. Be sure to swing by often ♥︎.