By Patricia Winton
We've been having gray, rainy days of late here in Rome, and my thoughts center on warming soup (zuppa). One of my favorites, pumpkin (zucca) and chick pea (ceci) soup, comes with many variations. It's one of those dishes that can be made from scratch or cobbled together from canned ingredients. Either way, a little careful seasoning perks up the flavors, and the soup can warm you to your toes.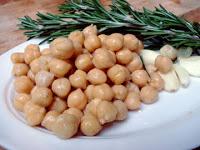 Traditionally, the soup begins the day before when the ceci are put in a bowl of water to soak. After about twelve hours, they've absorbed enough moisture to ensure fairly rapid cooking. Here in Rome another soup reigns on Friday, and market stalls offer bags of pre-soaked ceci each week. Those provide a great short-cut. The ceci go into a pot along with a couple of cloves of garlic, chopped carrot, chopped celery, and a sprig of rosemary. These are simmered until the ceci are almost soft.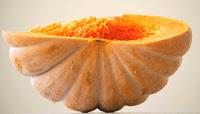 In Italy, you buy pumpkin by the slice. The canned variety is never available except at a tony shop at Thanksgiving; you need a second mortgage to buy a can, too. The fresh slice is quite hard to peel, so I usually nuke it a few minutes and scoop out the pulp. The pumpkin joins the ceci, and the simmering resumes until all the veggies are soft. At this point, many people add rice or pasta, but I prefer it plain. I do like a dash of hot pepper, however. At this point, I remove the rosemary and puree the soup with the stick blender or food processor. I serve it forth with a bit of grated Parmesan.
Try this simplified version.
ZUPPA DI ZUCCA E CECI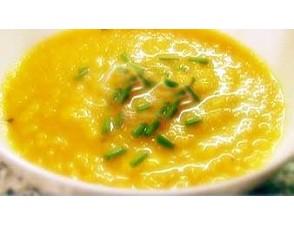 2 cloves garlic
1 rib of celery
1 carrot
2 tablespoons olive oil
2 cans chick peas
1 1/2 cups water
1 sprig of fresh rosemary
1 can pumpkin
pinch of ground red pepper
salt and pepper to taste
grated Parmesan
1. Chop together the garlic, celery, and rosemary.
2. Heat the olive oil in a pot, and add the vegetables. Cook until soft, but not brown.
3. Drain and rinse the chick peas and add them to the vegetables. Pour in the water, cook for about 10 minutes over slow flame.
4. Stir in the pumpkin. Add a bit more water if the mixture seems too thick. Simmer another 5 minutes.
5. Remove the rosemary, and add the red pepper. Taste for seasoning. Since the canned vegetables will contain salt, you may not need more.
6. Serve with grated Parmesan.
NOTE: You can dress this up by adding small pasta, rice, or even tiny shrimp. It's also good with bits of sausage.