By Patricia Winton
Yesterday I went to a birthday party. When the birthday girl, my friend Gaby, invited me a couple weeks ago, she said, "I've ordered
pan brioche
." I'd never heard of this before, so I asked about it.
Gaby said, "Oh, I used to see it at parties. It's a collection of sandwiches all put together inside bread." I had trouble getting my head around that. Somehow, I imagined a loaf of bread hollowed out with sandwiches stacked inside. Then I forgot about it until I arrived for the party.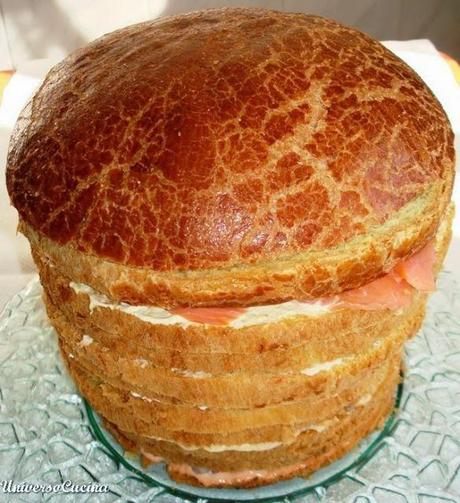 I live very nearby and turned up as the first guest. At her request, I'd brought a plate of my famous deviled eggs. "And here," she said, "is the pan brioche." I saw a tall round loaf of bread encased in cellophane and topped with a red bow. I still had trouble understanding how it worked.
Eventually, when I was no longer the lone guest, we opened the package—a somewhat difficult task because the cellophane had been taped as if to ward of an invasion. Even with two sets of hands and a pair of scissors, we were almost thwarted in our attempt to breach the fortress.
The bread had been sliced horizontally. Gaby removed the top piece, which she labeled "the hat." revealing four bamboo skewers holding the slices in place much as toothpicks hold together club sandwich triangles.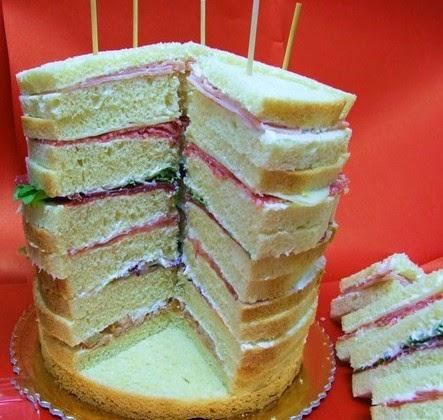 Each layer had a different sandwich filling: prosciutto and cheese, bresaola and rucola (dried beef and arugula), tuna and tomato, mushroom and cheese. There was probably some salami as well. I didn't sample every layer. The bread had been cut into quarters vertically creating dainty sandwiches
It made a festive party food, and I'm sure to get one at some point in the future. The shop where Gaby had this one made is just down the street. I'm not sure I'm up to tackling this in my own kitchen.
I'll return to my tales from Sicily in two weeks. Next week, I'm writing about a World War II anniversary in my neighborhood.