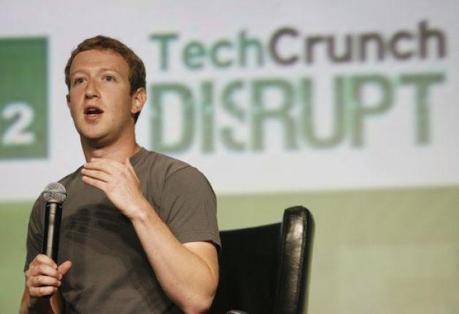 Facebook CEO Mark Zuckerberg made his first post-IPO appearance at TechCrunch's Disrupt SF event yesterday and by all accounts he did very well. Everyone wanted to know what he thought of his company's performance on the stock market since it went public, naturally enough. In case you didn't know, the share price has bombed. Badly. I mean, it's crashed faster than an over-zealous kamikaze pilot. So what did Zuck have to say?
Well, the performance of the stock has obviously been disappointing.
Yeah, no shit. Thanks for the insight. I'm kidding. Zuckerberg was very clear on this – it's been disappointing, but as he went on to say, "it's not the first up and down that we ever had". That's true and it hasn't faced Zuckerberg one bit. He knows where he's taking his company and he believes that direction is not only the right one for users, but for investors too. So rather than focus on what has admittedly been a shocking fall from grace on the stock market, let's review what he said about the future. That's what matters after all.
Mobile
Facebook is essentially betting its future on mobile. That's the mobile experience and mobile advertising – Zuckerberg went as far as saying "on mobile we are going to make a lot more money than on desktop". Quite a statement to make but one he has to make. Now he has to go and do it without pissing users off and forcing them off Facebook. That is his challenge.
Facebook users have long criticised the mobile experience for being too slow, especially the company's iOS and Android apps. Here, too, Zuck was open and honest, admitting that they made a mistake betting on HTML5 and that they "burnt two years". The route they should, and now with iOS, have taken was to build a truly native app. It's certainly an improvement in speed terms and it will allow for revenue making ads to be inserted in a faster, perhaps even less obtrusive manner. Oh, and Android users can expect a fully native app soon.
Zuckerberg revealed that with the new iOS app, users are reading TWICE as many news stories as previously, which means TWICE the opportunities to put ads in front of people. TechCrunch speculates it was this revelation that led to a 3.3% jump in the FB share price in after hours trading!
Facebook Search
We're basically doing 1 billion queries a day and we're not even trying.
Wow.
Facebook is pretty uniquely positioned to answer the questions people have. At some point we'll do it. We have a team working on it.
Did Google just panic? They should, because if Facebook do this right Google's long held dominance as the search engine of choice will come to an end. Of course, it's not that easy to do search right. Even Google doesn't. But it's trying.
Why a Facebook search engine? Again, it comes down to revenue. Google makes billions of dollars from serving ads on its search engine results pages (SERPs). Facebook could do the same and investors would flock to buy stock. That's the reasoning. What about the execution?
As Zuckerberg stated: "Search engines are really evolving to give you a set of answers, 'I have a specific question, answer this question for me.'"
That's the way search is going, Google know it and are adapting to meet the demand. It's one reason they're betting big on Google+, they need the type of information Facebook has to implement truly semantic search. On the flip side, Facebook needs to develop search algorithms as good as Google's.
If Facebook are truly serious about building Facebook Search then what we have is a race between the two to get semantic search right first, because whoever does will likely dominate for some time to come – and make billions in the process.
NO Facebook Phone
Finally, Zuck also addressed the ongoing rumours that the company is building its own phone.
It's a juicy thing to say we're building a phone, which is why people want to write about it. But it's so clearly the wrong strategy for us.
Right, can we stop talking about it now? Probably not. Facebook want to add a social layer to every device, regardless of OS and hardware. Whether that's with a native app of their own or via Facebook Connect it really isn't likely to matter.
Speaking of which, Zuckerberg highlighted four products he believes are "killing it" and it's no surprise that they all have some form of Facebook integration. They were Spotify, AirBnB, Nike+ and Runkeeper. So now you know what kind of things float Zuck's boat.
Arrington interviewed Zuckerberg for a good 30 minutes, I've just pulled out the highlights. To see the full show, check out the video below.