I don't have a kitchen

Well it's not as dramatic as it sounds, it's just that I don't have access to my cook top & counter area… basically I can't use my Kitchen…today! And weird as it may sound, it almost makes me feel homeless. Do you know the feeling?
The Kitchen is MY space, a place where I feel one with myself. Be it any stress, any trouble, any mess… there isn't anything that can't be worked out for me here. Simple acts of kneading the dough & knocking it back, whisking eggs, getting my hands messy with cookie dough, stirring a sauce… so very cathartic! And now, even more so since I'm on a break from work, specifically to explore my passion for food, the kitchen is my refuge, & if I can't use it… it makes me very

especially if I'm at home!
Like I've said before, some write, paint or run to get it out of their system… I cook!
Snap out of it Shivani! (I tell myself) It's not always about you! What's everyone going to eat tonight?
Hmmm…. There's the neighbourhood Chinese Stall that Daks (my sister-in-law) suggested we could order  in from. (The other half of my Gemini self  chirps in) There's something about roadside Indian Chinese food! It's a cuisine in itself… totally unauthentic, absolutely Indian, incredibly tasty…
Ahem… and not to mention definitely unhealthy! 
Well alright then, that will be dinner for everyone else… I'll just watch! 
I have to keep reminding myself of my weight loss regime! I'm on a quest to eat right… healthy food that is not only good for you but tastes great! And now with the added  lack of Kitchen space (added lack??? never mind!), something that can be made in my trusted microwave convection oven.
I looked up a simple recipe using Zucchini, because that's What I had in the Fridge! I found one I liked on Health.com which required zucchini (of course), corn kernels (which I had in the fridge but can't have), tomatoes (always in the fridge), Parmesan (yum! but no) & panko (had to look that one up).
So I tweaked the recipe around, with the mise en place in my bedroom… the only dust-free space in the house, & set out to make a Zucchini & Cottage Cheese Bake.
Ingredients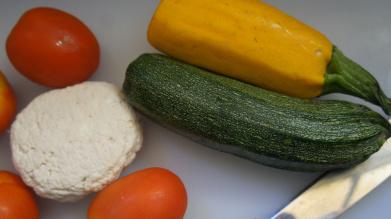 1/2 each Green & Yellow Zucchini (sliced)

4 Tomatoes (sliced)
8-10 cloves Garlic (halved)
about 200 gm Low Fat Cottage Cheese (I made it from 1 ltr Skimmed Milk)
2-3 teaspoons Olive Oil
Celery Salt
Garlic Salt
Pepper
Chilli Flakes
Dried Mixed Herbs
2 slices Low Fat Cheese (cut into little pieces)
1 tablespoon Oats
1 tablespoon Celery (finely chopped)
2-3 tablespoons Amise Marinade (I had made a skinny version of Roger Mooking's Trinidadian Style Chicken last week & frozen the leftover marinade which is basically a chutney or pesto of garlic, shallots, green onion, parsley/coriander)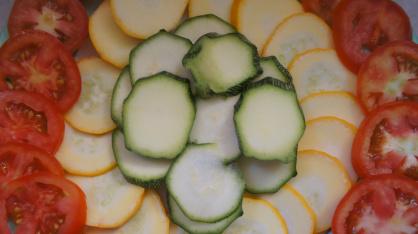 Method
Grease a baking tray with a teaspoon of olive oil & arrange the tomatoes in a single layer.

Top it with the halved garlic cloves & 1/2 of crumbled cottage cheese & season it with celery salt, pepper, chilli flakes & herbs.
Arrange the zucchini slices & sprinkle the rest of the cottage cheese over it. Season this layer as above, adding garlic salt.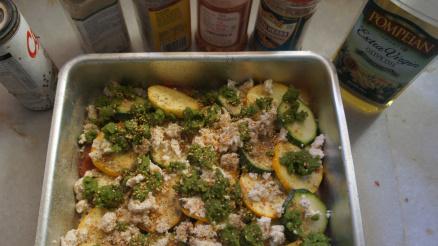 Toss in dollops of the marinade over the dish.
Mix the oats, celery & low fat cheese bits in a bowl & sprinkle the mixture over the vegetables.
Drizzle the remaining olive oil over the veggies & cheese & bake uncovered in a pre-heated oven at 200 C for 25 minutes.
Cover the baking tray with foil & bake for another 5-10 minutes.
Serve hot.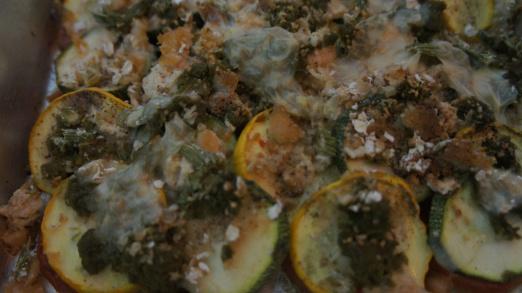 This recipe makes 2-3 servings for a certain person on a diet who was feeling deprived & sorry for herself 'coz she couldn't eat the roadside Indian Chinese that everyone was eating, but who couldn't care less now as this Zucchini & Cottage Cheese Bake is so much more wholesome, healthy ahem & not to mention… Delicious