It is Eid today… the day that marks the end of Ramzan or Ramadan, the Islamic holy month of fasting. For the past 29 – 30 days, devout Muslims the world over do not eat anything from dawn to sunset. However when the sun goes down everyday, at Iftar, the fast is broken.
If you walk through streets around the Bombay Central Station, Mohammed Ali Road, Dongri, Mahim – There's such an atmosphere of festivity! The streets are lit up with fairy lights, groups of people milling about, all dressed up & the roads lined with stalls selling everything from bright clothes to jewelry & shoes to… of course… Food! Oh! It's such a treat! It's been a while, but I remember for a couple years, going down to Mohammed Ali Road with my friends at least once during Ramzan during Iftar, to, well put it politely, stuff ourselves silly!
You wouldn't know where to start! Of course, if you were fasting, you would with dates & some fruit from the dried fruit & juice stalls & then move on to the real stuff. But that never applied to us! We went straight for the meat & chicken Kebabs, Tikkas (marinated chunks of Chicken or Lamb grilled to melt-in-the-mouth perfection over charcoal), Naans (flat bread), Baida Rotis (thin, soft flatbread stuffed with meat, coated with eggs & deep fried), Biryaani (saffron & spice laced rice layered with a flavourful meat or chicken gravy), my favorite Khichda / Haleem! You can't end the feast without anything sweet… so there are Malpuas (crisp little pancakes deep fried in clarified butter) served with Rabdi (sweet, creamy, thickened milk) or Phirni (a delicate rice pudding flavoured with cardamom) in little clay pots… The feast is surely not for the faint hearted!
For the past 8 – 9 years (maybe more!), we've been invited to be part of the Iftar & Eid celebrations at the Khan residence… & that is another experience altogether! Pure gastronomical heaven! The everyday food out there is out of this world… so you can imagine what these special dinners would be like! Nalli, Biryaani, Kebabs, Mutton cooked the Moghlai way, Khichda.. & of course Auntie's special Sheer Khurma (a special vermicelli pudding)! How our dear friend turned vegetarian & more importantly, remained one, growing up in this household, is something that always baffles me!
Gosh I'm salivating as I write this, & feeling rather sorry for myself as I'm going to miss the festivities, being with my friends (who are more like family) & of course the food at the Eid dinner at the Khans', for the second year in a row! I'm in my home away from home, Jaipur, working (for a change!) for 2 weeks

I knew I was going to be missing out so, a few days before I left Bombay, I made my favorite Khichda / Haleem for my family! Khichda is a one-dish meal, comfort in a bowl… I love it! And this is my first attempt at making it!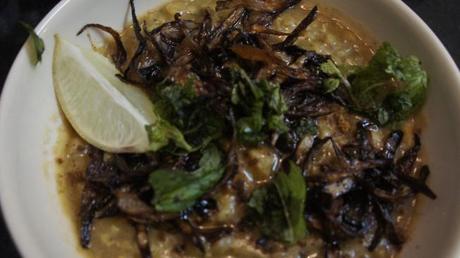 I used these websites as a reference for the recipe - Khana Pakana & Kulsum Mehmood, & followed the tips & suggestions given to me by the lovely elderly Bohri Kaka (uncle) who sold me the ingredients at Crawford Market  (the one stop wholesale bazaar in Bombay for everything!)

So here it is the recipe for a meal that satisfies the soul, with a special Eid Mubarak to everyone!
Ingredients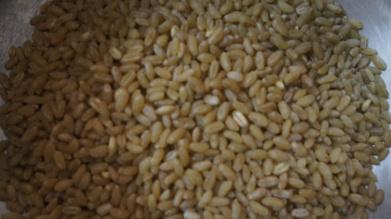 Polished Whole Wheat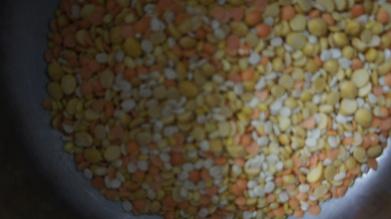 Mixed Lentils
250 gm Polished Whole Wheat Grains
150 gm Mixed Daals (red, white & yellow lentil & Bengal gram)
450 gm Boneless Chicken Pieces
2 – 3 tablespoons Ginger-Garlic Paste
Red Chilli Powder (to taste)
Turmeric Powder
2 teaspoons Dhania – Jeera / Cumin & Coriander Seed Powder
Special Haleem Spice (recommended by the sweet Kaka at the shop)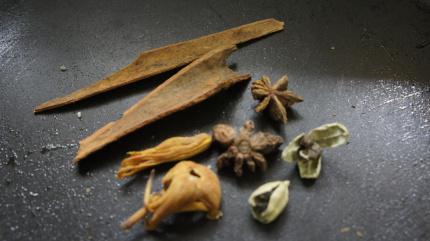 Spices
2 stick Cinnamon
3 – 4 Cardamom
2 Star Anise
Mace
a pinch Nutmeg Powder
1 large Onion (finely sliced)
2 tablespoons Mint Leaves (finely chopped)
Ghee / Clarified Butter – Lots of it!
To Serve:
3 large Onions (finely sliced & deep fried)
Mint Leaves (finely chopped)
Special Haleem Spice
Lemon Wedges
Ghee / Clarified Butter
Method
Soak the wheat overnight (at least 8 – 10 hours) in a large vessel filled with water. Pour in 1-2 teaspoons oil & some salt. (Kaka's tip: Do not wash the wheat or disturb it while soaking. It affects the cooking process)
Soak the lentils for about 2 hours.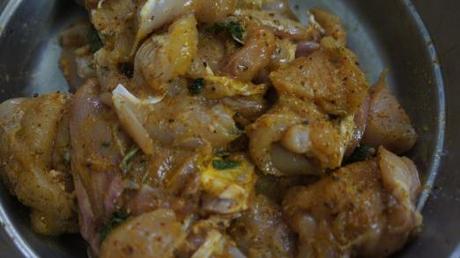 Marinated Chicken
Dry roast the cinnamon, cloves, star anise, mace & cardamom & grind to a fine powder.
Marinate the chicken pieces with ginger-garlic paste, salt, red chilli powder, turmeric, the spice powder from Step 3, nutmeg powder, 2 teaspoon Haleem spice, cumin & coriander powder & mint leaves. Leave to rest for about an hour.
In a large heavy bottomed vessel, heat 2 – 3 tablespoons of ghee, add the onions & sauté till the onions turn golden.
Add the marinated chicken & stir fry for about 10 minutes. Add more ghee if you need to, don't be shy!
Drain the soaked wheat & lentils & add to the chicken.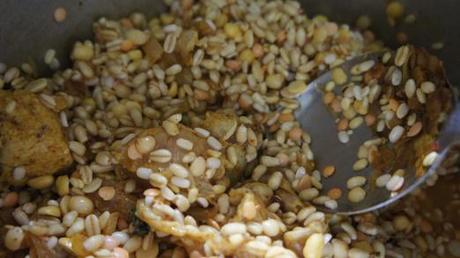 Soaked Wheat Grains, Lentils & Marinated Chcken
Add enough water to cover the chicken & grains, plus some more & simmer on a low flame.
Now this is where patience kicks in! Allow the chicken & grains to cook for 6 – 7 hours, stirring regularly. (I kid you not! That's how long it took! You could pressure cook the whole thing. But Kaka said the true taste emerges when the Khichda is slowly cooked over a long time. I believe him! It's totally worth it.)
Add more water if it gets too thick or starts to stick to the bottom of the vessel.
Once the wheat has softened (around 6 hours later), take the vessel off the flame, remove the chicken pieces & keep aside. Using a hand blender make the wheat & lentil mixture as smooth as possible. Add the chicken back to this thick, porridge-like mixture & place the vessel on a very low flame.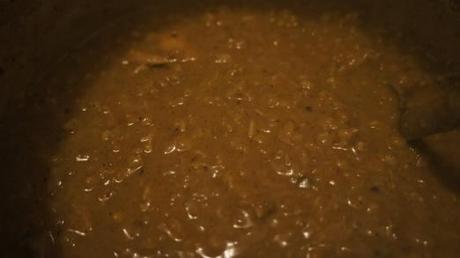 The Khichda Cooking Slowly
Add another 2 teaspoons of the Haleem spice & check the seasoning. (I find it easier to taste my way through a dish like this, so at this point if you feel you need to add more salt, chilli or spices, go right ahead!)
If possible, leave the vessel on the flame till you are ready to serve.
To Serve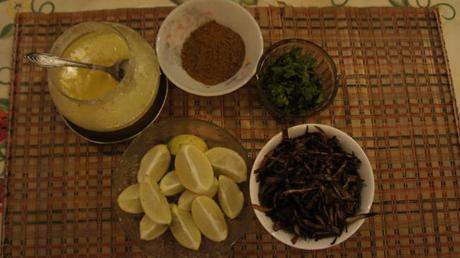 The Condiments – Melted Ghee, Haleem Spice Powder, Mint Leaves, Deep Fried Onions, Lemon Wedges
Ladle the Khichda into a bowl. Pour a generous amount of ghee over it, sprinkle a bit of the Haleem spice, some mint leaves & serve with a wedge of lemon. Then sit back & watch the expressions of your family as they dig into it!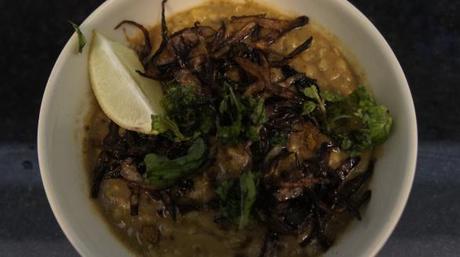 This recipe serves 6