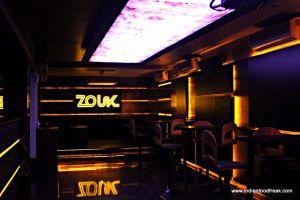 Walking distance from the Andheri Station (Eastern side), in the lanes of Teligali, lies this lounge cum restaurant which recently opened under a new management with a new name – Zouk (Earlier, part of the hotel-Imperial Palace)– and a completely revamped menu.
I went there on the 1st of April while they were having a corporate event at their main restaurant/bar area and in the lounge section at the back, they were hosting an Improv Stand-up act. As we sat down for the act, I couldn't help but notice the broken stairs, torn seat covers and a bit of a musty smell in the room.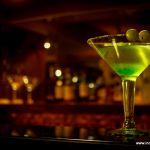 With some trepidation, we proceeded with our first order of
Berry Rita (Rs. 399)
which was a strawberry infused margarita smoked with mild apple wood. While the presentation of the drink was quite good, I found the taste to be quite average and a bit too sweet – it would have been nice if the salt on the rim of the glass could have been be flavoured to add that extra zing to the drink. The
Tiki Bandit (Rs. 349)
too had great presentation and was a potent drink made with fruits blended with rum and had the perfect sweet and sour balance.
The Vegetarian Nachos (Rs. 259) that accompanied these drinks were crisp and the guacamole fresh and delicious. They also brought us a platter of three way fries which had three different dips to go with them. The fries felt like the ones fried at home but all three had their own distinct flavor as well. I quite liked them with my drinks.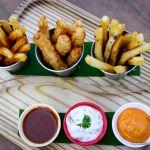 As I was finishing my spicy, rosemary and barbecue fries, the servers brought me a drink called
Lethal Bowl (Rs. 649)
which is served in a large skull shaped glass and is large enough to serve two – it is a cocktail made with two different rums mixed with peach passion fruit and pine apple blend. It was q decent cocktail and recommendable to be ordered on a romantic date.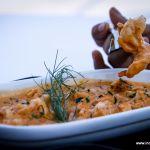 The place promotes itself as a lounge bar and, therefore, concentrates on the starters -hence, we focused mainly on starters on this day. The first one in this list was the
Chilli Basil Chicken (Rs. 249)
which was quite spicy and sweet with an aromatic basil kick. The fusion of sweet, spice and herb makes it a good starting dish for the Indian palate. The dish called
Tequila Flambéed Prawns (Rs. 399)
was quite a misnomer as it was served without the flambé. The prawns were cooked well but the cheesy taste of the prawns felt quite weird in the beginning – having said that, as I ate more of it, I increasingly got used to it.
Rosemary Grilled Prawns (Rs. 469) were decent, garlicky prawns with a slight overdose of rosemary. The Herb Crusted Grilled Fish was the only disappointment of the evening as the fish was overcooked and hence, a bit dry and rubbery. At this point, I was served a Jalapeno infused Mojito which was hot and spicy in complete contrast to the lemony-minty freshness of the regular mojito. I thought this was a very well executed cocktail and made up for the disappointing fish.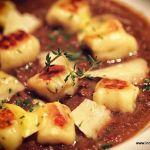 On the vegetarian front, we tried the
Soya Shami Kebab (Rs. 199)
which is a dish one hardly finds in restaurants anywhere and is a fairly decent option to order. The
Chicken Kulfi Kebab (Rs. 299)
is a must try whenever you are at Zouk; this dish consists of chicken leg pieces marinated in cream and spices, wrapped in foil and cooked so that the chicken remains moist and juicy and the flavours intact. Eating this dish, however, could be a bit cumbersome as one would need their hands to tear the foil open and that can get a bit messy.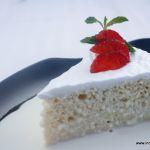 Don't leave the place without trying their
Latin American 3 Milk Cake Awesome (Rs. 299)
which, in simple words, is as close as it gets to the real Latin Tres Leches cake. Delectable and a must try for dessert hunters.
Coming from the stables of Asado-the first Latin American restaurant in Mumbai, the management has its heart in the right place when it comes to food but their service can do with some speeding up and their interiors need some major renovating. With weekly stand-up acts, Bollywood nights and karaoke nights planned, they surely have a good line up of events However, they must rework their price structure as I thought the dishes were a tad overpriced. Barring these few points, the restaurant has all it takes to make it a successful venture and here is wishing them all the best for the same.
Ratings (Out of 5)
Food: 3.5 | Drinks: 3.5 | Ambience: 2.5 | Service: 2.5 | Overall: 3
Meal for Two: Rs. 2000 (With alcohol) | Credit Cards: Yes | Alcohol: Yes |Timings: 5.30 pm to 1.00 am  |Wheelchair Access: No
Address: Hotel Imperial Palace, 45, Telly Park Road, Andheri East, Mumbai 400069.
Telephone: 022 30151404
Disclaimer: This review was done on an invitation from the restaurant. Due judgement and care has been applied by the author to remain objective and unbiased in the review, but readers need to consider this review keeping this fact in mind.