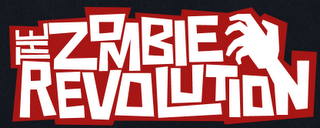 They Hit London, UK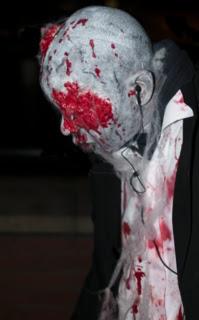 RDC: On the Saturday 27th of October the walking dead took over the South Bank to wreak havoc on us warm bloods. Alice one of the organizers, got in touch to give us the bloody outcome...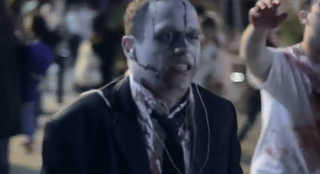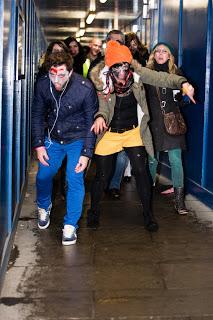 From 6.30pm hundreds of zombies began to congregate outside Tate Modern,  they were directed into the cafe to get a zombie inspired beverage and check their MP3 downloads worked in preparation for the revolution. An announcement was made at 7.30pm and the zombies all gathered outside Tate Modern. The zombies were asked to count down from 10 and then all press play on their MP3's. A narrative explained the reason for the revolution- a need for zombie rights! And that they would march on Westminster to demand the Prime Minister for them! They lurched along the South Bank, stopping at various points to take part in synced actions leaving the public wondering what an earth was happening!
The points were:
Outside Tate. Actions included: Stand to attention, marching, hiding and tiptoeing to Mission Impossible Theme tune, snarling, lurching, walking backwards
Opposite coin street along the South Bank. Actions: Star jumps, lunging, flexing muscles and posing to Madonna- Vogue, zombie zumba.
Skate Park next to South Bank Centre. Actions included: Zombie first aid- Leona Lewis Bleeding Love- treating severe bleeding, slapping each others backs to encourage patient to cough up an eyeball, zombie groans as coming out from under the skate park, handing out zombie leaflets to unassuming humans- making friends.
By the London Eye. Actions included: Putting sheets over heads like ghosts, putting torches under faces and laughing, Bee Gees Staying Alive- celebrating that the Prime Minister has been bitten, conga- all zombies got into a huge conga that circled around.