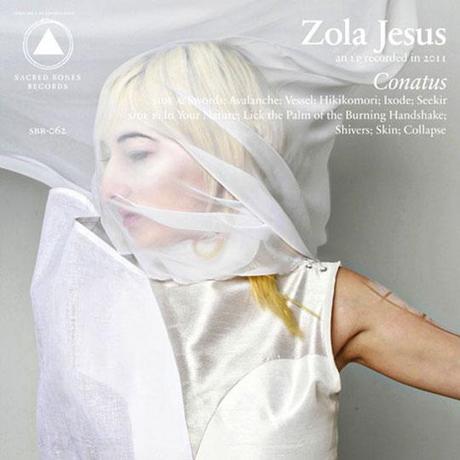 Vessel – Zola Jesus
If Riddly Scott is looking for someone to write the soundtrack for his Blade Runner prequel, he should look no further than Zola Jesus (@zolajesus). The Wisconsin singer is able to weave her cold, cyborg beats and deep voice through an electronic landscape that feels just as stark and brutal as the nightmarish science fiction cities of the future. Conatus, the newest album released under Nika Roza Danilova's Zola Jesus project, expertly creates that dark Blade Runner-esq atmosphere — dark and nihilistic, layered but sparse.  It's haunting and beautiful all at the same time.
Conatus begins with an atmospheric statement of intent with the minute long "Swords", pairing electronic glitches with the far off echo and unsettling beauty of Danilovia's voice. The tone stays the same throughout the record, at times adding strings and larger synthesizers, but always remaining desolate. She simply never lets up on the darkness. Even the single "Vessel", a spectacular track with an almost dance-worthy beat, is clinical and severe. When her songs build toward a noisy break, Danilova holds back the cathartic beat drop, instead allowing the song to fade and end.  There is no catharsis here, only vague discomfort, and that's exactly what she was going for.
Not all the songs are stark and empty, though. Some like "Hikikomori" and "Lick the Palm of the Burning Handshake" add backup singers, ethereal ahhs and orchestral strings. Though these do nothing to make the album less of an aural science fiction nightmare, the larger sounds succeed in adding a more soulful and enticing twist to what could have been an incredibly alienating record.
What makes Zola Jesus such an arresting project is Danilova's extraordinary voice. Her deep croon has often been compared to other gothic voices, like Siouxie Sioux, but her opera training puts more power behind her low rumbles than those who came before her. Her voice fits perfectly with the industrial influences of the music she creates. Unlike many singers in our current "America Idol" age, Danilova understands that a slight whisper can be as powerful as a scream, a restraint that makes the moments when she puts true power behind her voice absolutely breathtaking.
At times, Contaus can feel too isolating and harsh, though songs like "In Your Nature" and "Vessel" add levity by using more traditional electronic structures. By and large, Contaus is a stunning work by an artist with stunning vision. Danilova has matured greatly in the years that she has been releasing work as Zola Jesus, and her third album sounds like a long standing vision finally congealing into a whole.