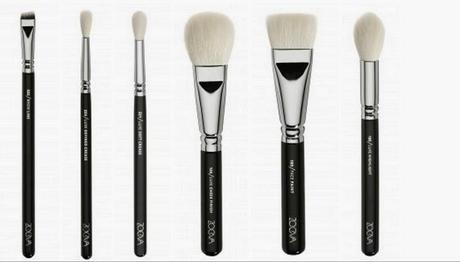 With our endless passion for makeup brushes and tools we have developed eightnew, powerful brushes to enhance our professional ZOEVA single brush range toa total of 50 brushes. The five new face and three new eye brushes are designed inthe highest ZOEVA quality standard. Enjoy new finishing brushes for a maximumflawless makeup result, revolutionary contouring and highlighting tools and brushesthat will magically define your face. You are beautiful!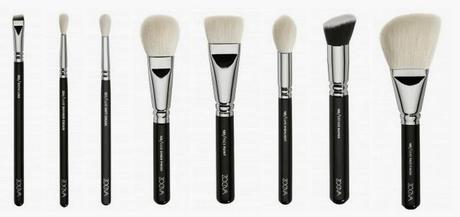 1. 100 Luxe Face Finish



"Because bigger is better"A luxurious powder brush with a blendof exquisite natural and synthetic hairfree of dye. Designed to diffuse bronzer,powder and highlighter. The long, flexiblebristles are dreamy soft. A truly luxuriousmakeup experience.19.50 €
2. 103 Defined Buffer

"Embrace your face"A small angled foundation brush withvegan taklon bristles. Specially shapedfor a full coverage application of foundation.Fits perfectly the contours of yourface.
10.
50
€
*
3. 105 Luxe Highlight

"Light my fire"A luxurious highlighter brush with a natural-synthetic hair blend free of dye. Supersoft and silky, it's flame-shaped headcreates instantly light-reflecting results.Be polished, be beautiful.
11.
50
€
*
4. 109 Face Paint

"On the edge"A contour brush with a unique designpaired with a special blending of naturaland synthetic bristles free of dye. Theflat, square shape allows professionalsculpting, shading and contouring.
12.
50
€
*
5. 126 Luxe Cheek Finish

"Luxurious dainty"A luxurious cheek brush with a blendof exquisite natural and synthetic hairfree of dye. The dome shaped, flat headachieves a beautiful blending. Perfect fora finishing touch.12.
50
€
*
1. 224 Luxe Defined Crease

"Like a feather"
A feather-light blending brush with a natural-
synthetic hair mix free of dye. Like a
breath of makeup, the light bristles ensure
a flawless and even definition along thecrease.
6.
20
€
*
2. 221 Luxe Soft Crease

"All in the details"A superior blending brush with a curvedhead and the finest natural-synthetichair mix free of dye. This tool blends youreyeshadow to pefection. Expect professionalresults.
6.
20
€
*
3. 322 Brow Line

"The brows have it"A wide, short brush made of vegan taklonbristles. The angled shape will help you tocreate the perfect arch with either creamyor powder products. A must-have tool for
well-defined eyebrows.
5.
80
€
*
It's not quite a secret anymore: We are makeup brush addicts and we love makeup tools from the bottom of our heart. So we gave our ZOEVA brushes the home-sweet-home they deserve. From January 27th on, all our ZOEVA single brush sets, like the Complete Set, Face Set, Eye Set and many more will come to you in these super-classy clutches. The ZOEVA Brush Clutch is available in two sizes. Large, for larger sets and small for smaller sets. They are also available separately, starting from January 27, 2014.
We love makeup brushes. So we gave ourZOEVA brushes the home-sweet-homethey deserve. From January 27th on allour ZOEVA single brush sets will come toyou in one of these super-classy, timelessfashionable clutches. The bags are madeof sturdy, deep black faux leather. Theinside is made of powerful pink Shantung,a type of silk fabric that is often used forbridal gowns. A built-in zipper pockethelps you toorganize makeup and brushesor handbag essentials.
1. Brush Clutch Small 24 x 12 cm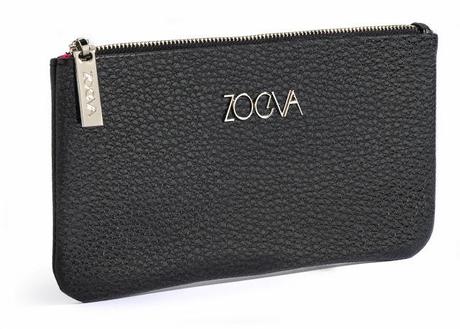 12.
80
€
*
2. Brush Clutch Large 24 x 18 cm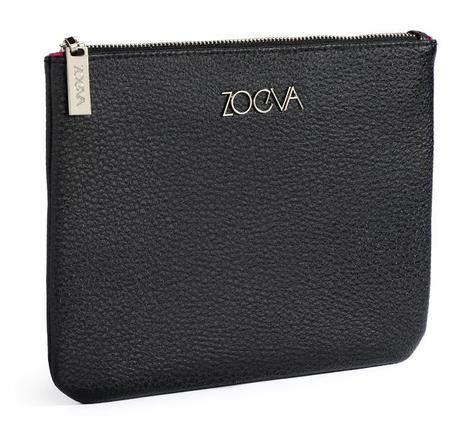 14.
80
€
*Clutches are also available separately
* Price at Zoeva.de, Incl. VAT, plus shippingAVAILABLE FROM JANUARY 27