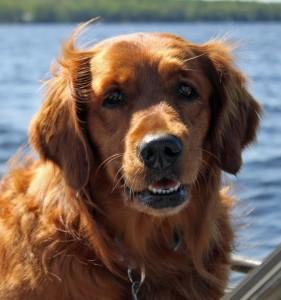 Ziva is Bruce Skakle's service dog, although she was not trained professionally as a service dog. Bruce, of Stockton Springs, Maine, has a lowered lung capacity due to an autoimmune disease and Ziva is able to tell when his oxygen level is dropping. When it reaches 82% she will lie down in front of him and keep him from walking until the oxygen level returns to a safe level. Once it returns to that safe level, she will get up. Ziva was certified as a service dog after Bruce's doctor witnessed and documented this incredible action. Because of this, Bruce is now allowed by his doctor to go places without having to carry the portable oxygen tank as long as Ziva comes along.
Ziva also cares for others in her special way. She will go to anyone in a wheelchair or with a walker and sit by their side. She does the same with autistic children. Bruce doesn't understand how she knows to do this but no longer questions her actions. She
Ziva has made so many friends that Bruce put together this holiday greeting from Ziva.
Tags: holiday greeting, holiday video, Personal Stories