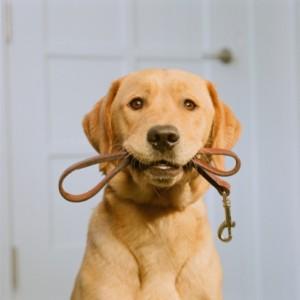 getty images
All dogs need to be walked, but not every pooch will require the same accessories – a fact I know only too well. Having owned dogs all of my life, I've had canines of every shape and size through my door, from a fluffy little Tibetan Terrier to a hulking Great Dane.
When it came to walking them, each of them had their own specific exercise needs, different places that they liked to go, different games they liked to play.  And each of them, without fail, required their own special set of walking paraphernalia.
The greatest challenge, surprisingly, was not findings collars to fit the huge, slobbering Saint Bernard that spent seven years making me smile, or even a lead that didn't snap whenever the English Mastiff spotted something out of the corner of his eye. No, it was finding a set-up that worked for my latest four-legged friend; a Staffordshire Bull Terrier by the name of Shenzi. Small and compact, she's got the well-muscled neck of a prized bull and all the height of an oversized cat. Dainty little collars are too thin to be comfortable, whilst specialist Staffie paraphernalia is adorned with so much bling that any diva would happily don it herself.
So how do you find the right accessories for your dog?
Leads
A lead is something that every dog needs, but there are so many of them available that it's hard to know where to begin. One of the first things to consider is durability. Some dogs are stronger than others, but it's always nice to know that if your dog spots something and starts straining at the leash, it's not just going to snap in your hand. Buying from a trusted retailer such as Collars and Tags is one way to make sure that you're getting the best for your money, and also gives you the opportunity to discuss your dog's individual needs and get a recommendation from experts.
A second point to consider is where you'll be walking your dog. If most of your time on lead is going to be spent near to large, busy roads, then a standard lead that keeps your dog close at heel is best. If, on the other hand, you have a dog that you don't trust enough to allow off its lead, or the places that you walk specify that all dogs must be on leads, then a flexi or retractable option may be best.
Collars
All dogs must wear a collar in public, complete with identification tags. The most important thing when choosing a collar is to make sure that you get the right fit.
You can check this by measuring your dog's neck before buying, and many pet shops will also allow you to take your pooch in and have them measured professionally. If you have a puppy, it's especially important to check the fit of their collar regularly. Particularly large or small dogs will be harder to accommodate, but there are a lot of specialist retailers out there, many of whom can be found online, who cater to these types.
Standard collars will not be best for all dogs. A slip collar may be better suited for those who need a little correction, whilst a harness will be more comfortable for Staffordshire Bull Terriers like mine, who have proportionally short necks, breeds with long, slender necks like Greyhounds, pushed-in faces like Pugs or hereditary throat or trachea problems like Pomeranians. The golden rule is simply this: when it comes to choosing accessories, make your decision in the best interests of your dog as an individual. Honestly, once you do, you can't go wrong.
Tags: dog collar, dog leash, dog walk