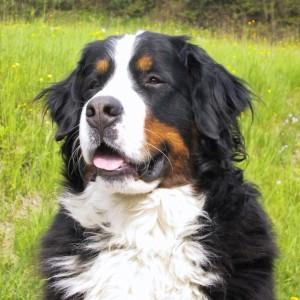 MY FRIEND Holly was never a dog person, until, suddenly, she was. His name was Zeus, and he was a Bernese mountain dog who weighed 120 pounds by the time he was fully grown. She was crazy about him. One day, shopping for his food in the pet store, she saw a flier describing a pet therapy program in the schools of Hillsborough, N.C., near where she lives: people willing to bring their animals into the classroom. Holly and Zeus signed up.
The program required a high level of obedience training. Zeus had to get certified — training and evaluation to make sure he was gentle and unflappable. Holly was trained and tested, too, to demonstrate that she understood how to handle Zeus in the classroom. Finally they were ready to go into the schools.
They began with reading. They would go off into a corner where a child would read to Zeus. "Dogs are nonjudgmental, which is especially important for a kid who might be having trouble with reading," Holly told me. "A dog doesn't try to correct or help — he's just there, and that does help." Wendy Stewart, the clinical social worker who had founded the program, watched Zeus and Holly and thought they'd be suited to a more demanding environment: a self-contained classroom dedicated to children with extreme mental, or combined mental and physical, challenges.
A new round of training and evaluation followed — unexpected loud noises and people crowding around them in wheelchairs, to simulate what they would encounter with the children, who might have autism, Down syndrome, or a range of other conditions affecting cognitive abilities. Then Holly and Zeus began their work in the classroom, where Zeus continued to prove predictable even when circumstances weren't. One girl always wanted to be handed the grooming brush, which she would then hurl away from her. Zeus was tolerant of this, as well as of the kids who wanted to lie on top of him. Many of the children were not verbal, but some could indicate simple commands via an electronic board: sit, down, paw, brush, circle. Zeus would patiently comply. There was one boy with severe autism — let's call him Adam — who couldn't speak and who lay on the floor with his arms around the dog and his face buried in Zeus's fur.
This past summer, after the school year ended, Zeus got sick. He ate less and balked at getting into the car. One day, during a walk, he collapsed. The vet diagnosed lupus. Zeus continued to get weaker, and at the end of the summer he died.
A couple of weeks ago, I went down to North Carolina to see Holly. We were in a store and a woman came up and said hello. "How's your wonderful dog?"
Holly started to cry. The woman had been an aide in the classroom where Holly and Zeus would visit. Sad to learn now of Zeus's death, she told Holly a story about Adam, the boy who'd loved to lie on the floor with Zeus. After Zeus's last classroom visit, Adam had used a communication device to pick out the words, "WANT DOG." He'd had to sort through numerous options and categories to arrive at "DOG." It was the first sentence he had ever initiated; until then his only communications had been answers to questions.
I called Wendy Stewart to find out more about pet therapy. She told me that the idea dates from the late 1960s but that programs are still relatively rare. (There are several in Massachusetts, including some listed on the MSPCA website.) When I asked Wendy about Zeus and Adam, she said, "That dog reached that child in a way no human being could have." She has found animals helpful with children who stutter ("I worked with a girl who didn't stutter when she talked to the dog"), children who are grieving, and children with social anxiety. "Give a kid who feels like an outsider a chance to walk a dog around the playground, and not only does it make the child feel competent, it's a social magnet."
As for Holly, she has just gotten a puppy. He's not sleeping through the night yet, but you can already see that he's bright and affectionate and a quick learner. He may be headed for a career in education.
~ Courtesy of the Boston Globe, Joan Wickersham
Tags: dog therapy, pet therapy, pet therapy program, service dog