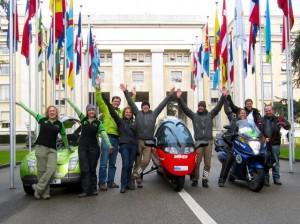 A few months ago we first wrote about Zero Emissions Race, the worldwide "race" to circumnavigate the globe in zero emission, electric cars. In a long overdue follow up, the race ended on February 24th at Palais des Nations at United Nations in Geneva, Switzerland. In a reference to Jules Verne, the race took 80 days and traversed more than 28,000 kilometers (17,000 miles) of roads. Throughout the inaugural race, three electric vehicles passed through 17 countries and 150 cities.
According to the race's website, the objective of "ZERO Race was not about speed, but about vehicle reliability and other criteria such as energy efficiency, utility to every day life, design and safety. . . . The most successful vehicle was Zerotracer, by the Oerlikon Solar Racing Team from Switzerland, followed by German team's Vectrix, an electric motor scooter. Third place was taken by TREV, from Australia."
Here is a short video of the contestants driving through the fading Texas daylight:
This being the inaugural race, we look forward to the next rendition of the Zero Emissions Race. Stay tuned.
[Image source]