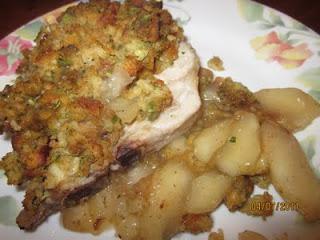 I made this super easy recipe for my family a few weeks ago and just had to share it. Since I don't have a lot of time to prepare a meal during the weekdays, I am always on the look out for simple yet delicious dinners.  I came across this recipe in a 5 ingredient cookbook.  At first I wasn't sure if this was going to be good, the ingredients together did not sound very good!!  However, this was soooo yummy! 
What you will need:
6 boneless pork chop loins ( 1 inch thick )
1 Tablespoon vegetable oil
1 package ( 6 oz ) crushed stuffing mix
1 can ( 21 oz ) apple pie filling with cinnamon
In a skillet, brown the pork chops in oil over medium-high heat.  Meanwhile, prepare the stuffing according to the package directions.  Spread pie filling into a greased 13 * 9 * 2 baking dish.  Place the browned pork chops on top; spoon the stuffing over the chops.
Cover and bake at 350' for 35 minutes.  Uncover and bake for an additional 10 minutes or until a meat thermometer reads 160'. 
Note - I could not find any apple pie filling with cinnamon; so I just bought regular apple pie filling and sprinkled some cinnamon over top.
Hope you enjoy this as much as my family did!