New to little Indiana? Subscribe for free to my RSS feed. Thanks for stopping by!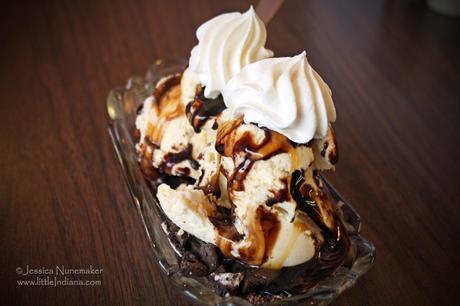 Yum Yum Shoppe: North Liberty, Indiana
North Liberty, Indiana
Although this mom and pop ice cream shop is open year round–they do more than just the usual one or two scoops of ice cream.
Yum Yum Shoppe in North Liberty, Indiana
If you've been following along in the travels of little Indiana, then you probably know that I love ice cream.
After I saw the menu, I had to get the S'more Sundae. You just can't go wrong with hot fudge, crunched up cones, marshmallow, and chocolate ice cream, ya know?
Hubs ordered the Durty Turtle, a yummy-looking blend of Butter Pecan Ice Cream, Caramel, and Chocolate.
Yum Yum Shoppe Food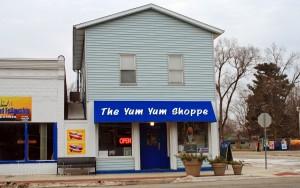 Yum Yum Shoppe: North Liberty, Indiana
There's more than ice cream in this year-round St. Joseph County business! With a menu that includes pizza and sandwiches, this is the local hangout!
Each year, they pick one night in which they hold extended hours—we're talking midnight kind of extended hours!
Called Moonlight Dips, it's something the whole area looks forward to each Summer. Who can blame them?
With a specially chosen theme and fun activities to match, folks can get ice cream (and have fun) very late indeed.
Go There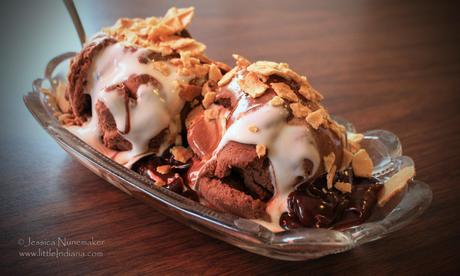 Yum Yum Shoppe: North Liberty, Indiana S'Mores Sundae
It's just another cute small Indiana town event that you may not want to miss. Did I mention there are prizes? As if you need a reason to get dessert.
Who needs big box ice cream shops anyway? The Yum Yum Shoppe is definitely a scoop above!
It's a fun atmosphere and a really nice selection of cool treats. I'll have to make a return trip–it's all in the name of research, though, right?
Find The Yum Yum Shoppe and other pictures in Indiana  on my Flickr photostream.
Yum Yum Shoppe
139 North Main Street
North Liberty, Indiana 46554
574.656.3245

View Larger Map
little Indiana: Where to Stay, Play, and Eat in Small Towns in Indiana. Discovering Indiana's best small towns! Now get little Indiana on your Kindle.
Targeted. Relevant. Affordable! little Indiana advertising.