Back in Dallas, Texas, when our oldest child was six months old, we forwent the traditional first food of rice cereal, opting for a more exotic "introductory to solids" of steamed dumplings instead.  (exaggeration)  So it's not surprising that while many spend their Sunday mornings at church, our Sunday morning religious experience is referred to as "Yum Cha"-- or "Dim Sum" as they say in America.
Back in 2003 and 2004 We used to go with our friend Auntie Abby to a Dim Sum restaurant in Dallas's Chinatown area, it was one of those massive banquet-style restaurants with over the top crystal chandeliers and seating for probably upwards of 1000 people.
Luckily for us, Sydney has no shortage of great Liberace-motif-esque Yum Cha restaurants.  And at this point, I'd say we've officially done the Yum Cha circuit in Sydney, and I'm prepared to share our findings...
So here are some Sydney Yum Cha restaurant reviews which I hope will be helpful to others in their quest for the perfect shu-mai.
I'll start with our favourite...
1.  At The Palace in the Sydney CBD's Picadilly Tower, they call our six year old "The Dumpling King."  No seriously, when we walk in-- they say, "Why helloooo Dumpling King".  And then, the child who declared himself a vegetarian about six months ago, and adamantly refused to consume any type meat, proceeds to sit down and eat at least eight-ten dumplings (some of which contain pork)-- every single weekend-- he stocks up, like a chipmunk-- fur real, haha. 
We highly recommend their prawn and snow pea dumplings, shumai, and seafood shumai.  Any of the BBQ pork buns varieties are excellent; steamed, donut style, and pastry triangles.  Yum.  The kids beg us to get them chocolate mousse from the dessert cart, and if they've behaved really well, we oblige.
Some pretty food at The Palace: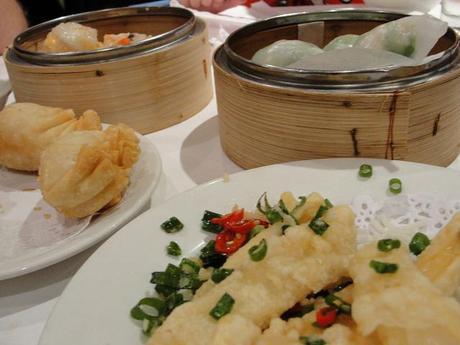 Salt and Pepper Calamari, Shumai, Prawn & Snow Pea Dumplings.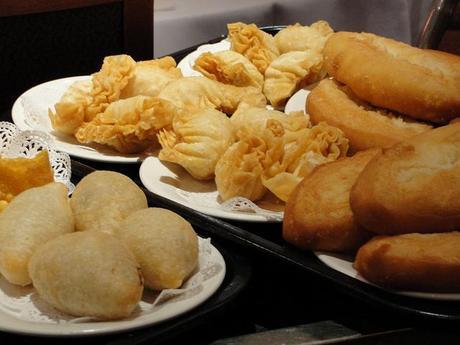 I'll safely assume we can call this the "fried food cart".  The fried scallops are excellent, the hubby and kids love the fried prawn dumplings.
And here is a photo of "The Dumpling King" with our most-favourite (favorite) waiter.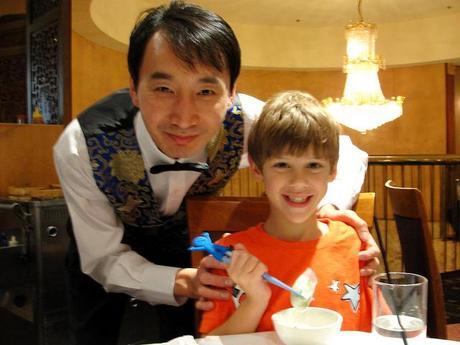 Did I mention we bring our own training chopsticks for the kids?  The waiters must think we are total wackos.
2.  Another Yum Cha we go to, especially when we're looking for somewhere interesting to take out-of-town visitors, is the Fisherman's Wharf Seafood Restaurant at The Sydney Fish Market in Pyrmont.  It's basically a massive, brand new, sparkley clean restaurant, upstairs at the back of the fish market, with gorgeous water views over what I believe is Black Wattle Bay.
One of the maitre-d's here is extremely friendly and helpful.  And he and/ or a few others will often go out of their way to find the specific dumpling or item you are looking for if it hasn't come around yet.   The dumplings here are good, the dessert buns are possibly better, and the views and atmosphere (as Yum Cha restaurants go) is second to none.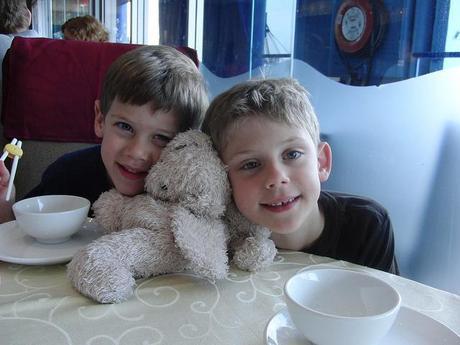 The boys and BooBoo the Bunny waiting for the dumpling cart to come, at the sun-filled Fisherman's Wharf Seafood Restaurant Yum Cha at Sydney Fish Market.
3.  Sky Phoenix, located in Sydney CBD's Pitt St. Mall, is definitely a delicious Yum Cha choice.  And if we were going solely based on food quality, this could very well may be our number one choice.  But for us, it seems less convenient to get to, and not as child-friendly as the other places.  Sky Phoenix's food and service has been excellent, but we have found this to be a smaller feeling, and more formal atmosphere.  My husband and I have also dined at Sky Phoenix for dinner-- and that was absolutely yum-tastic. Sky Phoenix also has a massive restaurant in the Rhodes Shopping Centre (or known in our house as "the IKEA mall"), would say it's still good eats, but not the same as the CBD location.
4.  Marigold Restaurant on George Street in Sydney's Chinatown is another Yum Cha we'd recommend.  In our experience, the food is good, but the service is quite lacking.  It was somewhat difficult to get the items we wanted, and with two impatient little boys, and a language barrier that seemingly could not be broken, for us, there were issues here.
Regal Restaurant on Sussex was also supposed to be on this list, but after finding that they have "merged with Marigold", it looks like they've basically shut the Regal Restaurant down.
5.  In this case we will not say "last but not least", because Kam Fook, the Yum Cha at Bondi Junction mall would definitely come in a far last in my little black Yum Cha book.  Kam Fook belongs in a mall-- at the food court.  Sorry.  This has been a location used for school-mum (that's "mom" for all y'all yanks) meetups.  And the food, combined with the dodgy service, and sweat-box area in the back under the un-tinted windows makes for a big loser in my Sydney Yum Cha competition.
So there you have it-- we love dumplings, shumai, steamed pork buns, Chinese broccoli, soya noodles, spring rolls, fried prawn dumplings, custard buns, Chinese donuts and chopsticks.