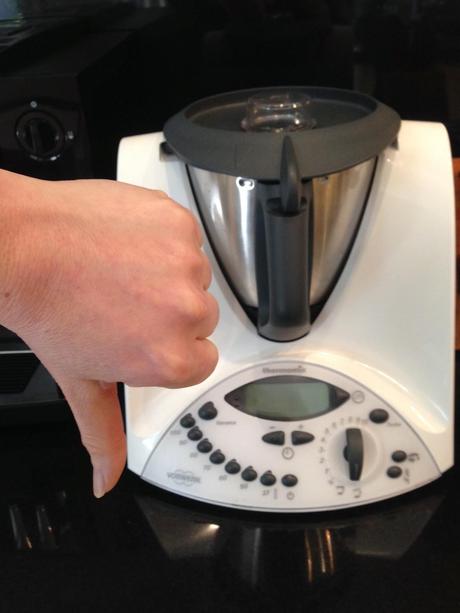 There's a kitchen appliance in Australia so phenomenal that Aussies shell out almost $2000 for it, despite it taking up a more than fair amount of coveted bench space (that's Australian for countertop).  And shockingly, this bad boy isn't even sold in America.  Yep, still trying to figure that one out.
Anyway, recently the Thermomix, or "Thermie" as its close friends call it, was on Masterchef Australia,  showing all of the country how it blends, chops, purees, grinds, weighs, heats, steams, cooks and drives your kids to school; only increasing it's cult-like status further.
With me having just moved back to Sydney, being completely small-appliance-less and all, I was a prime prospect for this mac daddy blender on steroids.  And so one of my Aussie besties told me, "You've got to get a Thermomix, it will change your life."
So I started my research.  I called Bestie's consultant, because it wouldn't be any fun at all if it wasn't a multi-level marketing, purchase at a demo-party, can't buy anywhere else, type of thing---now would it?
And the consultant was super nice.  And after all the research I had done, I only had one question weighing on my mind.  It looked like Thermomix only brings a new model out about every ten years, and this model was on "year seven".  So before paying the mother load on this baby I needed to make sure a new model wasn't around the corner.  I was fine to wait for newer technology, etc.
I asked the consultant, and I called their no-so-helpful customer service department- and was told by both that there was no information indicating that a new model was forthcoming.
Okay then, I'm ready to go.  And go I did, right into Thermomix Heaven.
And then pretty quickly…  right into Thermomix Hell.
Because four weeks after paying $1939 for a blender that heats stuff up, a new model came out-- for virtually the same price!  Are these people on crack?  What the eff you m*#%--, doesn't even begin to describe… and some are trying to play down the upgraded features on the new model, but in my opinion they are very substantial.
So now there's a Facebook Page for Unhappy Thermomixees.  And A Current Affair Australia dedicated air time to the injustice.  And of course… there's a petition, because petitions rule.
(Whinging voice -that's whining in Ameri-speak)  Well I just want the new flash, bling-bling model!!!  And I want a chocolate cookie and cozy socks! Wait, that last one was meant for my kids.
Back on topic...
Vorwerk, the German parent company of Thermomix, had said in a comment on Facebook (and I don't quote exactly) that their new models have been so successful because of the element of "surprise".
Well, surprise fail bitches!
That may have been then, but this is now... and now is seven years and mega social media insanity to infinity later.
You've done a bad job here Thermomix, and considering your business is only sold through consultants, who may I add, also have to purchase the new model to continue as distributors -- I hope you all are thinking of the best way possible to fix this self-inflicted mess.
For me, I'm looking for the new model or a refund.  For Thermomix Australia I don't worry, the karma trucks always comes to dump its load-- question is, will it be bringing you leprechauns dancing with labradoodles or…  ???