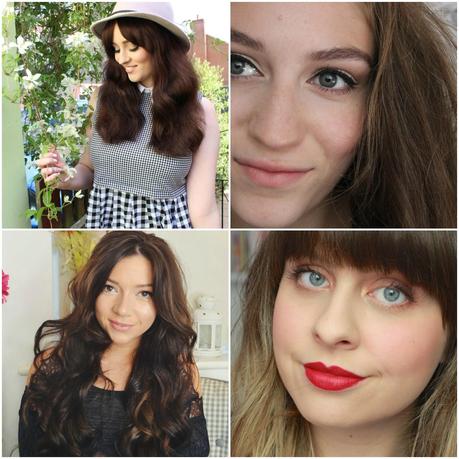 I am obsessed with YouTube, and have been for quite sometime now. I watch videos whilst I'm getting ready on a morning, on an evening when I come in, when I'm taking my makeup off and sometimes when I'm in the bath too! I thought today I'd share with you four lovely ladies who all have brilliant channels that I've been hooked on recently...
Becca Rose has been a lady that makes me literally belly laugh when I watch her videos. She combines her humor in with a passion for make-up and fashion to make videos that are just brilliant. She seems like one of the most 'real-est' person there is on YouTube and she's a pleasure to watch. Lucy (Dinosaur Dances) is a fellow North East blogger who has ventured into the world of YT, and boy, is she good at it! Lucy has amazing make-up skills and a personality that warms my heart. She deserves so many more subscribers as her content is amazing! Can we all just take a minute to gasp at Corrie (Dizzy Brunette) and her hair?! Gorgeous! Corrie's bubbly personality shines through her videos and makes me want to be BFF's with her. She also makes me add endless products to my wishlist, especially those rollers... Finally, comes Faye (Faye's Fix) who I met at the Cosmo Blog Awards and she is so adorable! She brightens my day with her smile and videos to make me giggle (check out the ones with her Dad!). If you need a little bit of cheering up, Faye is bound to make you grin from ear to ear!
So that's who I've been watching on the ol 'Tube recently, make sure you give them a little watch and subscribe if you like what you see! Who are you loving on YouTube recently? Recommend me some of your favourites! Thank you for reading!


Facebook  - Twitter - Instagram - Bloglovin - Youtube


Check

 out my October Advertiser - Pink Is The New Perfect