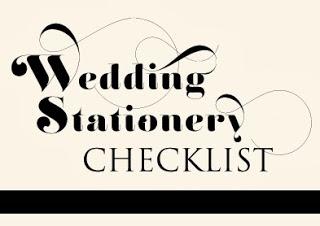 Its no secret that the wedding paper list has "grown" in the last few years. As an "ink on paper" enthusiast, I'm thrilled about this development. A list that was mostly comprised of invitations, menus, programs, table numbers and a favor tag or two has turned into a
smorgasbord
of items. A couple of reasons for this:
1. Weddings have become uber-personal
Since the "cookie cutter"wedding has all but disappeared, additional signage is required to help express a couple's personality.
2. Wedding receptions now feature more activity/options
From the offbeat guest book and photo booth with props, to the candy buffet, food stations and "flip-flop" tub... Signage, tent cards and/or labels are needed to inform guests about where to go, what they are eating and how many options they have.
The amount of signs and paper can be overwhelming, but you can do this. Remember to edit, edit, edit and only order the paper/signage that is absolutely necessary. The following list includes a large number of elements. Start here and begin to shave it based on the details of your own event.
---
:: You are Invited ::
Engagement Announcements (Optional) ___
Save The Dates ___
Invitations ___

Reception Card ___
Accommodation Card ___
Direction Card ___
Post Wedding Brunch ___
RSVP Card ___
Outer Envelopes ___
RSVP Envelopes ___

Calligraphy (Hand Lettering) ___
Digital Calligraphy ___
Thank You Cards  ___
:: Out-of-Town Guests ::
 Tag or Sticker for welcome bags ___
 Custom water bottle labels ___
 Inserts (wedding weekend card, map, etc.) ___
:: The Big Day ::
Ceremony Programs ___
Guestbook signage ___
Directional Signage ___
Pick a Seat, Not a Side Sign ___
For your tears of joy cello bags ___
:: Let's Party ::
Menus ___
Card Box ___
Place cards or Seating Chart ___
Table Tents/Cards ___
In Lieu of favor cards or Favor tags ___
Printed Cocktail Napkins ___
Bar Signage ___
Social media signage (Instagram hashtag, appy couple, etc.) ___
Candy Buffet Signage ___
Signature Drink Tent/Sign ___
Thank You Cards ___
Bathroom Signage  ___
:: Wait a minute... where do I go? ::
Directional Signage ___
Reserved Signs ___
Couple's Chair Back Signs (Mr. and Mrs.) ___
Thank You Signage (for photo op) ___
Photo booth Signage ___
Flip Flop Tub Signage ___
Tent card signage for Candy Buffet or Dessert Table ___
Let me know what I forgot to include in the comments below! Have good weekends!
--ct