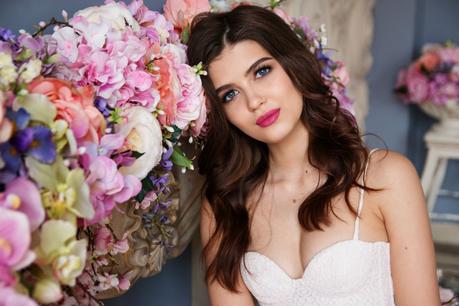 Begin paying special attention to your skin a couple of months before your wedding, and you probably won't have any surprise problems with acne or other embarrassing skin breakouts on your special day. Eat mindfully, get plenty of refreshing sleep, and don't let stress take over your mood.
Facial treatments and exfoliation
If you want a pre-wedding facial, try it out eight weeks prior to your wedding day. A great facial can buff away dead skin cells and provide a lovely, radiant countenance. Unfortunately, a deep facial can also cause sensitive reactions such as redness, slight swelling, and even allergic reactions. For this reason, don't wait until the last minute for your pre-wedding facial, say makeup experts at Brides magazine.
You may wish to have another facial two the three weeks before your wedding, but you probably won't want one any later than that. In the meantime, follow your typical skin care regimen right up until your wedding day. Drink plenty of water, get all the rest your body requires and stay away from stress.
Preventative measures
If your skin tends to be dry, avoid long showers and baths and try not to bathe more than one time a day, advise skin experts at WebMD. Don't use deodorant soaps, as they tend to be super drying. Slather on oil-free moisturizer and consider using a home humidifier, as well.
If you are prone to acne breakouts, you can pretty much expect to have one before your special day. Plan ahead, and start using an effective acne reliever no later than one month before your event. A complete acne care system may be your best bet for preventing an embarrassing acne attack on your wedding day. Read more about it here.
What causes wedding day zits
A number of factors can contribute to a wedding day acne breakout. Among the causes of adult acne are hormonal changes, anxiety, and family genetics. Home remedies for acne breakouts range from topical tea tree oil to applications of citrus-derived alpha hydroxy acid. Both of these treatments may cause redness and sensitivity, so use with caution and don't start treatment within a month of your happy wedding.
Some say that a cup or two of green tea per day provides essential antioxidants along with a pleasant, relaxing flavor that eases anxiety and may reduce the chances of an acne breakout. Others swear by aloe vera gels, zinc oxide, bovine cartilage, brewer's yeast and other homespun remedies. To be on the safe side, keep an effective and gentle acne treatment on hand to zap any surprise zits that appear close to your wedding day.
At least one month before your wedding, start shopping for a first-class makeup artist. Your wedding day is no time to experiment with new cosmetics or to try a new look. Ask your friends who did their wedding makeup, and enjoy a couple of visits to fine-tune the look you wish to present on your most special day.
**