When most people fly, they probably put as little thought as possible into what they are wearing. Obviously, there are those business travelers who always dress like they are about to go to a board meeting, because they probably are heading to one straight from the airport. For the rest of us, our travel outfits are usually pretty basic and tend to be as comfortable as possible. I usually go with jeans and a casual top, or shorts if I'm going somewhere warm. Rarely do I wear a dress or skirt, because they are not the ideal apparel for a plane. However, a recent article on USA Today has seriously made me reconsider my attire of choice when I travel.
The piece talked about how nicer dressed people usually get a bit of star treatment when they travel, and many airlines will upgrade them to business or first class, even if they are not a frequent flier or the flight is not oversold. I'm not saying it happens every time a man wears a suit on a plane or a woman opts for the nice dress, but it can occur every once and a while.
I will admit, I have never been upgraded before--at least, not when I was traveling on my own--and I would feel so privileged if it happened to me. Perhaps I should rethink the jeans route in favor of nice dress pants or a skirt and a button down shirt. A dress could work, but it would have to have the perfect balance of professionalism and sex appeal, because lets face it, that upgrade will depend a lot on whether or not the gate agent is a man or a woman and if they really approve of the outfit.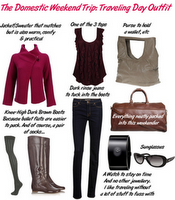 When searching online for travel outfits, I came across some interesting fashion websites that laid out various clothing items that could be combined to create a nice travel outfit. Many took cues from celebrities, who always have to maintain a level of style, even if it is on a plane. One website, everydayminimalist.com, offered some nice ideas for different categories of travel, like "Domestic Business Travel," and "Domestic Weekend Trip." I could certainly pull some inspiration from these sites.
My next trip is not until Labor Day weekend, so I have some time to prepare the perfect ensemble. Unfortunately, I'm flying an airline that does not have business class, but maybe I can be moved up to the economy plus rows where I can get a little extra leg room and a free snack. Yeah, that's the life.