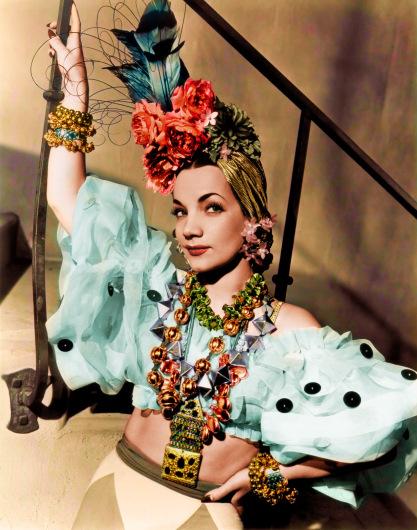 The Brazilian Bombshell: Carmen Miranda
Dear Lin-Manuel,
Are you ready for your next musical-theater challenge? Are you willing to hear about the artistic and personal life of the Brazilian Bombshell, Carmen Miranda? I don't know why this subject hasn't occurred to you before, but it would be a natural fit for your background and musical-theater abilities. And considering your surname, the (ahem) obvious choice!
Speaking of which, my name is Josmar Lopes, but everyone calls me Joe. You see, I am a former immigrant myself. I came to the United States in 1959 from São Paulo, Brazil. I was five years old at the time. I grew up in the inner city, i.e. the South Bronx, near Fort Apache. You were born in Washington Heights and grew up in the Linwood area. My family and I lived for eight years at the Bronx River Houses — on the 14th floor to be exact — so we were intimately familiar with adversity and difficult times, much like the characters in your first hit play, In the Heights. In that, we share a commonality.
I recently watched a clip from the CBS Sunday Morning program in which both you and author Ron Chernow admitted that Alexander Hamilton's life story was the ultimate immigrant take on the theme of making it in America.
In view of this, I can say with absolute authority that Carmen Miranda's story is Hamilton's twice over: she wasn't born in Brazil, as many people mistakenly believe, but in Portugal. Maria do Carmo Miranda da Cunha was brought to Rio de Janeiro (the country's capital at the time) in 1909 by her mother when she was less than a year old.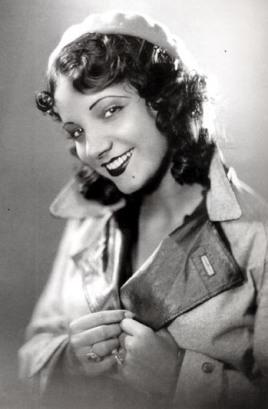 The young Maria do Carmo Miranda da Cunha, ca. 1920s
Incredibly, Carmen never became a Brazilian citizen, for which she was severely criticized. And despite a successful ten-year stage and recording career in Brazil, Argentina and Uruguay, Carmen longed for fame in the U.S., especially in Hollywood. Fate would eventually come to tap her on the shoulder.
In 1939, famed theater producer and impresario Lee Shubert was told of this sizzling new attraction by various individuals who had caught her act at the Urca Casino in Rio. He sent advance men to report back and keep an eye on the Brazilian's progress. Upon his arrival there — and after watching Carmen perform live on stage — Shubert decided to invite Carmen to come to Boston and New York, and eventually make her Broadway debut in the musical revue, The Streets of Paris, in which she sang the number, "South American Way." From there, it was a motion-picture contract with Darryl Zanuck's Twentieth Century-Fox Studios.
Carmen stayed in America for a solid year, returning to Brazil in 1940, where she was "greeted" with a cold shoulder by the elite of Brazilian society for having made her fame away from her home country. One could add that her story from this point on was a "rags to riches to more riches" tale. Carmen decided to make America her home, which in return made her the highest paid woman entertainer in the business, only to end up in a miserable, loveless marriage to a minor American producer, an addiction to alcohol and barbiturates, electro-shock therapy, and a premature death at age 46. Whew!
How does all this connect to your personal style of writing and composition? Well, to put it plainly: Carmen was a uniquely gifted talent, in that she carved out her own individual performance style. She was more than just a singer and an entertainer: she was Brazil's most famous international export. Her rapid-fire delivery and natural flair for language and self-expression came across not only on screen in those colorful Fox musicals of the 1940s, but in her many Brazilian recordings from the period 1929 to 1939, the decade before she immigrated (for the second time in her life) to America.
As evidence of her uniqueness, check out her classic appearance in Greenwich Village, a Fox musical from 1944, in particular two numbers: Nobel Sissle and Eubie Blake's "I'm Just Wild about Harry"; and "Give Me a Band and a Bandana" by Leo Robin and Nacio Herb Brown.  In both, Carmen interpolates some lines in her native Portuguese that, believe it not, could have been harbingers of rap and hip-hop (Brazilian style, of course!). It's the kind of thing that Carmen did naturally.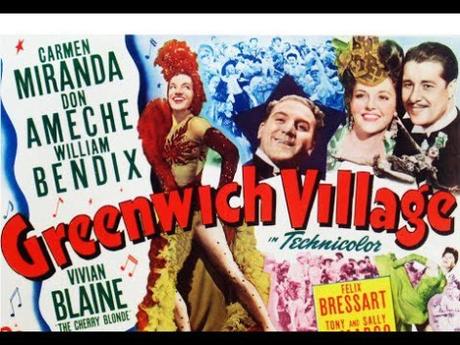 Poster art for Greenwich Village (1944)
If all this intrigues you, Lin-Manuel, then please let me know. I have had wide-ranging experience with Broadway and theater people, for example, Stephen C. Byrd and Alia Jones-Harvey of Front Row Productions. I worked closely with them in our efforts to bring the 1959 cult film Black Orpheus to the New York stage. They can vouch for my proficiency in the area of cultural consultant. Not only was I successful in helping to obtain the rights to the original Brazilian play Orfeu da Conceição, but I also introduced Stephen and Alia to the team of Charles Möeller and Claudio Botelho, the most successful producer-director duo in Brazilian musical theater today. In addition, I helped to translate (from the original Portuguese to American English) the team's version of Black Orpheus, as well as Möeller-Botelho's original theater piece, 7 – The Musical, a modern interpretation of the Sleeping Beauty-Cinderella fairy tales.
The most fascinating aspect of my association with Claudio Botelho was his challenge to me to write an original stage treatment based on Carmen Miranda's life. I did so — willingly — and called it Bye-Bye, My Samba (or, in Portuguese, Adeus, batucada, after one of her hit songs). Much as you were inspired by Chernow's biography to write Hamilton: An American Musical, I too have met the challenge head on of doing justice to my fellow Brazilian compatriot. It took a great deal of research and study, and long hours at home contemplating the best way to present this subject to audiences unfamiliar with Carmen's history. I can tell you that I learned quite a lot about the real Carmen Miranda.
In spite of his poverty and illegitimacy and lowly station in life, Hamilton developed supreme self-confidence and a built-in reliance on his intelligence and work ethic. As for myself, I can only boast of my dedication and thoroughness to whatever project I work on. With that said, I am confident you will give this pitch of mine the dedication and thoroughness of thought it requires. As I stated at the outset, it's a natural!
Thank you so much for your time!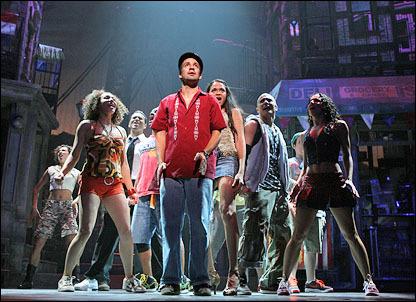 In the Heights
with Lin-Manuel Miranda (center)
P.S. We LOVED your play In the Heights, along with your Spanish translation of West Side Story. As a matter of fact, Stephen Byrd wanted to develop the Black Orpheus project along similar lines — that is, intersperse some Brazilian-Portuguese dialog into the English translation. If that isn't a compliment to the fine job you did with In the Heights, I don't know what is!
Copyright (c) 2017 by Josmar F. Lopes
Advertisements