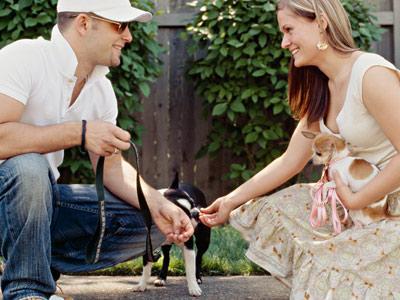 I always remind people to ask themselves, not what your dog can do for you, but what YOU can do for your dog. As this stands true, people might not realize the impact their own dog can have on their dating lives and that, in this situation, your dog can even be your best bet at finding your perfect mate.
It stands to reason that if dogs can sniff out cancer cells in humans, detect bombs, and locate lost people, might they also be the key to finding your perfect match? Dogs live in an instinctual world and their instincts are more sensitive than humans. Dogs can read a person's energy. Simply put, they know when your energy is compatible and when it's not.
In a recent experiment conducted at my Dog Psychology Center in Santa Clarita, California, heart rate monitors were hooked up to both humans and dogs. The monitors measured physiological reactions when dogs and humans were introduced to each other for the first time. Dogs reacted much sooner than humans. Oftentimes, their reactions — good or bad — occurred at distances of 50 yards or more. Their initial reactions tended to telegraph the same behavior as the dogs came closer to each other. Not the same can be said with dog owners.
One of the reasons why humans take longer to determine fit or chemistry with other humans is because, as humans we generally don't go by instincts, we rely on intelligence or emotions — and these can be deceiving at times.
Of course, you can't put heart monitors on potential mates, so here are five suggestions on how your pooch can be your best matchmaker:
1. Dog walks are better than strolls alone in the park.
Taking your dog out in public places increases your chances of meeting someone who is a like-minded dog lover. Dogs out for a walk with their owners can help bypass the initial awkwardness of stranger introductions — provided the dogs are well-behaved.
2. Dog parks are more social than bars.
Busy dog parks are an ideal setting to meet someone new. At the dog park, you are in the company of others like you. If your park allows dogs off-leash, untether your pooch and see which dog he or she picks as a playmate. If your dogs get along, chances are you may have a match. However, if your dogs don't like each other, you're probably wasting your time.
3. Let your dog pose for the picture.
Popular dating sites may not offer a box to check for "must love dogs" but dog lovers know it's essential to a meaningful relationship. If you're looking for a mate that shares your love for dogs, let suitors know by listing your passion for dogs on social networks and dating sites. Try using a photo of you with your pup as your profile picture. This sends a subtle message to would-be suitors that you and your dog come as a package deal.
In fact, according to a soon-to-be-released study on dating trends by Plentyoffish.com, one of the largest online dating services, "There is a 45 percent increase in the likelihood that a dog owner will end up in a long-term relationship with other dog owners as opposed to non-pet owners."
4. Grab a cup of Joe.
Coffee shops like Starbucks have become popular singles hangouts. Most Starbucks offer outdoor seating for you and your pup, and some even offer water bowls. Humans of all kinds will be attracted to your dog, so be ready to be approached. However, only try this if your dog is friendly to strangers.
How I see it
I am no expert at matchmaking, I am an expert in dogs! So I suggest adopting a dog from a shelter to improve your date chances. Adoption not only saves a dog's life, but it shows compassion and empathy — two qualities any potential mate is likely to value. For right or wrong, people who love animals believe they can trust a fellow animal lover, so it makes introductions easier.
Cesarsway.com asked singles what the best introductory lines are for meeting other dog owners. Here are the top four responses:
Your dog is cute. How old is he/she?
I love that breed.
Would you be interested in a doggie play date?
Do you watch Dog Whisperer with Cesar Millan?
But beware! According to the same respondents, asking more forward questions during your initial meeting can be a big turn-off. First-time daters should avoid questions like, "Can I take your dog for a walk sometime?" as this question might indicate a controlling personality.
~Courtesy of Cesar Milan
Tags: Dating, Dating Advice, Dating Tips, Dog Dates, dog health, dog owners, Dog Park Dating, dog parks, dog walking, pet owners, The Single Life