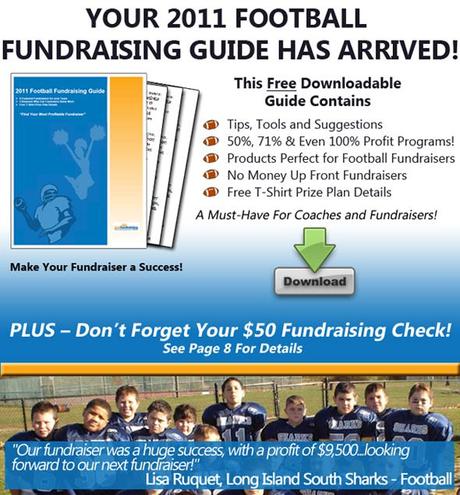 A football fundraiser can certainly be rewarding and profitable if you have the right attitude and lots of enthusiasm. While it may seem like an uphill battle from the outset, fundraising can be an easy way to raise funds for all the things a football team needs. Items like uniforms and equipment are not cheap, and your team is counting on you to organize a success fundraiser to help offset the costs involved.
A common misconception is that coming up with a successful football fundraising idea is very difficult; this cannot be further from the truth. While there is certainly a need to plan accordingly, a fundraiser can run smoothly and efficiently with very little effort involved. And once the fundraiser begins to pick up steam you will be amazed at how fast things get off the ground.
One of the first things you need to consider is your sales team, are they the players or the players and their parents? Where will you conduct the majority of your fundraising, school, work, the local mall? Who will your potential buyers be and what would they be interested in? Selling restaurant discount cards at an elementary school may not work as well as cookie dough or scratch cards. Conversely selling cookie dough may be impractical in a mall where a discount card sale may be better suited.
Take a look at our recommended football fundraising products below. From our 12 years in the business we've been able to determine which type of fundraisers work for football groups. Browse our full line of products at JustFundraising.com for more ideas.
5 Reasons Why Our Customers Raise More!
JustFundraising.com has helped over 27,000 groups raise a combined $57 million.
Over the past 12 years, JustFundraising.com has been earning the trust and respect of groups coast-to-coast by offering quality fundraising programs, exceptional customer service, and our price-match promise. We're fanatical about fundraising and we genuinely care about your success which is reflected in our 98.7% rate of customer satisfaction. We're committed to helping your group raise more!
1. Quality Fundraising Products:
Your group wants to sell products they are proud of. Your supporters want value, and we give it to them! Many of your supporters are family, friends and neighbors – it is only fair they receive the value you would expect. Our team carefully scouts and selects our quality fundraising products at the industry trade shows, which we attend a few times annually.
2. The Right Fundraisers:
Your group is unique, so your choice of fundraising products needs to be carefully considered. Amongst other criteria, we consider age, local demographics, past fundraising successes, your local fundraising competition, and your group's personal preferences. We have expanded our fundraising product line to include frozen and non-frozen food products, healthier fundraisers, green fundraisers, massive holiday shoppers. Our price points vary from as low as $0.50, all the way up to $30. We offer in-hand direct-sellers, as well as order-takers. We've got the right fundraiser for you!
3. Our Price-Match Promise:
Your goal is to raise as much profit as possible, and we're committed to helping you do exactly that. If you find a better price or percentage profit with another company, simply fax or email us the details, and we'll match it, and send you a free tub of cookie dough.
4. Free, Free, Free:
All of our order-taker fundraisers are no money up-front fundraisers, meaning they are free to start. You receive free shipping on ALL direct-seller products. You receive free shipping on all order-taker fundraisers when you reach a very achievable minimum sales target. This means more profit in your pocket.
5. Superior Support:
Our team offers you excellent support, to optimize your time and help your group raise more. You'll be designated your own personal fundraising assistant to help you select, plan out, and support your fundraiser from beginning to end. Our selling material for all order-takers is second-to-none, making selling super easy. Finally, we really do care about your goals and we're anxious to add you to our growing list of success stories.
Click here to download the guide