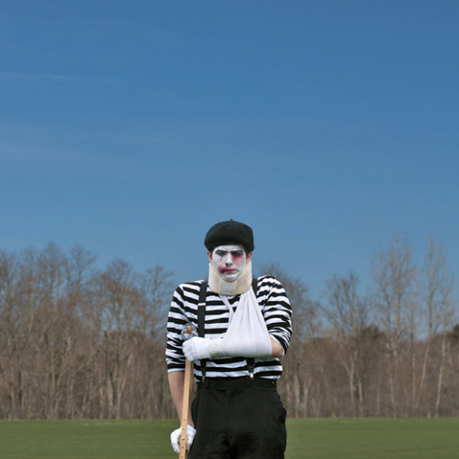 Who Knew – You Won't
Three Car Garage  - You Won't
You Won't sticks out from the monotony of repetitive acoustic warbling to bring something truly rare to their genre. Rooted in Johs Ardnouse's twangy singing style, the duo brings to mind Bob Dylan's earlier works, giving every tune and beautiful lyric a raw and heartfelt edge. Additionally, to create the whimsical instrumentation found on their new album, Skeptic Goodbye, Ardnouse and band mate Raky Sastri incorporate everything from electric and acoustic guitar to street signs and other non-musical objects. Self-produced and recorded in the Massachusetts woods, the release doesn't use any over-produced vocals or overly fine-tuned guitars. In its stead are clap-a-long tunes, pure guitar and vocal pairings stripped down with love and layered ethereal sounds.
With clear-cut vision, Skeptic Goodbye presents sorrowful love songs strung along with a theme of innocence and a yearning for purer days. You Won't manages to convey their messages without the repetition of most artists in their genre, allowing the simple acoustics grow into rock'n'roll ballads. Paired with a vast array of unconventional drumming surfaces, rattling percussion and jumping guitar, Arnoudse's keening vocals manage to shine through the beautiful ruckus. The band does, however, know when to ease up, particularly on tracks such as "Television" which is merely piano, clapping and a hint of drums. The next track, "Remember When," is an even more bare representation of Arnoudse's talent, featuring only acoustic guitar and his crooning vocals.
The real stand out of the album is "Who Knew", boasting kitschy cute lyrics such as, "If I was Marty McFly, I would go back to when we were 9 or 10, and I'd be your best friend." Accompanied by harmonica, ukulele and tapping on various surfaces, the lyrics alone aren't all that makes "Who Knew" so appealing. The same can be said for songs such as "Dance Moves", which features heavier sounds, reverb edged guitar and steady drums, coming off as something you could hear at a deep-south ho down, while maintaining a hint of indie-rock.
Perhaps my personal favorite on the album is "Just Can't Say", a lyrically deep track that varies from the rest of the album though Arnoudse's deeper, more serious croon. Lines such as "turn your back on all you got, when you see the misery that it brought, it'd be too late," are chillingly sorrowful, and as the song swells towards the end with big sounds, it abruptly ends. Perhaps symbolic, perhaps just for emphasis, but it makes you want to start the song all over again.
Between the folksy vocals, whimsical yet rocker instrumentals and thought provoking lyrics on Skeptic Goodbye, I'd say this album is worth many repeat listens to get to its heartfelt core. Each song provides a beautiful, enchanting sound that's difficult to tear away from — some catchy, some haunting, but all perfect tracks to get lost in.