Luke 6:38  "Give, and it shall be given unto you; good measure, pressed down, and shaken together, and running over, shall men give into your bosom. For with the same measure that ye mete withal it shall be measured to you again."
The rule of thumb from the beginning of time for those who hope to receive anything in life is that you have to learn to give first! This is true in any area of your life, a relationship, a job, your own personal wealth, because it is in giving out that you will then receive.  The Biblical verse above goes on to say, with the same intensity that you give out it will be given back to you again!  Wow that is pretty profound and contrary to our natural way of thinking.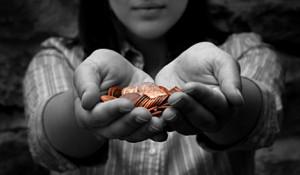 There are so many gimmicks and offers saying "
how to make money doing nothing from home
".  Sadly there are a lot of people who believe this and end up sending their money away to buy the "magical package" of material that will get them started on a great do nothing adventure to make money. Personally, I wouldn't  want to make money that way even if it were possible, because when get anything without making the sacrifice, you end up not appreciating it, squandering it or losing it in the end!
The the corporate world has been changing in a big way, thanks to the Internet and Social Media.  They have now understood that in order to sell their goods, they need to start offering things up for free.  Whether that be a service, goods, or even just plain and simple free good advice.  People no longer read a billboard that has "buy this, buy that, buy the other" because they are more skeptical to this approach.  However if the company offers something which attracts their attention to that they like, this then gets their name out there by doing so, and then they are swarmed with customers.
This same principle of giving holds true in a relationship.  If you get into a relationship with the idea of "what can I get out of him/her", then the relationship will be short-lived.  You cannot expect to be loved if at first you don't love.  Unfortunately, too many people are afraid to venture out in giving, or committing themselves because they fear that the feelings will not be reciprocated. By not giving however, you then end up losing out, because you fail to follow this natural law of giving hoping instead to get first. The secret lies in giving without even expecting anything in return as you will not be disappointed, sooner or later you will come out a winner!
I hate to tell you, but everything that is worth anything costs something.  In order to get something you have to make the necessary sacrifice, whether that be through investment of money, time or your love.  And if you do happen to get something without the sacrifice, be careful, it may cost you more in the end than what you had bargained for.
As for me, I would rather work for what I get, I would rather give in order to get, it has worked for me my entire life in wondrous ways!  How about you?  Please comment and share how you see it!