So, I'm watching the Phillies game the other night and I have another "You've got to be kidding me" moment.  Before I tell you why, take a look at the game's box score from ESPN.com.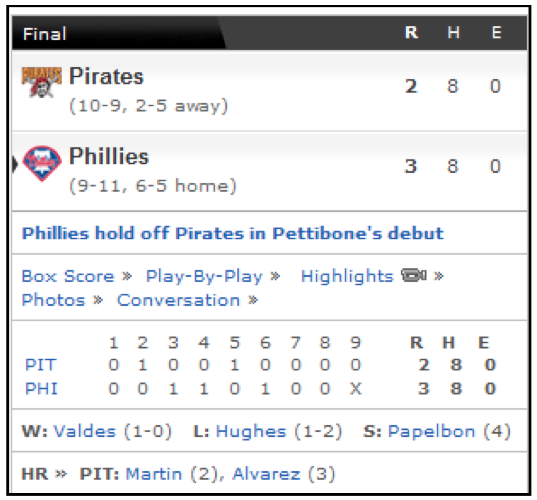 If you just looked at the box score, you'd probably think it was a good game.  A good amount of hits, no errors, and a couple home runs.  Somewhat of a pitcher's duel as well.  A pretty good game unless, of course, you actually watched it.
Let's take a look at some of the play-by-play on how the Phillies scoring went.  (I added the bold lettering for emphasis.)
In the bottom of the 3rd, the Phillies pitcher walked to lead off the inning.  (Keep in mind that this is a pitcher making his MLB debut and probably hasn't regularly swung a bat since high school.  The Pirate pitcher still managed to walk him.)  He later scored on a wild pitch with two outs.
In the bottom of the 4th, with no outs and the bases loaded, two Phillies in a row struck out.  The first one struck out looking. The Phils then scored on a wild pitch.
In the bottom of the 6th, after getting two quick outs, the pitcher walked the Phillies' eight hitter (who is hitting slightly above .200 by the way).  He later scored after two singles.
Overall, a pretty good game to see what NOT to do.
Of course, the game looks mighty easy when you're watching it in your living room.