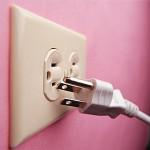 I can't help but notice every time I look around it seems that EVERYONE is plugged in.  Plugged into an iPhone, checking email, watching a video, playing Words With Friends.  It's as if NO ONE can just sit there and just do nothing.  Trust me, I have plenty of apps and enjoy them often but not at work and I also make time to sit and just think.  It helps clear my mind and stay focused on the job.
Here is how to tell if you might need to unplug… just a little:
1. A phone call with a customer, friend or peer is usually taken in front of a computer while checking email, shopping online, etc.
2. Breaks at work for web surfing are unplanned – Facebook, Twitter, and Gmail visits are whenever you feel like it!
3. Gchat, Communicator, or IM conversations are open and not exactly related to work.
The goal is to stay present in what you are doing RIGHT NOW.  Customers can tell when we are multi-tasking, so can friends.  We don't want to be rude, now do we?
So walk away from your Mac and LISTEN to your phone call.  Plan your 10-minute WWW breaks to limit distraction and maintain productivity.  Tell your peeps on Gchat you are SO over chatting during the work day and to email you.
PLUG IN to your current task at work save the fun stuff for later.  Productivity is key.
Tagged as: career advice, career women, job, technology, twentysomethings