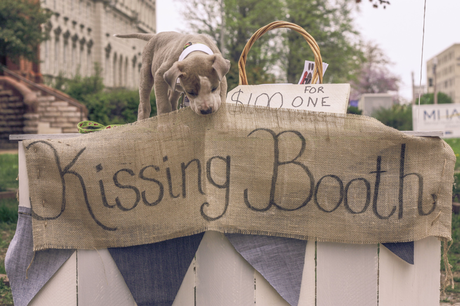 That's a kissing booth I'd go to! From Gateway Pet Guardians.
The history of Gateway Pet Guardians is one that spawns from a devoted love for animals. In 1995, P.J. Hightower was driving through East St. Louis when she noticed a significant number of stray dogs running around. She was saddened by the fact that so many beautiful animals were homeless and without food. That's when she decided to make a change.
Gateway Pet Guardians was officially founded in 2004, but P.J. had been taking food to the animals of East St. Louis long before that. I had the opportunity to talk with Jamie Case, Gateway Pet Guardians' Executive Director, and she offered some in-depth details about the organization's past and its future goals and programs.
Their next adoption event is Saturday, June 7th at 11 a.m., located at Four Paws Animal Hospital in O'Fallon, Illinois. If you're looking for an addition to your family, I recommend going to Gateway Pet Guardians! Read on to see why!
1. Tell me a little about yourself and your role at Gateway Pet Guardians.
I am the Executive Director of Gateway Pet Guardians. I started with the organization in 2008 as a foster parent. We didn't have paid staff at that point and we were a very small group. I began volunteering and the organization quickly grew. I am originally from Illinois and I make the drive through East St. Louis regularly. The stray animals on the streets have always been near and dear to my heart. When the opportunity presented itself to help an organization that serviced that area, I was all in! In 2009, there was a need for a paid staff member. I was able to join the team full-time and we have been on an amazing journey since!
As the director, I wear many hats. I oversee all programs from our Foster Program to our Community Outreach program.  We have very dedicated volunteers that lead these programs. In 2012, we were able to acquire our first physical shelter and that launched us again into major growth!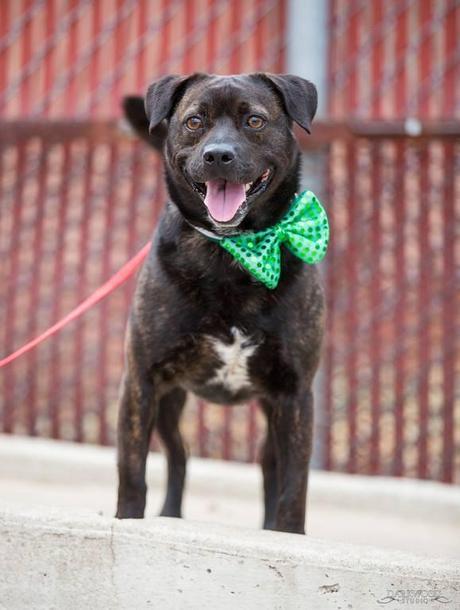 This is Jimmy from Gateway Pet Guardians.
2. What are some goals Gateway Pet Guardians would like to achieve this year?
2013 proved to be our most impactful year to date, rescuing and adopting almost double the number of animals as 2012. Our rescue and adoption numbers will continue to grow in 2014. Since late 2012, we have added a Spay/Neuter and Community Outreach program to further our mission to eliminate homelessness in animals in the metro. 2014 will prove to be a monumental year for the community's pets. In May, we completed our first Responsible Pet Ownership event for city residents providing free rabies vaccinations, microchips, spay/neuter resources, and education. Our goal is to host another this year and continue to build our Community Outreach program.
3. Why do you feel your mission is important?
Over 2,500 dogs enter St. Clair County Animal Control each year from the East St. Louis area. Since this is our primary service area, it is our mission to eliminate homelessness for those animals through rescue, rehabilitation, and education. Our work in the community to educate owners about responsible ownership, rescue strays from the streets, and assist community members when needed will undoubtedly reduce the numbers ending up in animal control facilities and on the streets.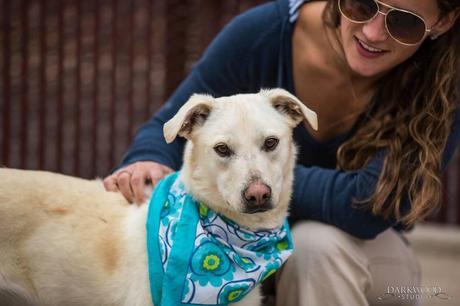 This is Holly from Gateway Pet Guardians.
4. What are some different programs that you offer?
Gateway Pet Guardians is primarily a foster-based rescue. The majority of our pets are in volunteer foster homes with a small number at our Emergency Shelter. Our foster program is the largest program we have. We also have a Community Outreach program where volunteers go into the community speaking to residents about how we can help them care for their pets. We offer spay/neuter resources, dog houses, straw, and other items to assist them. Also under our Outreach umbrella, we have a program called Junior Pet Guardians. These are teens in the community that assist with our outreach efforts and become advocates for their community.
5. What are some upcoming events you're holding?  
We always have adoption events at local venues. For an up to date list of locations and dates, visit our calendar: http://www.gatewaypets.com/events/upcoming/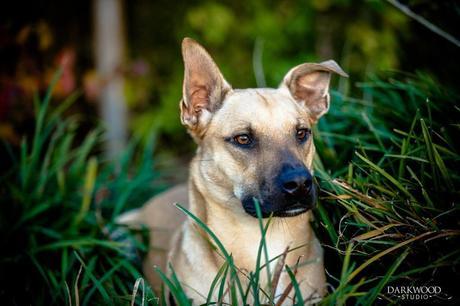 Levi from Gateway Pet Guardians
6. What's the best way for people to get involved?
There are many ways to get involved! We are always looking for volunteers at our Emergency Shelter located at Macklind and Manchester near the Hill. We also need foster families to open their homes to a dog in need. We provide all vet care for the pet. Foster families provide the love and assist us in finding their forever home! What's more rewarding than that? If you have a love for animals, there is a place for you to help at Gateway Pet Guardians. We have volunteer opportunities that range from small, at-home data entry projects to coordinating events. All of these include puppy kisses!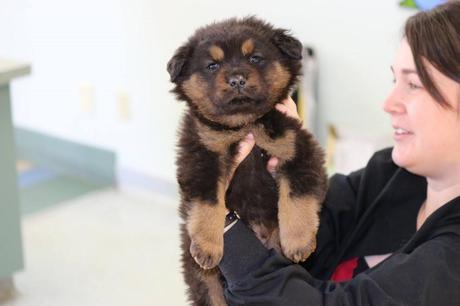 Check out this cute little guy! From Gateway Pet Guardians
7. How can the public donate?
Anyone can donate by going to our website: www.gatewaypets.com/donate. There are a variety of options there from monthly giving to a one time donation.
8. Anything else you'd like us to know?
Follow us on Facebook!  You can find out about our latest rescues and keep up with the dogs we care for on the streets.
I want to thank Jamie for answering my questions. You can also stay in touch with Gateway Pet Guardians through Twitter, Instagram, Pinterest, Google+, and Linkedin. 
You Should Know: Gateway Pet Guardians
by
Liz Carroll