The Emperor's New Clothes is a short story by Hans Christian Andersen published in 1837. It is a story about vanity, servility, and the courage to speak the truth.
A vain Emperor who cares for nothing except wearing and displaying clothes, hires two deceiving tailors who promise him the finest, best suit of clothes made from a special fabric invisible to anyone who is unfit for his position or "hopelessly stupid". The two swindlers "finished" the suit and mime putting it on the Emperor. The Emperor and his ministers cannot see the clothing themselves, but pretend that they can for fear of appearing stupid or unfit for their positions. The Emperor, in his new "suit," marches through the town before his subjects. The townsfolk all play along with the pretense. Except a child in the crowd who hasn't yet been corrupted and blurts out the truth: "The Emperor is wearing no clothes!"
Today, that innocent child would be called a racist.
Take a look at these pics of FLPOS Moochie. The photos have not been photoshopped or what the White House delicately calls "manipulated."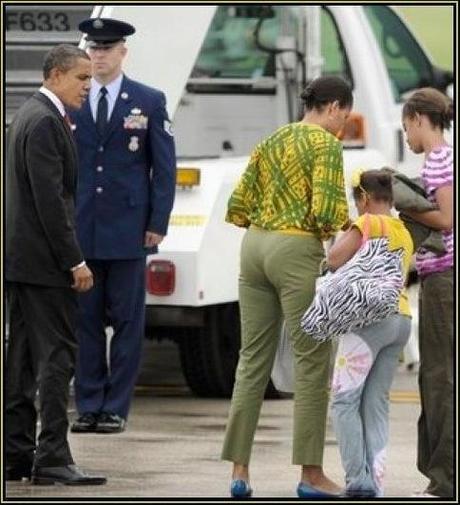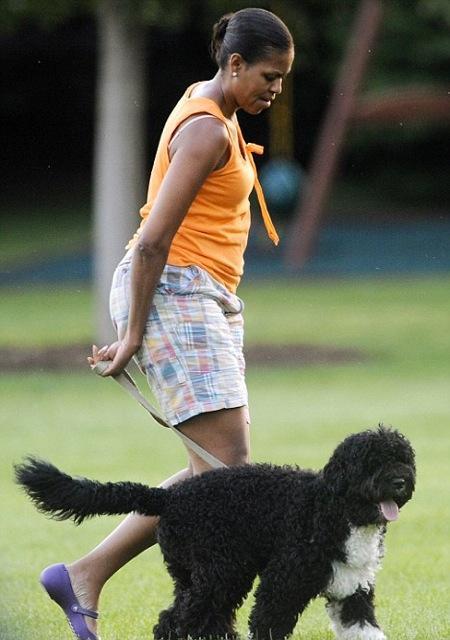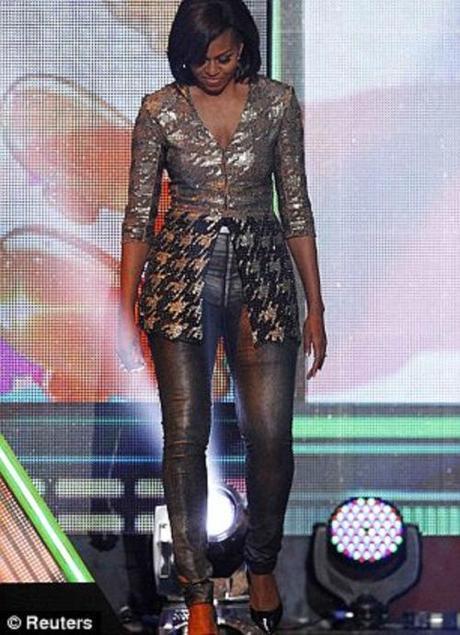 At the Kids' Choice Award, March 31, 2012
You would have to be blind to not notice that Mooch has a big (polite word for "fat") butt.
How dare you!!!!
If you notice or say or write that the FLPOS has a big fat butt, you're a RAAAAACIST!
Krissah Thompson writes oh-so-piously for The Washington Post, February 4, 2013, that "They're at it again." By "they," Thompson means anyone who points out the FLPOS has a big posterior.
People like conservative radio host Rush Limbaugh who "has repeatedly called her Michelle "My Butt" Obama. And Rep. F. James Sensenbrenner, the Wisconsin Republican, issued an apology after he was caught commenting on her 'large posterior.'"
People like Alabama high school football coach Bob Grisham, who called the first lady "Fat butt Michelle Obama," when he ranted against fat butt's promotion of low-calorie school lunches as the federal government meddling in local business. Alas, Grisham was surreptitiously recorded by one of his students, saying "Look at her. She looks like she weighs 185 or 190. She's overweight."
Although Grisham apologized for having misspoken, he was suspended on Feb. 4, 2013.
Thompson of Washington Post then trots out a whole retinue of "experts" to lecture to us:
Ayana Byrd, the co-editor of the anthology Naked: Black Women Bare All About Their Skin, Hair, Hips, Lips and Other Part, says: "We have a history in this country of white people not showing adequate respect for and devaluing the bodies of black women, and this most definitely falls in line with that," says
The focus on this first lady's posterior has historical antecedents. It reaches back to the imagery of Hottentot Venus, a woman from what is now South Africa whose naked body and pronounced posterior were paraded in shows throughout 19th-century Europe. On to the selling and trading of black women's bodies through slavery. In modern times, black women's figures continue to be up for public discussion in ways that are celebratory (see: "Brick House" by The Commodores) and insulting (see above).
Andra Gillespie, an associate professor of political science at Emory University, says the first lady's critics "are using it as a code to racialize Michelle Obama and remind people that she's black. It is unreasonable to expect a nearly 50-year-old woman to have the body of a 25-year-old. She looks great for her age."
You see, we can't win, no matter what we do.
In 2008, the Left triumphantly declared Obama to be America's "first black president!" But if you so much as say what your eyes tell you — that Michelle Obama has a big butt — you are "racializing" the first lady!
The only acceptable thing to do is to heap praises on the POS and the FLPOS, and anyone who is black — all the time, with no exception or pause.
Did you know that "Expecting constant praise and admiration" and being hypersensitive to any perceived criticism are among the defining attributes of the Narcissistic Personality Disorder?
~Eowyn