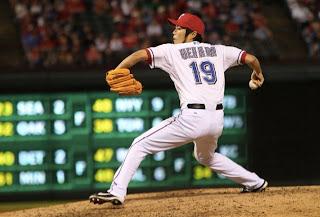 The Red Sox may have let a pitcher from Japan walk away this year (Daisuke Matsuzaka), but they will welcome another in 2013, as reliever Koji Uehara agreed to a one-year, $4.25 million deal with the Sox to conclude the Winter Meetings in Nashville yesterday.
Uehara is no kid, as he's 38-years-old. But he has been terrific since coming to America four years ago. In his time with the Orioles and Rangers, he has a 2.89 ERA, and an amazing K/BB ratio. Last year with Texas in 36 innings, he struck out 43 while walking only three. In four seasons, he has struck out 231, while passing just 29 in 211 innings.
As my friends over at the BLOHARDS pointed out today, Alfredo Aceves walked more batters last April 21st (four) than Uehara walked the entire season (three).
He's a definite upgrade to the pen, and should be a good influence on Junichi Tazawa, who very quietly had a terrific season out of the Sox pen in 2012, and may well be a set-up man for Andrew Bailey this season.