TAKEAWAY: You asked me these questions and I answer them here today, part of the spring clean up for my mailbox.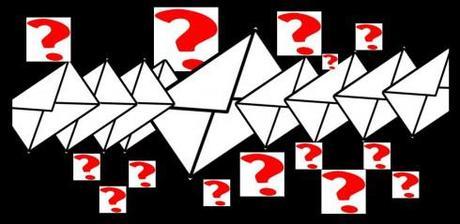 Spring is here and time for me to get through some 34 emails of the last six months or so, all friendly reminders of how much you enjoy your visit to TheMarioBlogeach day, for which I am grateful.
I continue to be puzzled by the number of mails I get daily about the blog, but how few comments are usually attached to the post itself.  Many of you prefer the more personal interaction with me, I guess, or you would like to remain anonymous, so I respect that.
However, as I do spring clean up of my mail box, I have selected a few of the questions you have sent me which I feel might be of general interest to all of our readers.  I must observe that those of you writing to me with questions represent the full range of people in our industry: students rank #1 on the list, next is their professors, with editors and designers ranking third, then technical people and assorted others who stop casually and wonder about what we do.
Five questions with general appeal
I am an avid reader of your blog and confess that I come to it almost daily, part of my digital addiction.  I know you have written about time management. But, I wonder, how do you find the time to do all that you do? Do you ever sleep?—Damian, Buenos Aires, Argentina.
I certainly do, Damian, and plenty.  Early to bed and early to rise is my motto.  But I hear you! I tend to be an organized person, and I am also realistic in my expectations of what can be accomplished in those 24 hours of the day, the most democratic thing in the world: they are the same for everyone. It is how you use it that counts.  I am a morning person, so I know I do my best work in the early hours. I program my agenda accordingly. I am not very good in the evening, when I tend to get into mellow and lean back time.  I also try to stay away from work related items in the evening. it is my time to recharge, to regroup and to reorganize with myself. I avoid late dinner with clients, and I do prefer a light meal and a glass of champagne.  Then, bed beckons.  I also make me a reasonable list, and I count it as a little victory, at the end of the day, when I can cross out all the items on that list. Try that!
And, Damian, here is a more comprehensive blog post about time management and the need to unplug, as part of my 40 Years/40 Lessons series; also one about taking a "mini vacation" to recharge:
http://garciamedia.com/blog/articles/40_years_40_lessons_16_time
http://garciamedia.com/blog/articles/40_years_40_lessons_17_pause/

I look forward to your upcoming digital book, but I know many of my fellow students and professors here who do not yet have an iPad.  Are you considering a printed version of the book?—Anita, Mumbai, India.
For about 15 minutes, when I signed the contract to do my digital book, I lamented that it would never be published as a printed copy. However, I am over it.  The book is too rich with those perks that digital publishing affords the author: multi sensory approach to storytelling. I have portions with video, audio, pop ups. It would be impossible to duplicate that in print.  And, of course, anyone with a printer handy can get the screens printed.  I will miss the autographing of copies, but, I am thinking I may print the cover and carry enough of them with me in case someone asks for an autographed copy.  I am now convinced that this book should never be printed.  We move on.

For a designer like you, who travels the globe, it must be difficult to remain fresh and creative. Are you ever afraid to repeat yourself?  I am a youngish designer in a medium size newspaper and I am always making sure that my pages don't look alike. I wonder how you do it.—-Josh, Michigan, USA
The morning run and the glass of champagne help. All kidding aside, we all should worry about staying fresh, creative and current. Most importantly, we should not repeat ourselves, if for no other reason, simply that it would be boring.  I am lucky to wake up in different parts of the world often.  The change of environment stimulates me. I believe that design , especially of media publications, is very linked to the culture and environment in which it is produced. I take cues from my surroundings, and this is a sure guarantee not to have much duplication. I do have three rules that I carry with me and that I believe are universal: make the content easy to find, make it easy to read, make it attractive.
I was present in London when you spoke at a WoodWing conference all about the tablet.  That was almost two years ago. How have you changed your views about tablet creation and design since then?—Tony, Aberdeen,UK
Two years ago: an eternity in iPad time.  I have learned much, as I am sure you have. We have emerged from the womb and into the terrible twos. I read in a New York Times column by David Brooks this week tha the most violent stage of life is age 2—-and anyone with a toddler around knows how true that is (usually benign violence, as in pulling the cat by the tail).  The iPad is 2: curious, impatient, ever changing, growing, kicking, and demanding.  I have learned, since the London conference, to respect the uniqueness of the platform, to treat it with respect as opposed to dumping everything from one platform to the next, to consider the potential for advertising, to remember pop ups, and to remind myself and the people with whom I work that, even though the tablet is a lean back platform the users are always in lean forward mode, and, regardless of what time of day they are using their tablet, they wish to tap into news updates.  We continue to learn more about this wonderful platform each day.  I remember saying in London that the iPad is a game changer.  I had no idea then, how big a game changer it would be.
Tony, here are two blog posts where I discussed the lessons learned one year after starting to design iPad news apps:
http://garciamedia.com/blog/articles/17_lessons_learned_during_one_year_creating_news_ipad_apps/
http://garciamedia.com/blog/articles/main_emphasis_for_my_presentation_today/

Recently, while visiting New York City, I saw a copy of The Wall Street Journal and it was quite different from the way you redesigned it years ago.  When you see one of your designs changed so drastically, does it hurt you? How do you cope with redesigns of your redesigns?—Anders, Stockholm, Sweden
Thanks, and this was one of the most interesting questions in my bag of mails.  To be honest, I am a strong believer of change. I consider myself a change agent. It is what I do everyday.
Nothing is static, and should not be. So I know that whatever work I do is going to evolve, sometimes in my own hands, sometimes in the hands of others.  It is what life is about, and I celebrate change and evolution.  Remember, sometimes I am the one invited to redesign a colleague's redesign.  When I do, I always salute the former work and preserving that which was good and stands the test of time. I like some of what the WSJ does, and the adventurous spirit of its new management and editors.  They continue to be a fantastic journalistic product, and I am proud of the opportunity to have been involved with this icon of financial journalism.  I have lived enough to know what truly hurts, and, believe me, the change of one of my projects, for better or worse,  is not in that category. I must add that part of what leads to a happier mental state of mind is knowing exactly what is important and what is not.
It may also help that I am a person who projects himself into the next 72 hours with more zest than the last 72.  I am always hungry and curious for what may be, more so than what was.

Of special interest today:

The future of print is….print
http://www.editorandpublisher.com/ASection/Article/The-Future-of-Print-Is—-Print
First paragraph:
Even though today's reader wants to find the latest headlines immediately with just a click of a button, Britain's satirical newspaperPrivate Eye has stuck by the phrase "hot off the press" for 50 years. The newspaper doesn't publish online — if you want to read its content, you have to buy the paper.
Sunday Newspapers on the iPad
http://www.onemanandhisblog.com/archives/2012/03/sunday_newspapers_on_the_ipad.html
First paragraph:
- UK: Guardian launches storytelling audio app 'Streetstories'
http://wallblog.co.uk/2012/03/21/guardian-launches-storytelling-audio-app-streetstories/ 
TheMarioBlog post #976